Army Developing Simulated Shape-Changing Wounds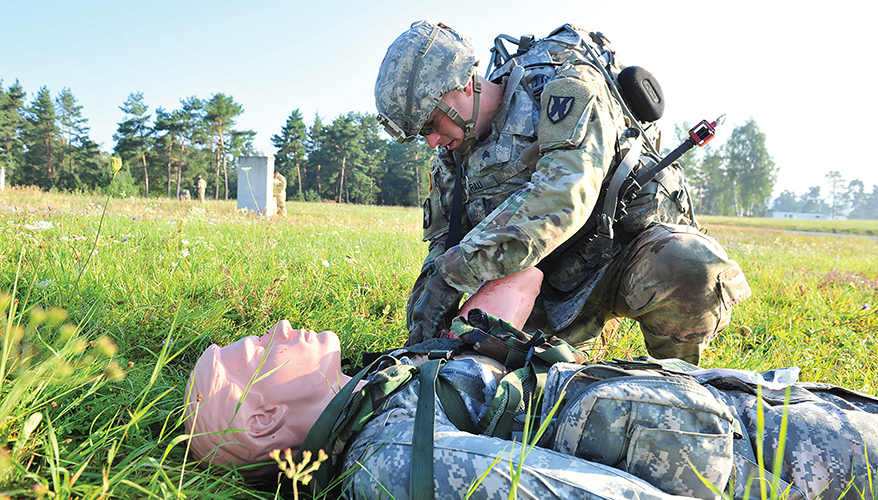 Photo: Defense Dept.
ORLANDO, Fla. — The Army Research Laboratory is embarking on an effort with industry to develop more lifelike wound simulation technologies.
The laboratory recently awarded Simetri — an Orlando, Florida-based medical training and simulation company — a 12-month contract to build a set of moulage, or mock injuries, that change shape to reflect the progression of an injury as it is treated, said Angela Alban, company president and CEO.
Simetri currently makes a variety of static wound simulations for the U.S. military, Alban told National Defense at the National Training and Simulation Association's annual Interservice/Industry Training, Simulation and Education Conference in Orlando. "We'll make anything from pustules, to burns, to lacerations or … gunshot wounds," she added. "Those are static and they don't change."
In the ARL contract, "we can look at moulage that actually changes over time," she said. This reflects an industry move toward focusing on prolonged injury care, rather than merely front-line care, she added.
"We're trying to look at how we can make moulage that will fit in that training paradigm," she said. For example, users could apply a chemically treated bandage or special ointment to the morphing moulage, which would make it reflect what such a wound would look like several hours later in a real-life scenario, she noted.
"You will treat that wound as you should, [and] depending on whether you did it right — or didn't do it correctly or on time — then that wound will change," she added. "We are going to try to make it as realistic as possible."
Simetri plans to begin developing morphing moulage techniques for burns and bruises before progressing to other wound simulations, Alban noted. The 12-month contract was awarded in fall 2017, with two optional years of additional work, she added.
The company is also developing new mannequin kits for the Army that replace the top skin of male-form mannequins to reflect female features, Alban said.
"The Army bought these mannequins for the medical simulation training centers, and they're all male-form," she added.
Soldiers in theater may have less experience providing women with treatments, such as a needle chest decompression, that involve actually disrobing the patient, finding the clavicle or other landmarks needed to inject a needle into her chest, she noted.
To address that need, Simetri is in the second phase of building and testing a "female retrofit" kit for male mannequins. That would allow instructors to put female body features on existing male mannequins "for a much lower cost than buying a second mannequin that would be on the shelf," Alban said. ARL is sponsoring that effort, she added.
Topics: Army News