New Trump Budget Boosts Navy Shipbuilding, Aircraft Procurement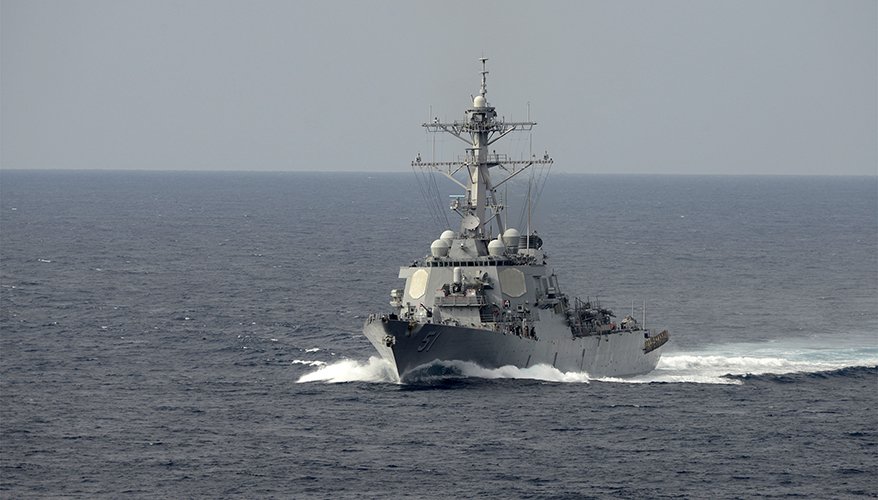 The guided-missile destroyer USS Arleigh Burke (DDG 51)
Photo: Navy
President Donald Trump's fiscal year 2019 defense budget request would add additional ships and aircraft to the Navy's inventory, as the service prepares for great power competition.

The request, which was released Feb. 12, calls for a topline of $194.1 billion for the Department of the Navy including overseas contingency operation funding. That is a seven percent bump over the 2018 budget request, according to a service budget document.

The boost in funding would come as the U.S. military is trying to ready itself for combat against advanced adversaries.

"The long-term strategic competitions with China and Russia are the principle priorities for the department which require both increased and sustained investment," Deputy Assistant Secretary of the Navy for Budget Rear Adm. Brian E. Luther said during a press briefing at the Pentagon.

The request includes $21.9 billion for the Navy's shipbuilding and conversion account, a 7 percent increase from the 2018 request.

The Navy plans to buy 10 new ships in 2019 including: two Virginia-class attack submarines; three DDG-51 destroyers; one littoral combat ship; one T-ATS tug boat; one expeditionary sea base; and two T-AO 205 oilers.

The budget request also includes $3 billion in advanced procurement funding for the Columbia-class ballistic missile submarine — the Navy's top acquisition priority — and $1.6 billion to finance the second increment of detailed design and construction for the third Ford-class aircraft carrier, the USS Enterprise CVN-80.

It added 11 ships across the five-year budget plan, also known as the future years defense program, compared to last year's submission, Luther noted. In total, the Navy plans to procure 54 new ships from fiscal years 2019 to 2023 including: one Columbia-class submarine; 10 Virginia-class subs; 14 DDG-51 destroyers; one LCS; and six FFG(X) frigates.

The service now expects to have 326 battle force ships by fiscal year 2023, up from 280 today. By the early 2050s, the Navy hopes to reach its ultimate goal of 355 ships, Luther said.

Aircraft programs also made out well in the budget. It seeks $19 billion for Navy aircraft procurement, about a 27 percent increase compared with the previous year's request.

"All major aviation acquisition programs remain consistent or increase from '18 to '19," Luther said.

There is a net Increase of 29 aircraft from last year's budget submission, he said. That includes an additional five F-35C joint strike fighters, 10 F/A-18 Super Hornets, three P-8 Poseidons; four CH-53K helicopters; and one Navy variant of the MV-22 Osprey tilt-rotor aircraft.

"Our strike fighter inventory management strategy remains challenged with F/A-18A-D aircraft that reach the end of their service lives before sufficient F-35 aircraft can be delivered into service," the budget document said. "Our multifaceted strategy to sustain and recapitalize the strike fighters is reliant on … procurement of additional F/A-18E/F and F-35B/C aircraft," it added.

The service plans to buy 120 aircraft in 2019. Over the course of the future years defense program, the Navy plans to procure 655 aircraft including: 97 F-35Cs; 110 F/A-18e/Fs; 24 E-2D advanced Hawkeyes; 19 P-8s; 69 CH-53Ks; and seven CMV-22s.

The budget request would also pump money into unmanned systems. It includes funding for 17 MQ-4C Triton unmanned aerial vehicles and four MQ-25 Stingray carrier-launched UAVs across the FYDP.

The service is also pursuing unmanned undersea vehicles. Increased funding in 2019 would "accelerate future capability and support steady growth of the fleet's family of systems," the document said. It includes $118 million for advanced undersea prototype development, fabrication and testing of the Orca extra large UUV. Additionally, $93 million would support the advancement of the Snakehead large diameter UUV and other technologies, it noted.

"The autonomy, the cyber and artificial intelligence pieces I think are key to provide new capabilities that … will enable the forces we have to be more effective while we're still trying to build up the number of ships and aircraft," said Tom Callender, senior research fellow for naval warfare and advanced technologies at the Heritage Foundation, a Washington, D.C.-based think tank.

The Navy is also looking to make its platforms more lethal by enhancing their weaponry. The 2019 weapons procurement budget request comes in at $3.7 billion. For the future years defense program, the service aims to buy 1,046 Tomahawk long-range missile modification kits. The service will also continue development of a follow-on next-generation land attack weapon, the document said.

Additionally, over the course of the FYDP the Navy wants to buy: 75 air-launched, long-range anti-ship missiles, known as LRASM; 625 SM-6 Standard Missiles, which have air and missile defense and anti-ship capabilities; and 64 over-the-horizon anti-ship missiles.

Callender said the budget blueprint is a positive sign for those who want to see a much larger and more lethal Navy.

"They're kind of getting back to the right track" by adding more platforms and other capabilities, he said. However, it remains to be seen whether lawmakers will agree to fully fund the service's new budget plans.

"That's the piece that's going to come into play in the long term of being able to sustain this buildup," he said.
Topics: Budget, Navy News, Shipbuilding