Air Force Budget Would Eliminate JSTARS Recap, Boost R&D Spending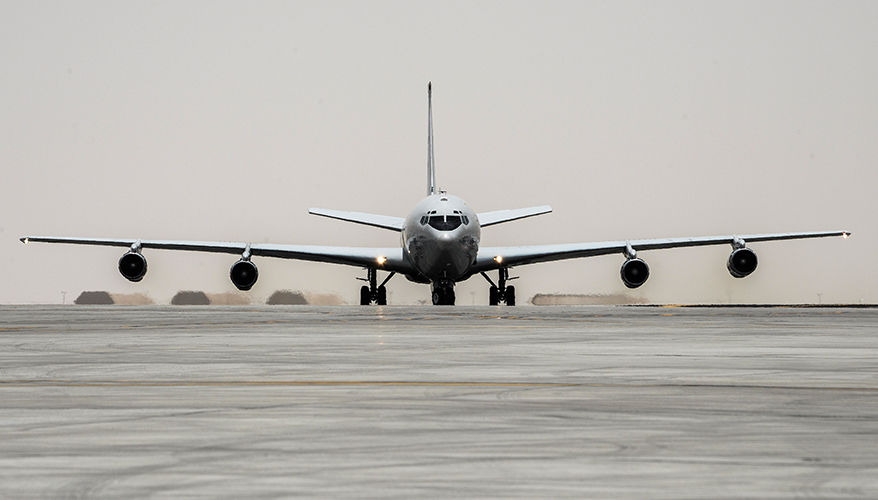 E-8C Joint Surveillance Target Attack Radar System
Photo: Defense Dept.
The Air Force's fiscal year 2019 budget request keeps most procurement efforts on track, but deals a potential setback to industry by cutting a major acquisition program.
The spending blueprint, released Feb. 12, would scrap the forthcoming joint surveillance target attack radar system, or JSTARS, recapitalization program.
As an alternative, the Air Force wants to modernize several existing aircraft and keep the current E-8C JSTARS platforms operational through the mid-2020s "as we develop and transition to an advanced battle management system," according to budget documents.
Air Force Deputy Assistant Secretary for Budget Maj. Gen. John Pletcher said in a press briefing that the service plans to network current and future sensors in the air, space, land and sea domains and "fuse the information to create a more comprehensive battle management picture."
The 2019 budget request proposes to modernize seven E-3 airborne warning command-and-control aircraft. The service could also initially opt to put existing sensors on additional aircraft such as the MQ-9 Reaper unmanned aerial vehicle, Pletcher said.
Pletcher noted that survivability and resiliency are key capability requirements, echoing previous comments by Air Force leadership.
"If we recap the current JSTARS, we will have an aircraft that still can't do any more than it can today," he said. "In fact, it will probably be able to do less, because it will be in a more competitive, contested environment."
Despite rumors that the Air Force was moving away from the program, the decision to eliminate JSTARS recap funding in the 2019 budget came as a surprise, said Ray Jaworowski, senior aerospace analyst at Forecast International, a Newtown, Connecticut-based marketing and consulting firm.
"That's something that has been rumored over last few months, but if you look at the statements that have come out of the service, it's a little vague what is going to replace it, he said.
He noted that Congress will still have to weigh in on any decision to fully scrap the program. "The JSTARS replacement has been pretty popular [and] it wouldn't be surprising to see some pushback," he said.
The loss of the program could come as a blow to industry players Lockheed Martin, Northrop Grumman and Boeing, who were all competing for the contract.
Meanwhile, the Air Force's budget request keeps most other procurement programs on track while giving a major boost to research-and-development funding. Budget documents included a $194 billion topline including overseas contingency operation funding.
The base fund request is an approximate 6.6 percent increase from the 2018 budget request, according to service documents. Pletcher noted that the mix of base and OCO funds is expected to change in final appropriations as a result of the recently passed Bipartisan Budget Act of 2018.
Aircraft procurement accounts for over $16 billion of the total budget request, and includes 48 F-35A joint strike fighters and related modifications, 15 KC-46A Pegasus aerial refueling and transport aircraft, and 10 new combat rescue helicopters to be built under a low-rate initial production contract.
Over $3 billion would go to modifications of in-service aircraft, including F-22, F-15C/D/E and F-16C fighters. The service's E-3 airborne warning command-and-control aircraft and Compass Call electronic attack platform would also receive upgrades.
The Air Force also plans to begin multi-year procurement for one HC-130J long-range patrol aircraft and six MC-130J transport aircraft for $1.3 billion. An additional H-130J could be bought via OCO funds.
The budget blueprint would also procure 29 additional MQ-9A Reapers. Pletcher noted the additional Reapers and H-130J platform would replace units that had been lost in combat.
The biggest funding increase was dedicated to research, development, testing and evaluation. The Air Force requested over $30 billion, a $10 billion bump over the enacted fiscal year 2017 funding levels.
"Faced with an eroding technology advantage in an international environment of great power competition, the FY19 RDT&E budget invests heavily in innovative technologies, funds the modernization of our nuclear force, and transforms major space capabilities to better perform in a contested environment," Pletcher said.
The boost in R&D funds would include over $2 billion to advance the engineering and manufacturing development work for the B-21 Raider stealth bomber, a slight increase over fiscal year 2018 numbers. It also includes $673 million for the presidential aircraft recapitalization program, $458 million for further combat rescue helicopter development and $265 million for the service's forthcoming T-X advanced pilot trainer platform and related services, all of which saw increased funding requests over the previous year.
About $504 million is set aside to help the Air Force develop an "integrated family of systems" to maintain air superiority in contested environments. The service is still in the early stages of determining what those systems would look like, Pletcher noted.
The Air Force also plans to continue to pursue a lower-cost, off-the-shelf light attack and close-air support platform. The service announced in January that it had narrowed its picks to two turboprop aircraft: the Sierra Nevada/Embraer A-29 Super Tucano and Textron Aviation's AT-6 Wolverine. Further experimentation will occur from May to July at Davis-Monthan Air Force Base, Arizona.
Over $2.5 billion is set aside in the 2019 budget request to procure new space assets, down from over $3 billion in the 2018 budget request. However, the service's RDT&E funding request includes over $1 billion to "improve capability and resiliency" of space-related programs, according to budget documents.
The Air Force is planning changes to its missile warning satellite constellations, discontinuing the planned purchase of two new space-based infrared system satellites. Instead, $643 million would to go to the engineering and manufacturing development of "evolved space-based infrared systems that invest in the next-generation overhead persistent infrared system," according to the Air Force. "The E-SBIRS will keep space domain systems responsive to new and changing threats and the next-gen OPIR will detect and report on current, emerging and anticipated threats." It will be designed for survivability and resilience in a contested environment, the documents added.
This change in strategy could reflect a service push to build cheaper, more resilient satellites on a faster timeline, said Bill Ostrove, a space market analyst at Forecast International.
He noted that the 2019 budget request does not include any research-and-development funding for future advanced extremely high frequency satellites that help provide protected satellite communications, which came as a surprise. The budget does include $768 million for the production oversight of the fifth and sixth A-EHF space vehicles, currently in development by Lockheed Martin, as well as for the 10th and final Wideband Global Satcom vehicle.
"Just as resiliency is important for SBIRS, it is also important for communications," he said. The Air Force has recently begun to consider what a next-generation protected satellite communications architecture would look like, but may not have a concrete enough idea yet for funding purposes, he added.
The 2019 budget request also includes $452 million in research-and-development funding for the GPS III follow-on program, as well as funding to develop the enhanced polar satellite–recapitalization communications system, which "continues the availability of secure communications to military forces," the budget document stated. The Air Force also plans to purchase five evolved expendable launch vehicles for nearly $2 billion — more than the $606 million requested for 2018.
The service also outlined plans for the future of its bomber fleet. It requested $280 million in RDT&E funds to update the B-52H Stratofortress' engines and continue modifications to the B-1 Lancer and B-2 Spirit fleets, while pursuing the B-21. Increased nuclear deterrent funding includes $615 million to develop the forthcoming long-range standoff cruise missile, while $345 million would help fund the ground-based strategic deterrent.
Once the service has acquired enough B-21 aircraft, the B-1 and B-2s will be "incrementally retired," according to an Air Force statement. Those retirement timelines are dependent upon the B-21 production and delivery schedules. The Raider is currently expected to be fielded in the mid-2020s.
The service also plans to spend over $3 billion ito replenish its missiles, munitions and spare parts and support equipment after nearly two decades of continuous combat. They include 36,000 joint direct attack munition guidance kits; 4,338 AGM-114 Hellfire air-to-surface missiles; 7,336 small-diameter bombs; 256 AIM-9X Sidewinder and 220 AIM-120D advanced medium-range air-to-air missiles; and 7,279 advanced precision kill weapon systems.
The Air Force also intends to increase basic and applied research through the RDT&E budget. It requests funding for advanced technologies including hypersonics, directed energy, unmanned and autonomous capabilities, artificial intelligence and machine learning systems and nanotechnology, according to budget documents.
About 35 percent of the service's overall budget request goes to operations and maintenance funds. Nearly $50 billion would allow the Air Force to upgrade intelligence, surveillance and reconnaissance systems supporting tactical teams operations, enhance command-and-control systems to enable surveillance, early warning and cyber connectivity, and fund flying hours to executable levels. Over $2 billion could go toward training and recruiting, which would include expanded combat training ranges and new simulators.
The budget request also looks to increase total force end strength by 4,700 and support a department-wide 2.6 percent pay raise, the largest boost in salaries in nine years, according to department officials.
Topics: Air Force News, Aviation, Tactical Aircraft, DOD Budget