BATTLEFIELD COMMUNICATIONS
U.S. Military Intends to Revamp Communications Networks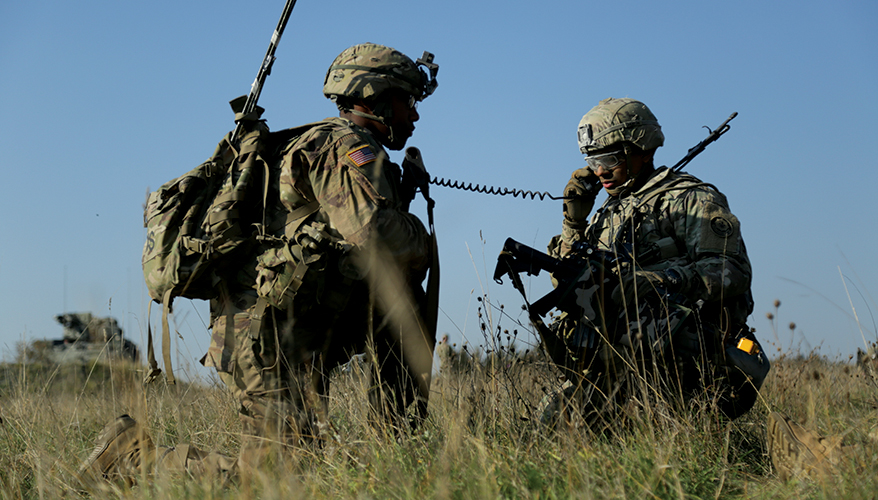 Photo: Defense Dept.
LOS ANGELES — The Defense Department has ambitious plans for creating new communications architectures to link its forces. But a number of hurdles stand in the way of that vision becoming reality.
Acquiring interoperable systems, overcoming organizational shortcomings and finding the money to pay for new equipment are major challenges that all the services face in the coming years.
The Army, for example, is trying to beef up its network as it prepares for future battles against advanced adversaries. The new technology is expected to support its other major modernization initiatives including: long-range precision fires; next-generation combat vehicle; future vertical lift; air-and-missile defense; and soldier lethality.
Those priorities "have become the absolute focus of our network modernization efforts from the tactical to the enterprise" level, Lt. Gen. Bruce T. Crawford, chief information officer, Army G-6, said at the MILCOM conference in Los Angeles.
The service's next-generation platforms are expected to rely heavily on unmanned systems, sensors, data transfer and communications, as the U.S. military pursues its multi-domain battle concept to include land, air, sea, space and cyberspace. Officials at the conference — which was hosted by AFCEA and IEEE — described the Army's vision as "the internet of battle things."
But the service has a lot of work to do as it seeks to onboard new technology.
"There are things that we've got to fix globally, from our voice infrastructure to our data switching infrastructure that are at or near end of life," Crawford said.
The Army also wants to network soldiers and their weapons systems, he noted. "The enterprise hasn't been optimized to be able to account for that, so if that capability existed tomorrow we wouldn't be able to properly leverage it."
However, with the recent establishment of Army Futures Command, the service now has a once-in-a-generation opportunity to revamp its architectures, Crawford said.
For the past year and a half, the Army has been conducting the largest and most comprehensive review of its network in nearly four decades. Officials have reached a sobering conclusion.
"The thing that we've come to realize … is we don't have the institutional talent to achieve the vision of delivering these six modernization priorities by [the target date of] 2028," Crawford said. "Even if we could build that talent, I'm not sure that we could sustain it."
As a result, the Army will have to rely on outside experts to achieve its network modernization goals as it pursues a "cascading series" of new technologies and upgrades over time, he noted.
"We're going to need data scientists, we're going to need computer scientists [and] computer engineers as fast as you can produce them," he told members of industry and academia.
"How do we work together to create that [innovation] ecosystem that is going to be required?" Crawford asked. "I recognize fully that this is easier said than done. There's a reason we've never taken on something of this magnitude."
In recent months, the Army has established a cloud strategy for improving the network. Data must be secure and accessible anytime, anywhere, Crawford noted.
"Just migrating it is not the issue," Crawford told National Defense. "You've got to prepare and condition it to be migrated."
The service has reached out to federally funded research institutions for guidance.
"We need to learn how to do this," Crawford said. "What I would like to do is … tap into the very best and brightest that the commercial and defense industry have to offer, and to tap in ultimately to blue team talent."
Meanwhile, the Navy wants to better connect its systems as it prepares for information warfare, said Rear Adm. Christian "Boris" Becker, commander of Space and Naval Warfare Systems Command.
Much attention has been paid to plans to increase the size of the fleet to 355 ships. But effectively linking platforms will also be critical, Becker noted.
"We have to be ready to compete and win" against advanced adversaries, he said. "That more networked Navy — that's fundamental to building that better Navy … that our nation needs."
The service needs to have a robust cloud architecture at sea so that different classes of ships can transfer data more easily, he said.
Platforms should also be able to update their software faster and be more capable of integrating other new technology, he added, noting that the precommissioning unit of the USS Gerald R. Ford — the Navy's newest aircraft carrier — had elements that were equipped with highly outdated Windows XP operating systems.
"How do we get past that?" he asked. "How do we get to the point where we can deliver a ship, we can deliver the infrastructure … so we can roll in a network that's fresh? That's a challenge and we're working on that challenge."
The Navy and its sister services are dependent on satellites for communications and other critical tasks. Advances in anti-satellite weapons and jamming capabilities by countries like China and Russia have raised alarms among Pentagon officials about the security and resiliency of U.S. military communications systems.
"Secure assured bandwidth is more important than bullets to fight in future war," said John Morris, chief engineer at the Space and Missile System Center's military satcom systems directorate, which is part of Air Force Space Command. "We need to provide transformational, game changing capabilities for our warfighters, diversify our networks and services across military purpose-built, commercial, civil and international space providers, … [and have] redundant provisioning of satcom services."
Current architectures offer limited agility and resilience, officials at the conference noted.
"Each frequency band — protected wideband, narrowband — has special characteristics that differentiate one from another and make it better suited for a particular service," said Lt. Gen. John F. Thompson, commander of the Space and Missile Systems Center. "Each satellite system has a particular ground terminal that supports communications over that frequency spectrum."
Morris noted that for wideband communication alone there are 17,000 terminals and 135 different programs of record.
"One of our biggest challenges is the investment we have in our legacy terminal architectures," he said during a panel discussion. "Many of those are stovepiped modems to a particular service provider."
To help get at the problem, the Space and Missile Systems Center has been revamped as SMC 2.0. It aims to utilize modular open systems architectures to promote interoperability with various host platforms.
The organization is also focused on prototyping payloads, ground systems and satellites with advanced technologies, connecting the military satcom industrial base with nontraditional partners, and pursuing commercial and international partnerships, according to a presentation slide.
As part of the initiative, a new portfolio architect position has been established to develop an integrated satcom enterprise and promote commonality.
"That enterprise can't be just a bunch of individual [satellite] systems that operate independently with independent terminals," said Col. Timothy McKenzie, chief of SMC's advanced development division. "We're going to have to have terminals that can use multiple different systems. … We're going to have to have mission and control capabilities that will allow us to roam and use these [different] networks."
For that to happen, standards will have to be defined, and a lot of engineering and software work will be required, he noted.
"The key to filling those capability gaps is … having those pools of services available and then putting the infrastructure in place to be able to use all those and use them rapidly and seamlessly," he said.
Col. Michael Assid, reserve advisor to the director of operations and communications at Air Force Space Command, said warfighters should be able to use satcom technology as easily as most Americans use smartphones when they're on the move.
"Why can't they roam?" he asked. "Why can't they go from one satellite to another, from one band to another, from one pole to another? … What will it take to get us to a point where satellite communication is as ubiquitous and transparent to the end user as a cell phone is to all of us here today?"
The military has been working with a couple of vendors to demonstrate such a roaming capability, McKenzie noted. But more companies will have to come together to do it at scale.
"It can be done and it is being done on a smaller scale," he said. "Our challenge going forward is to figure out how do we implement it … across the entire market."
In an effort to meet growing demand for bandwidth and more resilient space architectures, the Pentagon is eyeing commercial technologies that are proliferating — such as low-Earth orbit satellites — that could be used for military purposes.
"If I'm an 18-year-old … in a foxhole in the middle of some sandy places of the world, I don't care where my satcom comes from," Assid said. "What I care [about] is can I call in fires to support me."
The same holds true for Navy sailors at sea, he noted.
Some missions, such as nuclear command-and-control, require such high levels of assurance that only purpose-built, military-operated systems will suffice, Assid said. But officials and members of industry expect the Pentagon to lean more heavily on the commercial sector and nontraditional partners for other satcom capabilities in the future.
"It's going to be hard for us to go build that roaming network we need" without the help of commercial companies, McKenzie said.
However, it could be difficult for the Pentagon to persuade commercial industry that adopting the U.S. military's interface standards would be financially rewarding, officials acknowledged.
"We're still sitting back and trying to figure out the way to make that happen," Assid said.
The Defense Department represents a small portion of the global satcom market, he noted.
"I would love to appeal to patriotism, but especially when we're talking conglomerates and so forth, that's kind of tough to do," he said.
The military wants its next-generation space architecture in place by 2028, but funding will be an issue, officials and members of industry noted.
"We have limited budgets," McKenzie said. "There's a lot of things that are being modernized right now and a lot of requirements that we're going after, so we have to be affordable."
Roger Teague, Boeing's vice president for space, intelligence and missile defense operations, applauded the SMC 2.0 initiative and the military's efforts to field capability faster. However, "I don't know that our budgets are going to be rising too much anymore in the future, and so that creates a real challenge and a real problem for us," he said during a panel discussion with fellow industry leaders. "Where's the money going to come from?"
Meanwhile, the current administration is pushing an initiative that has created uncertainty about the future of the military's space acquisition enterprise. Earlier this year, President Donald Trump proposed the creation of a new space force that would be an independent branch of the military. Plans also call for the establishment of a new Space Development Agency that would spearhead the pursuit of cutting edge capabilities.
The proposal raises many questions that have yet to be resolved. Will Congress actually authorize a new space force? How would such an organization be structured? What will happen to SMC 2.0?
"We're just as anxious to figure out how it's going to end up as the rest of you," Thompson said.
Topics: Battlefield Communications, Space, Defense Department