ROBOTICS AND AUTONOMOUS SYSTEMS
Next-Gen Mine Warfare to Include Robotic Systems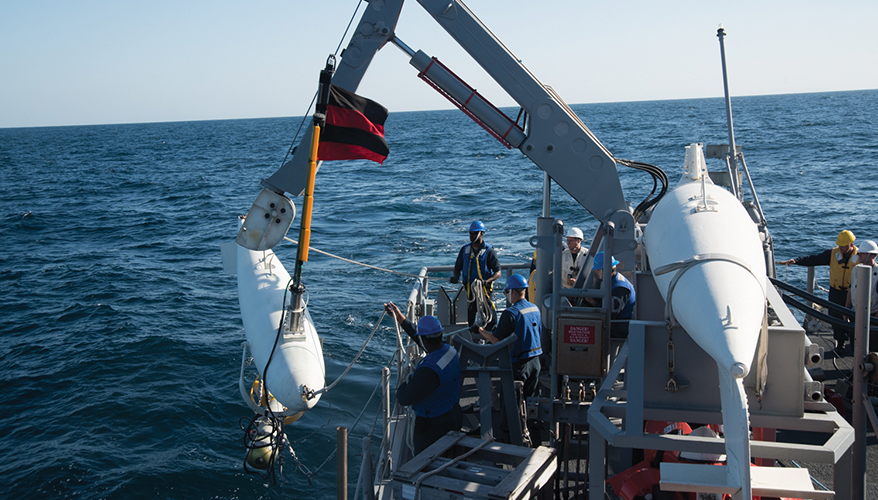 Sailors prepare to lower a float during mine sweeping training.
Photo: Navy
The future of mine warfare will include a mix of unmanned underwater, aerial and surface vehicles and will require new, out-of-the-box ideas from industry, a Navy official said recently.
"As we move forward, our adversary's mines are becoming … more complex and sophisticated," said Stephen Olson, deputy branch head for mine warfare at OPNAV N952. "Their inventories are growing by leaps and bounds."
The Navy is working hard to counter these systems and is currently in the process of transitioning from its legacy force of dedicated ships and air platforms to a modular mine countermeasure force that will be primarily based off of the littoral combat ship, he said during a panel discussion at the National Defense Industrial Association's Expeditionary Warfare Conference in Annapolis, Maryland.
"Unmanned surface, underwater [and] airborne platforms are going to play a key role in the future MCM force," he noted.
Such systems will enable simultaneous operations of multiple sensors for mine detection, localization, identification and neutralization, while reducing clearance timelines and risk to the force, he added.
Unmanned systems that are able to network with each other during battles will be key, Olson said.
"We need to have the ability to have these systems work together across domains and across platforms," he said. "If I have systems that are now interoperable with our air systems and I've got aircraft flying overhead, I want to be able to use that for my [unmanned surface vehicle] navigation as well. I want to be able to use that in a fight."
Olson envisions technology that is not only lighter, faster and cheaper, but that can even be disposable, such as low-cost robot swarms.
The Navy wants industry to be creative as it thinks about the future of mine warfare platforms, he said.
"We've spent a lot of time in developing these systems, and one of the things that I want to … put out to industry and you folks here today is what comes next?" he said. "What comes after this current phase of modular systems? Are there old systems we can reimagine using new technological means?"
Topics: Robotics, Robotics and Autonomous Systems, Maritime Security