Navy Secretary States 'Wish List' For Arctic Operations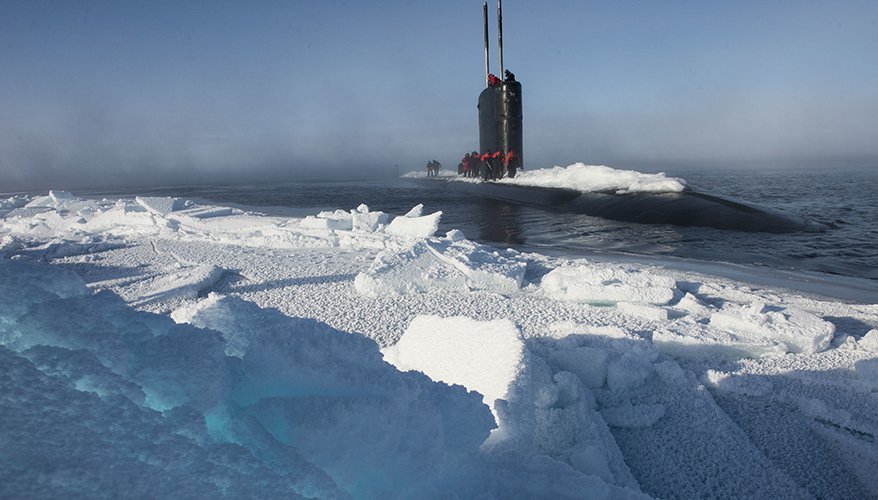 Photo: Navy
The Navy needs to beef up its presence in the Arctic to counter potential adversaries, the service's top civilian said Dec. 6.
As Russia and China continue to dedicate more assets to the region, the United States has responded with plans to ramp up the size of the Coast Guard's icebreaker fleet. However, more needs to be done, Secretary of the Navy Richard Spencer said during remarks at the Center for Strategic and International Studies.
"The Arctic is an area, ladies and gentlemen, that we must focus on," he said. "It is in my wish list" of capability needs, he added.
Spencer said this list includes setting up a strategic port in Alaska as well as conducting freedom of navigation operations in the Northwest Passage. One major concern is the safety of commercial vessels that operate in the region, he noted.

"Can you imagine the Carnival line cruise ship having a problem and the Russians … do the extraction?" he said. "We need to focus on this. But it's [also about] resource management. And I understand that."

The area is growing in strategic importance as melting sea ice opens up shipping lanes and provides access to areas rich with natural resources. In January, China announced a new initiative to develop a "Polar Silk Road" for Arctic shipping routes in cooperation with Russia. U.S. Coast Guard Commandant Adm. Karl L. Schultz told National Defense in July that the Russians already have between 40 and 50 icebreakers, with plans to build nuclear variants.

The Navy has been operating "under the water" in the region since the 1960s, Spencer noted, and the services holds a biennial "Ice Exercise" above the Arctic Circle geared towards improving the warfighting capabilities of its submarines in cold conditions. But the service needs to deploy more visible types of assets to the area to bolster deterrence, he said.
"Peace through presence with submarines is a little tough," he said.
However, increasing the Navy's presence in the region will require more money, he noted.
"We need to sell the business plan to our representatives" in order to gain appropriate funding, he said. "Everyone's up there but us."
Spencer was asked about the fiscal year 2020 budget request, which is expected to be delivered to Congress in February.
"I am a tad bit limited on what I can say," he noted. "It is the president's budget and the topline hasn't been presented to us yet."
Pentagon officials have been working on a $733 billion fiscal blueprint, but President Donald Trump has tasked them to prepare a $700 billion proposal for his consideration. That would be 4.5 percent less than the department had planned to receive in 2020.
"We are working various [budget] scenarios," Spencer said. "Some of the scenarios will make your eyes water with what we might have to deal with if the numbers are certain numbers."
The Navy leader warned that recent efforts to enhance the force would be jeopardized by funding cuts.
"We have such great tailwind right now and we've laid the foundation and spent this money to get us going in the right direction," he said. "The bicycle is up, we are peddling, please don't knock us over. The waste would be absolutely stunning."
Meanwhile, conversations with Russia and China must continue on a professional level to prevent conflict, Spencer noted.

"We talk to Russia on a regular basis in the Bering Straits for the safety of traffic. We have had conversations and channels of conversations … with our counterparts in China," he said. "We have to make sure that that stays open because [despite] what goes on at a political level, I would hope we could keep professional military communications open to prevent situations that could blossom" into an armed confrontation, he added.
Topics: Navy News, Maritime Security, Shipbuilding