EXCLUSIVE: Q&A with Gen. Stephen Wilson, Air Force Vice Chief of Staff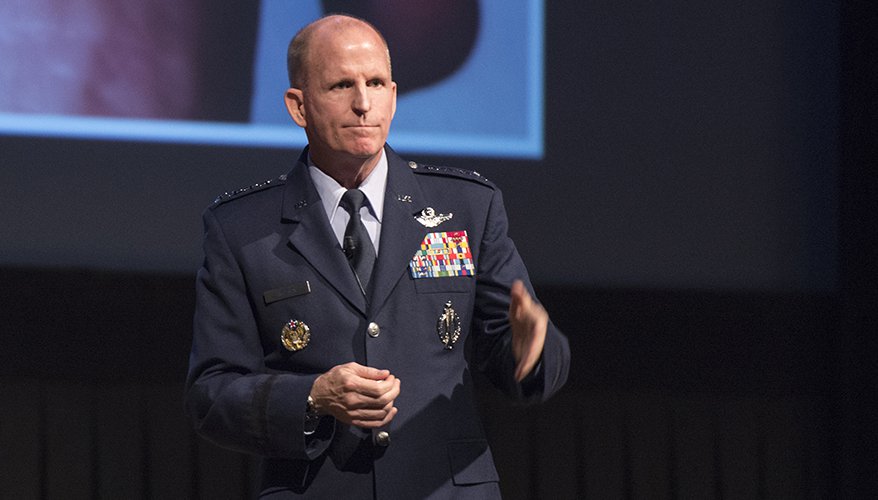 Gen. Stephen 'Seve' Wilson
Photo: Air Force
Air Force Vice Chief of Staff Gen. Stephen 'Seve' Wilson sat down with National Defense Managing Editor Jon Harper on the sidelines of the Reagan National Defense Forum in Simi Valley, California, Dec. 1 for an interview about the Air Force's innovation and acquisition initiatives and other issues. The following Q&A has been edited for length and clarity.


Q: What is the Air Force doing to improve acquisition and tap into new sources of innovation?

A: We've got to be able to deliver capabilities from the lab bench to the warfighter faster. And so that's what [Air Force Secretary Heather Wilson] has got us focused on. She's got [Assistant Secretary of the Air Force for Acquisition, Technology and Logistics Will] Roper and team doing things in new and innovative ways. … He put out an idea that we wanted to get 50 contracts in 50 hours. We actually did 104 contracts in 40 hours [during a contracting sprint with small businesses in November]. So being able to use your government credit card and say, 'Bring in an idea,' and say, 'That's good, let's be able to fund that.'
So [it's about] how do I bring in not just the primes but small businesses across the country. And if you've got an idea that can help us do this better or faster, we're all ears.


Q: The Air Force is going to host a Pitch Day in March for nontraditional partners. What will that entail?

A: The idea is we've got some wicked hard problems that we need help with. And so we're going to put out ideas and you come in and put your pitch — a two- to five-page paper— you make your pitch. And if we think it meets what we're trying to do, that day, same day, [we will] swipe that government … card and get you a contract to help us do that. We've got about $40 million set aside to do that. Again, that's one of the ideas that Dr. Roper and the secretary have said let's not just look how we've traditionally done it. Let's look broader, let's have America help us. And again, that's kind of the idea behind … AFWERX. AFWERX was this fusion center to be able to connect academia and average Americans out there that want to come help with a problem.

Editor's note: An Air Force spokesperson said the service will put out an announcement about Pitch Day on social media and start collecting papers in January. The Air Force will look at the papers it receives and then decide who will get invited to the Pitch Day.


Q: The B-21 stealth bomber program is being shepherded by the Air Force Rapid Capabilities Office. Normally when I think of rapid capabilities projects I don't think of large platforms necessarily, it's mostly smaller things. But this is obviously a huge program for the Air Force. Can you tell me how that program is going right now? And do you see that as a model for large programs in the future where the RCO, if there's a big capability that you need, can maybe push that through the pipeline faster than large acquisition programs have traditionally moved?
A: I've talked at length in multiple forums about what makes the Rapid Capabilities Office so successful. And first and foremost, it starts out with culture because they are the organization whose culture is: I've got to deliver capability at the speed of relevance. So it's built around a hard problem. It's built on a warfighting need. … And that small empowered team, they've got really good people. They've got a good budget person, they've got a good contracting officer, they've got a good test manager, they've got a good program manager and they've got a great [program executive officer]. They've got a great operator in the center of that … and they report to one guy. In this case, Mr. [Randall] Walden is the RCO director.
[Pentagon leaders] say, 'We need this.' Mr. Walden says, 'Got it.' He turns to a small empowered team and says, 'Produce.' So it really is a good model of how do we go fast with the right authorities and the right responsibility.
There's people who say, 'Well yeah, the Rapid Capabilities Office, it works but it only works for small things.' No, it doesn't work only for small things. It works for pretty much every type of program that we can do. And so we've got one of our biggest programs, the B-21, being run out of the RCO and it's going really well. So we're really happy with the progress that they're making. And again, it goes back to culture, small empowered team, right authorities, thin layer of oversight, and be able to go fast.


Q: The Air Force is hoping to grow to 386 squadrons by 2030 to meet the challenges laid out in the national defense strategy. Obviously budgets will play a role in that. So among the different types of aircraft that you would be looking to add — fighters, bombers, tankers, etc. — is there any type of platform that you think would need to be prioritized as you increase capacity?
A: Using the latest intelligence, we looked into the 2025 to 2030 timeframe, and that's where we came up with the 386 squadrons. Today we have 312. The biggest shortfall that we have today is in bombers and tankers.
Instead of being a budget-driven strategy, this is strategy-driven [analysis]. This is … the force that we need to fight the way we think we need to do in the future. So now it would become a dialogue with Congress and the American people … and so we're going to continue to talk to Congress about those [needs].


Q: President Trump has asked the Defense Department to put together a $700 billion budget blueprint for fiscal year 2020. That is $33 billion less than the Pentagon was planning for. What would that kind of cut mean for the Air Force? Would it undermine modernization or readiness?
A: Both. Because when you look at where our budgets are now we're still living with the aftereffects of sequester. … You've heard the secretary talk about how do we fix readiness? The first thing we do is we need to get more people. And so anything that affects that will affect our readiness. And we're also living with lots of modernization that's been delayed and deferred that we're now bringing on the books, … and we've got this across literally every area of our Air Force. Lots of modernization efforts. So things that don't produce that predictable, stable and … sufficient budget will impact both readiness and modernization in the future.


Q: How much of that $33 billion cut would be taken from the Air Force?

A: There's … nothing set yet. We're still discussing options.
[Secretary of Defense Jim Mattis] will talk to the president and they will determine a path forward for us.


Q: One of the themes at the Reagan Forum has been the need to recruit top talent to work for the military and the broader defense community. From an Air Force perspective, what are your main challenges there? Are there any new initiatives that you're hoping to launch to recruit STEM talent, for example?
A: We want the American public to think about the Air Force the same way they think about Google or they think about SpaceX as a place to go because they can make a difference. So if you look at a place like the Defense Digital Service and [its director] Chris Lynch, he's able to recruit some amazing talent. Why? Because he's given them really hard problems to solve.
So they come in, they get a security clearance, they solve the hard problems. And I think that's what today's generation is excited about. So I can't compete [with Silicon Valley firms] on money, but what I can compete on his hard problems. So I have to make it easy to be able to find the talent to let them know that the Air Force is a place where you can come — the best and brightest minds in America — and you can help us solve some of the most vexing problems that we have, and that you can make a difference.
But I've got to make it easy. I can't make it hard. And so we're looking at all the kinds of different ways [to do that].


Q: How can you make it easier for STEM talent to join the Air Force?

A: I use the example: If I were to go to job fairs … I can't tell them, 'Go to USAJobs [federal government online job application portal] and hold on for a year and maybe you'll get a call back.' That isn't going to work, right? I've got to be able to say, 'Hey John, you're exactly the type of talent we're looking for and here's a contract today. Why don't you come work for the United States Air Force? And here's the type of problems I can get you working on.'
Then I can't bring you in and say, 'Oh well, you don't have a security clearance so you have to go sit in the corner for two years.' I've got to be able to get you the clearance to let you do the work. And then again, as we talk about empowering our people, say: 'You can be you. You personally can make a difference and solve this really hard problem.'
Topics: Air Force News, Defense Department, Air Power