Trainers Helping EMTs in Rural Areas Hone Skills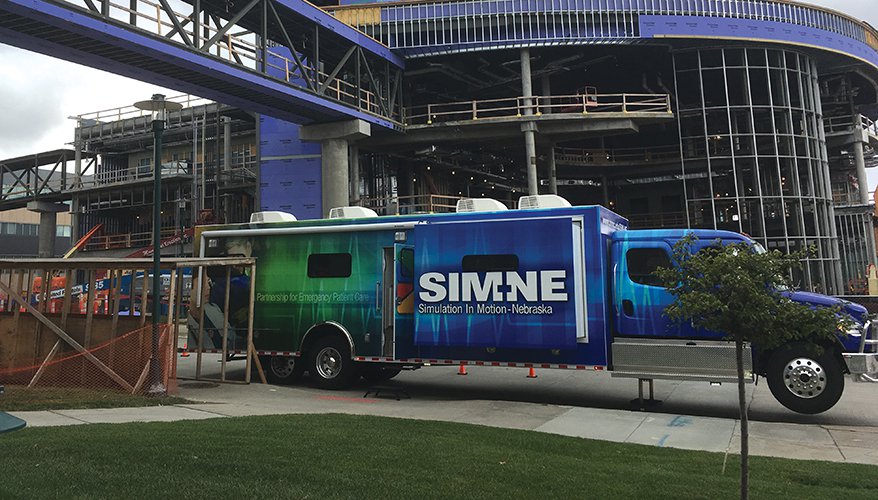 Photo: Stew Magnuson
OMAHA, Neb. — Emergency medical technicians in rural areas are often volunteers and the small towns in which they serve don't have a lot of funds for training.
Now, a charitable trust that derived its funds from a New York City real estate empire is helping EMTs in rural communities receive the training they need without having to travel long distances.
Simulation in Motion-Nebraska — a nonprofit run out of the University of Nebraska Medical Center — has four trucks equipped with high-tech mannequins that travel throughout the state to train medical personnel in remote areas, said Jeff Whannell, the organization's assistant manager of operations.
It's not always economically feasible for small towns to send their personnel to the big city for training, he said. "We take the training to them. We work on their schedules," he said.
The four trucks have logged some 32,000 miles and trained about 3,000 personnel in the state since the program kicked off in the summer of 2017.
The program was given a $5.5 million grant from the Helmsley Charitable Trust, which received its endowment from the estate of Leona Helmsley.
Helmsley was infamously known as the "Queen of Mean" in New York tabloids, yet had set up the trust and generously given money to causes prior to her death in 2007.
She intended to leave her entire estate — said to be worth about $8 billion — for the care of dogs and $12 million of it specifically for her Maltese named "Trouble." Her executors successfully argued in court that her stated wishes weren't legally binding, allowing the trust to give to other causes, according to press reports at the time.
One of those causes is the trust's Rural Healthcare Program.
Prior to inheriting some of his grandmother's fortune, Helmsley's grandson Walter Panzirer worked as an EMT in South Dakota. Realizing that rural areas received little help from big charities, he set up the program, which among other efforts provides telemedicine and other medical equipment for rural hospitals.
"They have given a tremendous amount of dollars and no doubt have saved lives," Whannell said of the trust.
South Dakota was the first state to receive the trainers, which cost about $1 million each and come equipped with high-fidelity mannequins built by CAE Healthcare, said Whannell.
North Dakota, Montana and Nebraska followed. Iowa, Minnesota and Wyoming are working on buying their own vehicles, he added.
Topics: Training and Simulation, Simulation Modeling Wargaming and Training