National Lab Aims to Upgrade Powerful X-Ray Machine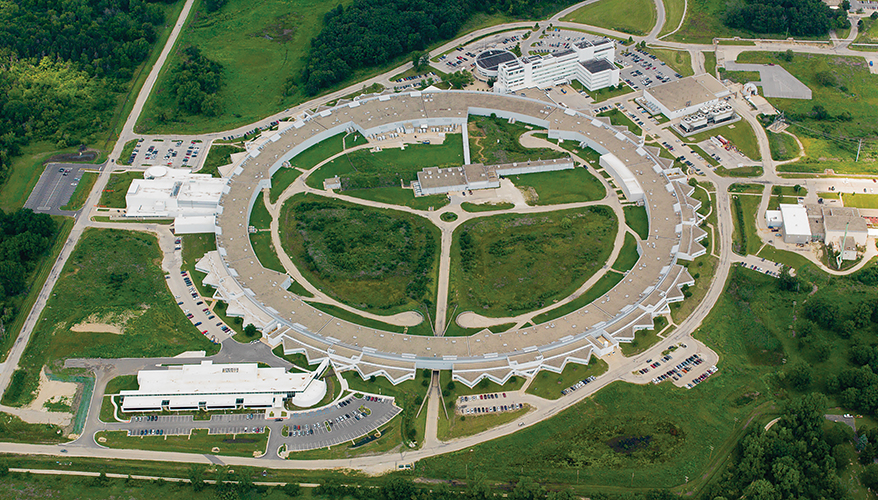 Advanced Photon Source and Center for Nanoscale Materials
Photo: Argonne National Laboratory
Argonne National Laboratory is seeking funds to upgrade the United States' only high-powered X-ray facility.
The Advanced Photon Source — located at the lab's Illinois facility north of Chicago — provides researchers across several disciplines access to high-brilliance X-ray beams that allow them to see in resolutions of less than a micron.
"It's a resource for the nation and the world," said Dennis Mills, deputy associate laboratory director for photon sciences at Argonne.
The fine beams produced by the 3,622-foot circular accelerator allow scientists to peer inside items as they are functioning, or look at a tiny object such as a protein and break its composition down at the atomic level. Archeologists brought an Egyptian mummy to the facility where they were able to look inside it without cutting it open. Paleontologists also looked inside a T-Rex bone.
"Because these X-rays are so bright, we can see objects at a high spatial resolution in fine detail," Mills said.
The accelerator generates the energy beams and feeds them to 70 different workstations in the outer ring of the facility, which means there can be that many experiments occurring simultaneously.
There are only three other similar X-ray sites in the world located in Japan, France and Germany.
The facility doesn't charge fees for science projects. However, private sector companies — if they intend to claim the research as their own intellectual property — must pay user fees. All must apply for time on the machine and explain why their project will serve the greater good, Mills said.
Pharmaceutical companies are frequent users, as well as an increasing number of defense contractors, Mills said. Rolls-Royce and GE are among those who have used the facility to test how materials in turbine engines react under certain conditions. Other engine companies have used X-rays to see how fuel injectors spray fuel by using snapshots taken at millisecond intervals.
The lab is eager to get involved in hypersonics research in collaboration with the Defense Department.
"We are looking at what X-rays can do to help solve that problem," Mills said.
"Can we look at the material under extreme conditions of hypersonic flight and study the properties during those conditions, not afterwards?" he asked.
The lab since 2010 has been working toward an upgrade that will improve the facility's capability. A snapshot taken at a millisecond will be pushed to a microsecond timescale and micron resolution down to nanoscale, Mills said. It will create the "most advanced 3D hard X-ray microscope and enable researchers to view and manipulate matter at the atomic level to solve complex science problems across multiple disciplines," a statement from the lab said.
The new design and a cost estimate of $815 million have been submitted to the Department of Energy, and the lab hopes for an approval for initial funding within six to nine months, Mills said. If approved, the facility will have to shut down for a year to install new equipment in the 2022 to 2023 timeframe.
France and Germany are also updating their high-beam X-ray machines. "There is a clear upgrade path for these facilities and everybody knows it. If you don't do it, you're going to have a second-class facility. So everybody is moving in that direction," Mills said.
Topics: Research and Development