Elite Gathering Spotlights Tensions over U.S. Arms Sales to Saudi Arabia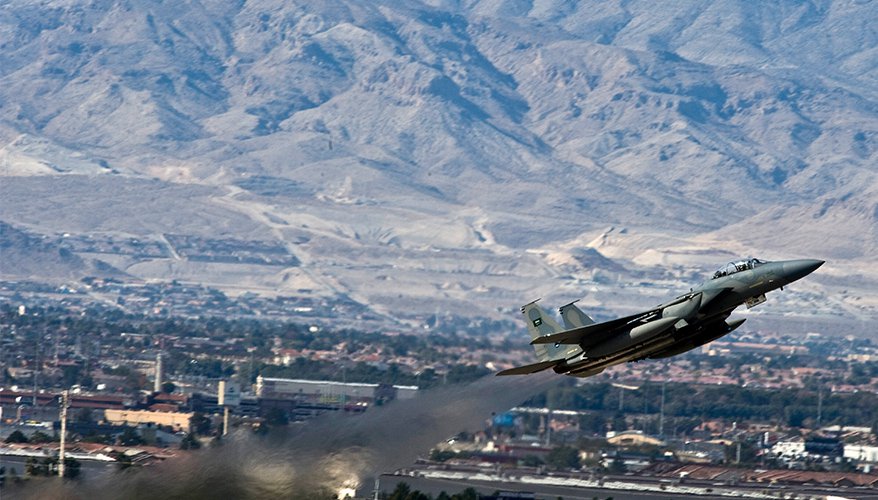 Photo: Defense Dept.
SIMI VALLEY, Calif. — Whether the United States should curb arms sales to Saudi Arabia was a hot topic at this year's Reagan National Defense Forum, an annual meeting which has been called the Davos of the defense world for its ability to attract top policymakers, industry executives and other elites.
A movement in Congress to restrict the flow of U.S.-made weapons to Riyadh has been gaining steam, fueled by humanitarian concerns about the war in Yemen, and the brazen torture and murder of journalist Jamal Khashoggi in a Saudi consulate in Turkey.
"That was a horrendous situation," Rep. Kay Granger, R-Texas, said of the Khashoggi killing during a panel discussion at the conference. Some analysts, reportedly including the CIA, believe that senior Saudi officials including Saudi Crown Prince Mohammad bin Salman authorized the assassination of the dissident. Saudi leaders have denied their involvement and said they will punish those who were connected to it.
There has been bipartisan criticism of the Saudis on Capitol Hill, and new legislation has been introduced that would ban the sale of certain types of weapons to the kingdom. Granger said Congress is taking a hard look at the long-standing U.S. partnership with Riyadh.
"There's a moral obligation to it," she said. "If there's a country that is a semi-ally let's say, but they thumb their nose at us, it does change the relationship."
Granger — who was recently tapped to be the top Republican on the powerful House Appropriations Committee — was asked if she supported cutting off weapons sales to Saudi Arabia.
"It's hard to say yes until we have the full picture of [the Khashoggi killing]," she said. "But if we have the full picture already, I'd say no, we should not sell."
A number allied countries have already stopped selling their military equipment to the oil-rich nation. But President Donald Trump has been loath to do so, arguing that it would damage the defense industrial base, cost American jobs, and prompt Saudi leaders to turn to countries like China and Russia to meet their needs.
Boosting arms exports has been a major focus of the administration's foreign and economic policy as it seeks to enhance the U.S. manufacturing sector. The overall dollar value of U.S. arms sales increased 13 percent in fiscal year 2018, and foreign military sales saw a 33 percent jump, according to Andrea Thompson, undersecretary of state for arms control and international security.
Saudi Arabia is the No. 1 overseas buyer of U.S. weapons, spending billions of dollars annually on average. Trump has touted Saudi plans to spend an additional $110 billion, although some observers have questioned the accuracy of those numbers.
Thompson urged Americans to take a long-term view of the Saudi relationship.
"We've been partners with the kingdom of Saudi Arabia for over four decades, over seven administrations," she said during the panel. "That's a telling indicator on the importance of that partnership in the region."
The Trump administration is currently in negotiations for providing more defensive equipment and some offensive equipment to Riyadh, she said.
"When you work with the United States of America and our arms sales [processes], that's a long-term relationship," she said. "When you commit to using United States equipment that comes with training and maintenance and exercising … with our military members. This isn't a one-year or a five-year commitment. This is a generational or multi-generational equipment relationship. So it's important to recognize that."
Leanne Caret, president and CEO of Boeing Defense, Space and Security, touted the military and economic benefits of selling interoperable equipment to U.S. allies, but was careful not to weigh in on the controversy surrounding Saudi Arabia and walk into a political minefield.
"From an industry perspective, it is our obligation to follow the strategy of the U.S. government," she said. "My company, other companies — you don't see us out advocating for the overturn of a strategic policy with regard to a specific country or nation, and advocate for a sale through the lens of jobs or anything else. That would be wholly inappropriate," she added.
During a Q&A following his keynote speech at the conference, Secretary of Defense Jim Mattis was asked about the Khashoggi killing.
"We have every expectation that whoever was involved in this, whether directly involved or directing the murder, is going to be held to account," he said. However, "We see that as not in any way reducing the strategic imperative to work together" with Saudi Arabia to counter Iranian influence in the region, he added.
Mattis said there is no definitive proof that Crown Prince Salman was behind the killing. "I've seen all the intelligence we have. We do not have a smoking gun."
Michele Flournoy, former undersecretary of defense for policy in the Obama administration, said the United States must tailor its arms export policies to ensure that the nation's values are taken into account. There are risks that need to be managed, she noted.
"One of the risks is what we've been experiencing in Yemen where we've provided precision-guided munitions kits to the Saudis, and for a variety of reasons they have been used in ways that we know have killed Yemeni civilians," said Flournoy, who is viewed as a potential front runner for secretary of defense during the next Democratic administration. "That's a risk for the United States and that reverberates back to us in terms of how things are perceived."
The Khashoggi murder has created additional problems for Washington, she noted. Ignoring the CIA assessment and continuing on business as usual would be a betrayal of U.S. values and damage the country's credibility in the eyes of the world, she said.
"By the same token, we shouldn't be breaking off that relationship, it's too important," she said. Arms sales are a lever that the United States can use to try to influence Saudi behavior, she noted.
"I personally would draw a distinction between offensive weapons being used in Yemen and defensive systems that the Saudis need to protect their cities from, you know, Iranian missiles coming across their borders," she added.
Topics: DOD Policy, International, Foreign Military Sales