Bell's V-280 Valor Expected to Achieve Flight-Speed Goal in 2019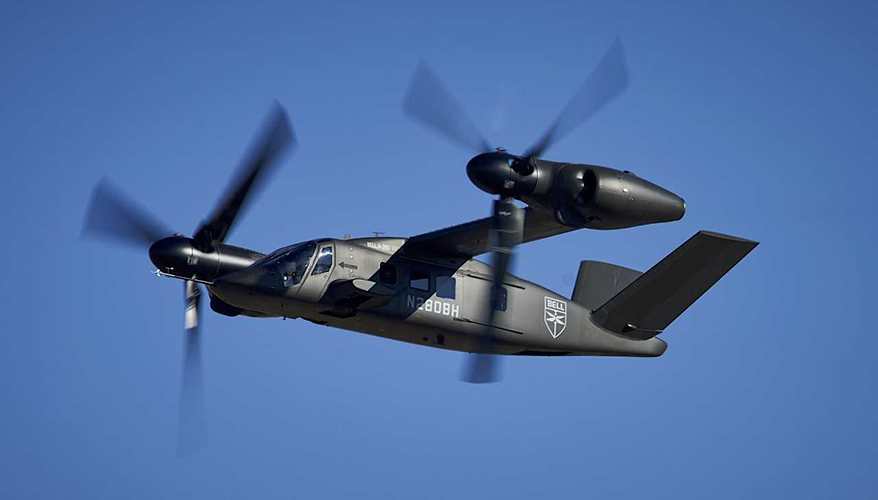 Photo: Bell Helicopter
One year after Bell's V-280 Valor flew for the first time, the company is preparing to fly the aircraft to speeds of 280 knots, an executive said Dec. 17.

The Valor — which is based on the V-22's tiltrotor technology — is one of two technology demonstrators for the Army's joint multi-role initiative. JMR is a precursor for a future vertical lift program that, should it come to fruition, is expected to revolutionize Army aviation with a family of rotorcraft ranging in sizes — from small to ultra-heavy — in the 2030s.

"Early after the New Year we should … be able to hit" the ultimate speed goal of 280 knots, said Terry Horner, director of government relations for Bell's Washington, D.C. office, on the eve of the one-year anniversary of the Valor's first flight. "We're not trying to rush." To date, the aircraft has flown at speeds of up to 250 knots. The company chose the V-280 designation with the 280-knots speed goal in mind.
The company also plans to work on autonomous flight for the system, Horner said.

The Valor has hit major milestones over its year of flight, he noted. It has flown nearly 85 hours and has completed more than 180 rotor-turn hours. It achieved a 4,500-feet per minute rate of climb and sustained flight at an altitude of 11,500 feet, and demonstrated low- and high-speed agility with fly-by-wire controls.

The other JMR demonstrator aircraft, Sikorsky-Boeing's Defiant, is fully constructed at Sikorsky's West Palm Beach, Florida, factory but has yet to fly. Following a series of delays, the Sikorsky-Boeing team told reporters last week that first flight will not occur until early 2019, citing issues with the system's power­train system test bed that needed to be resolved.

Both the Valor and the Defiant are considered medium-sized variants, also known as capability set three. The Army is still working on an analysis of alternatives for this type of platform, which would be known as the future long-range assault aircraft, or FLRAA. Earlier this year, Brig. Gen. Thomas Todd III, program executive officer for PEO Aviation, said the analysis will be wrapped up in fiscal year 2019.

Besides the medium-sized variant, the Army is also embarking on an effort to procure a smaller helicopter known as the future attack and reconnaissance aircraft, or FARA. Sikorsky has indicated that it intends to offer its S-97 Raider demonstrator — which is based on the company's X2 technology — for the effort.

Bell also plans to compete for FARA. In early October, the Army released a request for proposal, with submissions due in December. Horner said Bell would submit one by the end of this week.

Horner was mum on details about what Bell's design could look like and declined to share whether it would also be a tiltrotor like the V-280 and V-22 Osprey.

Brig. Gen. Wally Rugen, director of the Army's future vertical lift cross-functional team under the newly established Futures Command, said during the Association of the United States Army's annual conference in October that both FLRAA and FARA are equally important to the service.