BAE, General Dynamics Win Contracts for Army's Mobile Protected Firepower Program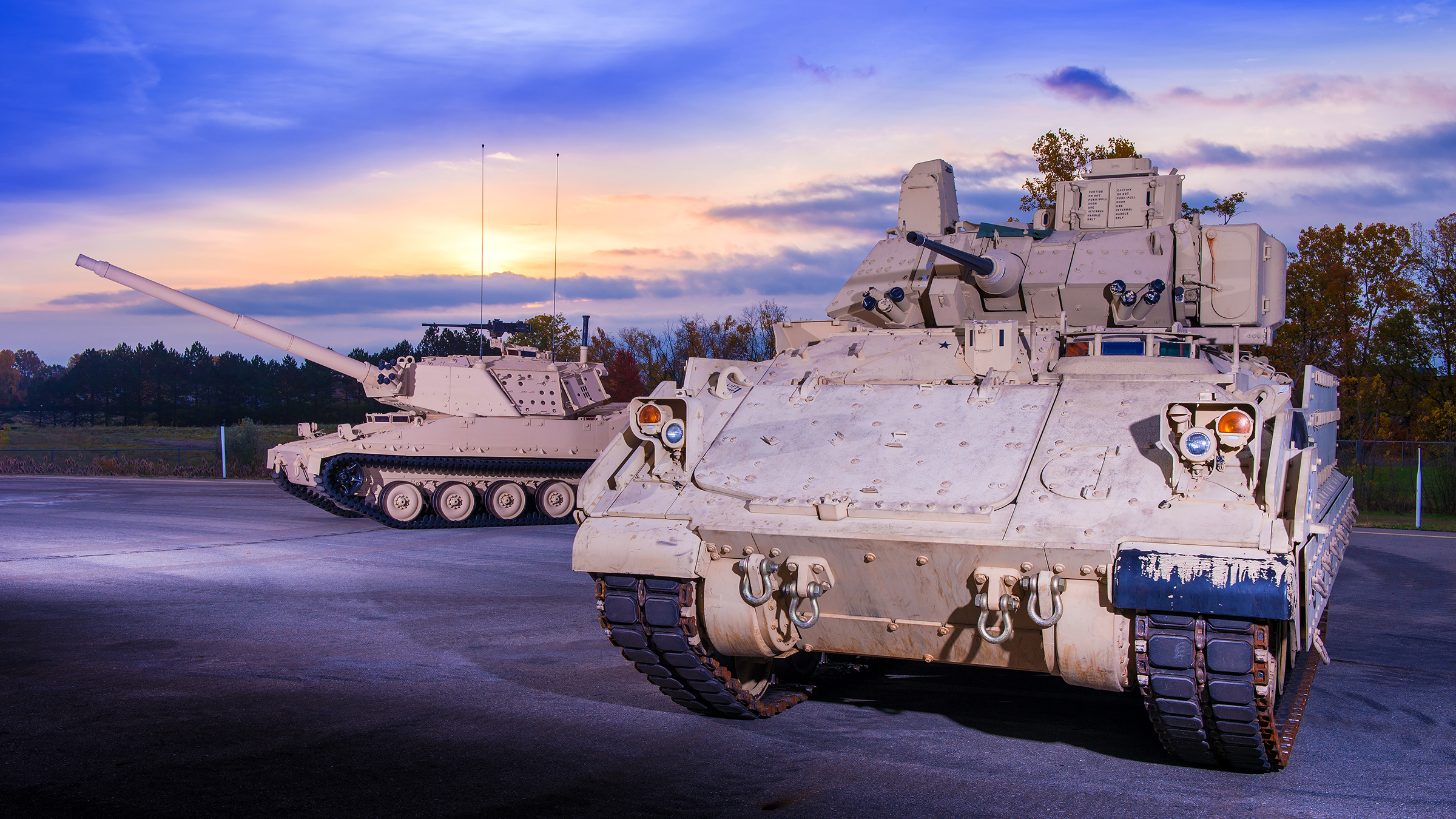 BAE System's M8 and Bradley
BAE Systems
The long-awaited prototype contracts for the Army's Mobile Protected Firepower program were awarded to BAE Systems and General Dynamics Land Systems, service officials announced Dec. 17.

The Army has deemed the light armored vehicle as a way to provide infantry brigade combat teams with a protected, long-range fire capability. As outlined in the service's 2015 combat vehicle modernization strategy, the vehicle is intended to help IBCTs defeat local fortifications and point defenses.

"The requirements associated with this will enable U.S. forces to disrupt, breach and break through those security zones and defensive belts to allow our infantry, men and women to close with and destroy the enemy on the objective," Brig. Gen. Ross Coffman, director of the next-generation combat vehicle cross functional team, told reporters.

The Army is pursuing the capability through a Section 804 mid-tier acquisition authority, which allows the service to field prototypes of a system prior to a milestone C decision if they can be demonstrated in an operational environment within five years. By opting for commercial-off-the-shelf products, the service plans to fast track the initiative and skip the technology development phase.

With contract ceilings of $376 million, BAE and General Dynamics will be required to build 12 prototypes each for demonstration and evaluation, David Dopp, project manager for MPF, said. Delivery of the prototypes will begin in 14 months, after which they will be put through a series of assessments testing their lethality, mobility and survivability. The service will down select to one vendor in fiscal year 2022, Dopp noted.

For low-rate initial production, the service is eyeing an initial option of 26 vehicles with another option for an additional 28, he said. The total acquisition objective is 504 vehicles, with 14 MPFs per infantry brigade combat team. First unit equipped is slated for fiscal year 2025.

Coffman said the Army wants a tracked vehicle with a 105 to 120 mm cannon that is able to withstand a certain threshold of enemy fire.

"It has to have the mobility to keep up and lead our soldiers into some really bad places," he said.

Additionally, the system does not have to be dropped from the air, a feature that was previously considered by the service. Coffman said the Army moved away from the idea because it was decided that MPF would be used to expand lodgements — which are areas in potentially hostile territories that allow for landings and maneuver — rather than seizing air fields.

"It was determined … that the Mobile Protected Firepower would air land and then [assist with] expanding the lodgement," he said.

The service is also holding back from bringing in prototypes with built-in active protection systems, which shoot down rocket-propelled grenades and anti-tank guided missiles, Maj. Gen. Brian Cummings, program executive officer for ground combat systems, said. The Army plans to install them at a later time.

"We didn't actually want it to be a requirement for the bid samples because we want to just do the APS one time," he said. "We envision that there will be some sort of APS system on MPF."
The Mobile Protected Firepower initiative falls under the Army's cross-functional team for the next-generation combat vehicle, which is one of eight teams responsible for pursuing the service's modernization priorities. The teams fall under the new Army Futures Command.

Multiple companies submitted bids earlier this year in hopes of winning the big-ticket contract. General Dynamics Land Systems' offer includes a vehicle that combines an Abrams turret with a chassis used for the United Kingdom's AJAX program. BAE Systems brought back its M8 Armored Gun System with new capabilities.
"Our offering integrates innovative technology that reduces the burden on the crew into a compact design deployable in areas that are hard to reach," Deepak Bazaz, BAE's director of combat vehicle programs, said in a statement. "We're confident our design meets the requirements and the unique capabilities the IBCT needs."
BAE will produce the initial lot of vehicles at facilities in Aiken, South Carolina; San Jose, California; Sterling Heights, Michigan; and York, Pennsylvania.
Topics: Acquisition Programs, Army News, Land Forces