Pentagon Wants 'New Industrial Base' for Hypersonic Weapons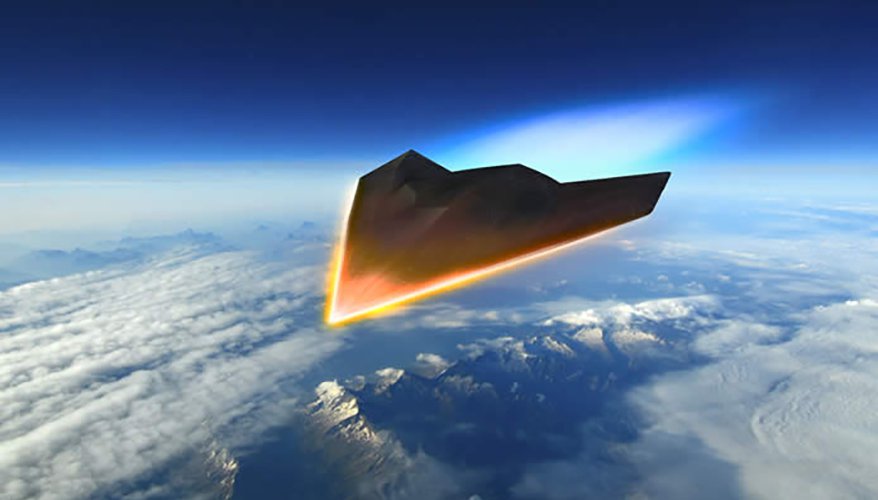 Concept art of hypersonic weapon
Concept art: Raytheon
The Pentagon needs an industrial base that can support the development and production of thousands of hypersonic weapons and the means to defend against them, top department officials said Dec. 13.
Great power adversaries such as China and Russia are moving fast to field their own hypersonic weapons, which can travel at speeds of Mach 5 or faster and are highly maneuverable. The systems could put U.S. military assets at risk, and the United States needs to catch up, Undersecretary of Defense for Research and Engineering Mike Griffin said during a discussion in Arlington, Virginia, hosted by the National Defense Industrial Association.
China is of particular concern, having conducted more tests in the past year than the United States has conducted over the past decade, he added.
"If I were their version of me, I would say we're at IOC [initial operating capability]," he warned.
"The choice facing us is … whether we are going to respond," Griffin said. "This is something the United States must do in order to deal with what our adversaries are already doing."
Deputy Defense Secretary Patrick Shanahan said the Pentagon must "scale and operationalize" hypersonic capabilities on both the offensive and defensive side.
Griffin — who has identified hypersonics as his top priority — said thousands of the weapons must be deployed to deter potential enemies. The Pentagon is interested in a range of capabilities from rocket-based boost glide systems to air-breathing weapons to combined cycle systems. A space-based sensor architecture is also needed for detection and tracking to help defend against enemy attack, he noted.
"We are going to have to create a new industrial base for these systems" he said. "Industry will get a very clear message from the department as to the paths we are pursuing in hypersonic offensive and defensive systems development, and we're confident that you guys will respond."
The department needs "multiplicity and redundancy" in the supply chain, he added.
Shanahan noted that producing thousands of hypersonic weapons and other systems to defend against them has implications for the size of the industrial base, how many suppliers are needed and the amount of government investment required.
"As we're looking at kind of setting up the industrial base or production system or development, we want to have [at least] two or three competitors," he said. "So instead of a winner-take-all, it's how do we create that ecosystem that has sustained competition?"
The United States' test infrastructure has atrophied over the past decade, Griffin noted, and more government investment will go into beefing it up.
Shanahan said department leaders want input from industry as they pursue new capabilities. Pentagon officials will be able to provide more specifics next year about the road ahead to help companies make investment decisions, he added.
"We're now getting to the place where we can start to put together programmatics and pick [schedule] dates," he told reporters during a media roundtable after the event. "It's so much easier for the industry to be able to move out when we have more clarity about what we want.
"I think a year from now we're going to be able to show you against the portfolio, here's what the deliverables look like, or here's what IOCs look like, or here's what quantities look like," he added.
Meanwhile, NDIA has launched a hypersonics "community of influence" to bring together stakeholders in this field. The association, in partnership with Purdue University, will host a Hypersonics Capabilities Conference next year in West Lafayette, Indiana, March 12-14.
The gathering of government, industry and academia will address the technical foundations of hypersonic systems, the current approach to developing the capabilities, and warfighter, policy and acquisition perspectives. It will include keynote addresses from military, government and congressional leaders, along with presentations from industry and acquisition executives, according to NDIA.
Topics: Industrial Base