Experts Outline Steps to Address Threats to Aircraft Carriers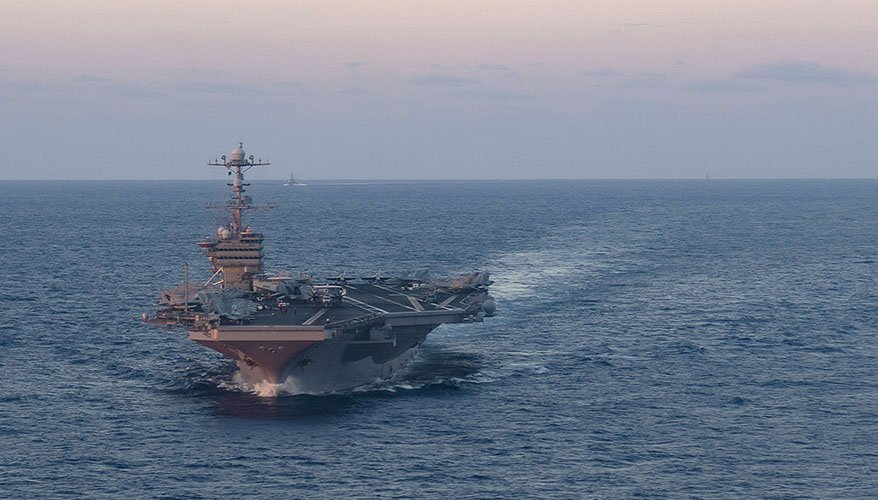 USS John C. Stennis
Credit: Navy
The United States needs to boost its defense industrial base and take other measures to deal with the threats that its aircraft carriers face from peer adversaries, experts said Dec. 11.
Jerry Hendrix, vice president of the Telemus Group, a consulting firm that specializes in defense forecasting and analysis, warned of a potential conflict between the U.S. and China.
"We are in a competition with China. If there is going to be a next war, the war is going to be with China," he said during a panel discussion at the Heritage Foundation.
The Chinese military has become more political and is growing "a little more unstable with every passing day," Hendrix warned. "You have a political flag officer making statements that he thinks it is time to jump ugly with the United States."
The U.S. National Defense Strategy, which was released earlier this year, also identified China as a growing threat, and made countering both Chinese and Russian aggression a top priority.
"China is a strategic competitor using predatory economics to intimidate its neighbors while militarizing features in the South China Sea," the unclassified version of the document stated.
Of significant concern is Beijing's development of anti-ship missiles and other weapons that could threaten U.S. aircraft carriers, noted Bryan Clark, a senior fellow at the Center for Strategic and Budgetary Assessments.
The Navy's air defense capacity in its current state would not hold up well in a war against Chinese forces, he said.
"In the current day, a carrier strike group's air defense capability might be 450 or so incoming weapons, that's how many you might be able to defeat," he said. "That is not enough. You are looking at a threat that is at least 600, and maybe more weapons" that can reach ships far from the Chinese coast, he added.
During a discussion about the future of aircraft carriers, Hendrix listed six things he believes must happen in order for the ships to remain relevant and ready in a future conflict.
First, drones need to be deployed on the vessels. The "carrier air wing must increase its range by investing in an unmanned, air combat strike platform," Hendrix said.
The price tag for carriers also needs to be reduced, he noted. As procurement costs have increased over time, the ships eat up a larger portion of the Navy's shipbuilding budget. "We must drag down procurement costs to make them both affordable and reasonable, so that you don't get a sticker shock about what I am about to send into harm's way."
Additionally, the defense industrial sector must grow to help manufacture new ships and support existing vessels, he said. "We must expand our defense industrial base both in production and on the repair side so that we can build new carriers while repairing battle damaged ones simultaneously."
Hendrix noted that there are currently only three certified dry docks in the country where those types of ships can be manufactured and maintained, a number that must increase in order for carriers to be properly serviced.
Meanwhile, the military needs to develop more joint concepts of operations, he said. Hendrix suggested carrier air wings work alongside the U.S. Air Force to refuel bombers and offer them protection from enemy fire.
"One of the things we need to do is make sure they can get fully refueled in a protected way," he said.
The Defense Department should also develop more logistics nodes in and around the Asia-Pacific, Hendrix noted. Doing so would provide carriers more locations to be resupplied, refueled and reloaded with ordnance, and enable them to be forward-deployed longer, he added.
The nation needs to begin preparing for war, both physically and mentally, Hendrix said.
"There is, unfortunately, the heavy potential of conflict coming. The nation is not ready for heavy battle damage to its Navy and specifically not to its aircraft carriers," he said. "We need to move these assets back into the realm of being weapons and not being perceived as mystical unicorns."
Aircraft carriers will only remain relevant in the future if the size of the Navy's battle fleet is increased to better protect the high-value platforms, Hendrix added
"The carrier does not remain relevant unless it is surrounded and supported by a Navy that is large enough to provide it with defensive capabilities," he said.
Hendrix touted aircraft carriers as a representation of U.S. power on the global stage.
"They are the symbol of the nation, its greatness, and the way they are perceived is an asset of national prestige," he said.
The U.S. has 11 aircraft carriers currently in service and two under construction. The newest ones, the USS John F. Kennedy, which is under construction and scheduled to be commissioned in 2020, and the USS Enterprise, which is slated to be in operation by 2027, are both Gerald R. Ford-class carriers.
Topics: Air Power, Combat Survivability, International, Navy News