BAE Systems Awarded $140 Million for Additional Amphibious Combat Vehicles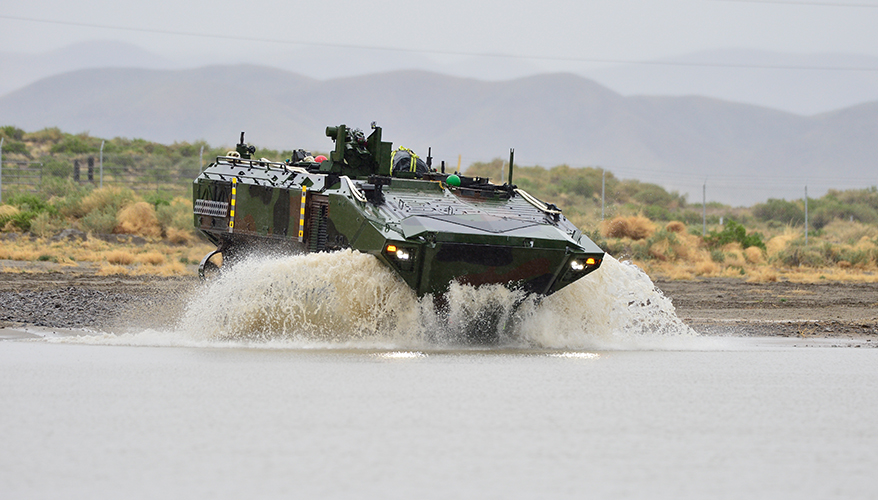 Photo: BAE Systems
BAE Systems has been awarded a $140 million contract modification to build another 30 amphibious combat vehicles for the Marine Corps, the Defense Department announced Dec. 6.
The company won the Marine Corps' ACV competition in June, and was awarded a $198 million contract to deliver an initial 30 vehicles. BAE partnered with Iveco Defense Vehicles to build its ACV prototype, and the team beat out SAIC in the final downselect. The deal could be worth up to $1.2 billion if all options are exercised. The service's acquisition objective is to buy 204 platforms.
The contract modification allows BAE to build an additional 30 ACVs, which will be first of their kind marked for fielding, John Swift, the company's program director of amphibious combat vehicles, said during a teleconference with reporters Dec. 7. The additional funding includes associated production, fielding and support costs, according to the Pentagon. The platforms are scheduled to be delivered by the end of 2020.
"The Marine Corps have got confidence in the vehicle's capability," Swift said. "We have had no significant failures in subsequent testing and evaluations."
Service leaders plan to buy additional upgraded vehicles down the road, he noted.
"The Marine Corps will pursue three variants," he said. "Those three variants and the sequence of their priority to the Marine Corps are the command-and-control variant, a gun variant… and last but not least a recovery variant."
The ACV is an eight-wheeled, ocean-capable system that is meant to transport Marines from sea to shore and then operate on land. Each of the vehicles is required to have space to accommodate 13 Marines, plus a gunner, driver and commander. The new platforms are intended to replace the service's aging amphibious assault vehicles.
Topics: Contracting, Marine Corps News