Military Looking to Modernize Bomb Disposal Technology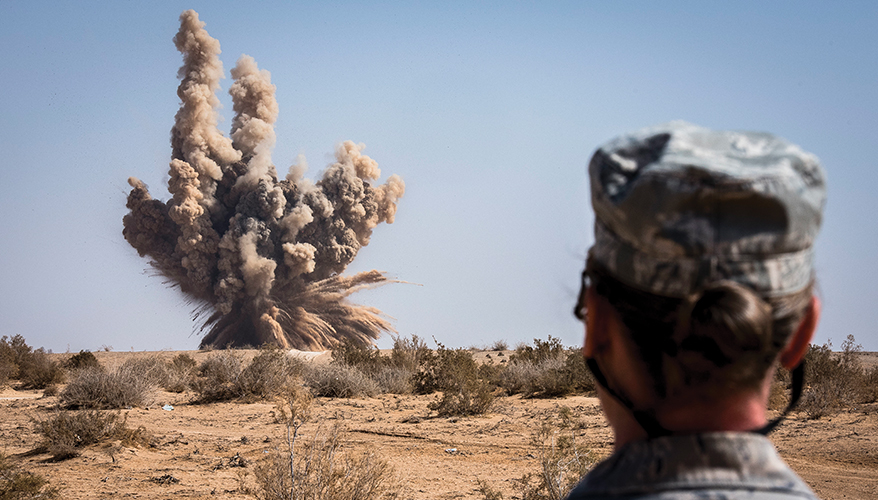 An EOD technician detonates explosives on a range in Southwest Asia.
Photo: Defense Dept.
Despite great power competition shifting the U.S. military's gaze from counterterrorism to peer adversaries such as Russia and China, there will still be a need to maintain and modernize its explosive ordnance disposal technology, officials have said.
EOD operators conduct some of the military's most dangerous jobs defuzing and neutralizing bombs. The importance of their work reached a peak during the height of the Iraq and Afghanistan wars when military service members faced widespread threats from the easily manufactured but deadly improvised explosive devices.
However, their mission will only grow as the United States faces an array of threats from countries and non-state actors around the globe, said Army Lt. Gen. Reynold Hoover, deputy commander of U.S. Northern Command.
"The strategic environment we find ourselves in today is evolving from what it had been over the past few decades," he said. "While counterinsurgency operations are important in some of our areas of responsibility, we can't afford to solely focus on that. We can't afford to make the assumption that we will always be fighting insurgents with inferior technology and equipment."
The United States must balance its explosive ordnance disposal capabilities to address the long-term strategic competition it faces with Russia and China, he noted during remarks at the National Defense Industrial Association's recent Global EOD Symposium and Exhibition in Bethesda, Maryland.
"These competitors, along with North Korea, Iran and terrorist organizations are developing weapons and tactics we haven't even seen before," he said. These adversaries often operate in the "gray zone," where their aggressive and coercive efforts remain below the level of conventional armed conflict, he noted.
"This gray zone … represents challenges and opportunities for our EOD forces that will require strong government and industry cooperation, active academic research and development, and close collaboration between military and civilian law enforcement, the intelligence community and military services to stay ahead of our competition," he said.
Government and industry will need to develop innovative technologies that can provide U.S. forces with the capability to act decisively when faced with a variety of hazards, from IEDs to biological agents to improvised nuclear devices, Hoover said.
But the military can't stop there, he added. It must also work to open the explosive ordnance disposal-mission aperture to include other areas such as ballistic missile defense, he said.
It "may sound odd when I say EOD is involved in a mission that focuses on intercepting and destroying missiles aimed at our homeland, but if we were to be attacked, the EOD community would play a key role," he said. "What goes up must come down, and if North Korea launches a missile against the homeland, when we intercept it, the pieces and parts are going to fall down somewhere — potentially on U.S. soil."
Explosive ordnance disposal operators will need to evaluate whether those materials are hazardous, he said. There could be explosives, a potential nuclear, chemical or biological payload, or even unexploded rocket fuel, he said.
"Ballistic missile defense may not be the bread-and-butter mission set of EOD, but we have to stay proficient in it," he said.
The proliferation of inexpensive unmanned aerial vehicles is another new mission set for EOD operators, he noted. Drones knocked out of the sky by kinetic or non-kinetic measures could still be hazardous.
"Technicians should have the capability and capacity of clearing and exploiting this threat wherever and whenever it can," he said.
Modernizing to meet these threats will require active engagement with academia and research-and-development labs to shape the military's thinking when it comes to understanding how commercial technologies will change the character of war, he added.
"The pace of technological development and … ease of access that come from the commercial sector means that state and non-state actors will also have access to emerging technologies, posing a threat to our EOD force," he said. "That's why we need the help of academics and researchers to help the EOD community gain and maintain an advantage now and into the future."
Modernization needs aren't limited to hardware, he added. The military must also change the way it organizes and deploys forces and how it shares information, he said.
Hoover noted that he has witnessed the rapid growth of IED sophistication over the years. That burgeoning threat will require the military to apply cutting edge technologies to the explosive ordnance disposal mission, including autonomy and artificial intelligence.
Michael Cardash, the former commander of the Israeli National Police Bomb Squad and an expert in IEDs, said terrorist organizations are constantly developing new, more deadly systems.
Pressure plate bombs — which consist of two pieces of metal that trigger the denotation of an explosive when they touch — are some of the most simple and common firing systems available, he noted.
"There are and have been millions of types of pressure plates," he said during remarks at the conference. "We see them in Iraq, Yemen, Libya — nearly every place in the world."
Terrorist organizations are developing "low-metal" versions to attempt to avoid detection by metal detectors, he said. Such IEDs can sometimes utilize a pipe or hose that contains water or air. When a person presses on it, the pressure inside pushes the air or water to trigger a switch which is located farther out.
"If you come with any metal detector, there's no metal there at all, unless you hit the battery or the device itself," he said. "But along the length there's no way you're going to find them or detect them out there."
Cardash said he is also seeing more homemade improvised mooring mines, which started to emerge in 2017.
"The mine itself kind of floats just underneath the top of the sea and is anchored down by the mooring system with a piece of wire," he explained.
These types of devices require elite divers to swim up to them and then drag them to an area to be safely detonated, he said. These systems are becoming more common along major oil shipping routes throughout the waters of the Middle East.
Lisa Swan, director of the material solutions office at the Joint Improvised-Threat Defeat Organization (JIDO), said IEDs are cheap, easily transformed, constantly evolving, lethal and effective.
Going forward, the organization expects to see terrorist groups use emerging technology — such as 3D-printed components and nanotechnology — as enablers for more lethal systems, she said.
"If they're not using it today, they will be tomorrow," she said.
JIDO — which is under the Defense Threat Reduction Agency — is designed to provide an agile response mechanism to improvised threats that need a quick solution, Swan said. "We are not the people who build programs of record. We are not the people who buy large quantities of kit," she added.
Jon Young, who heads up JIDO's rapid capability delivery division, said the group is going after a number of different technologies.
One includes the wearable concealed person-borne IED sensor, which can help identify suicide bombers in crowds.
Such a system could be used by dismounted troops on patrol, he noted. That will require industry to think about size, weight and power constraints, he added.
The organization has already worked with other government entities such as the Army Research Laboratory on integrating sensors, he said. "Now is the opportunity to start to miniaturize that and network them all together because this is about a system-of-systems approach … to gain some more situational awareness from the dismounted perspective."
Christopher Murphy, a contractor with JIDO, noted that crowds could be gathered at a marketplace, an airport terminal or a subway station, for example.
The organization wants the sensors to be able to tell the difference between three friends standing at a station waiting for a train to take them into the city, and terrorists planning to detonate a bomb, he said.
"What is the combination of sensing modalities that you're going to use to enhance your ability to detect?" he asked. "The good news is there's a lot of wearable sensors that are coming down the pike and there are a lot of options."
Murphy said he had a bias toward mature sensors. "You don't want to do sensor development, per se, for this problem," he added.
Another area the organization is looking at is atomic magnetometers for IED detection, Young said.
"They are affordable these days and they're very small," he said. "We want to take advantage of that to where maybe we can tune these to the threat that we're looking for — possibly tunnels to detect activities going on very deep in the ground."
Eun Oh, a contractor with JIDO, said it usually takes a prolonged period of time to dig a tunnel. During that process, signatures are given off that atomic magnetometers could pick up.
There are a number of magnetometers already on the commercial market, he noted. What JIDO wants to do is focus on the sensitivity of them and drive down cost.
"We want to be able to detect signatures from very, very far away — not just a couple of meters right in front of you, but tens, or even hundreds of meters" away, he said. "It has to be very cheap. It has to be small so we can deploy them, and it has to operate for a certain amount of time without being attended, so it needs to have low power consumption."
Standoff battery drain and verification technology is another area of interest, Young noted. Such devices could drain, disable or destroy IED batteries regardless of size, design or type.
Topics: Fuze, Land Forces