Columbia-Class Program Must Navigate Sea of Risks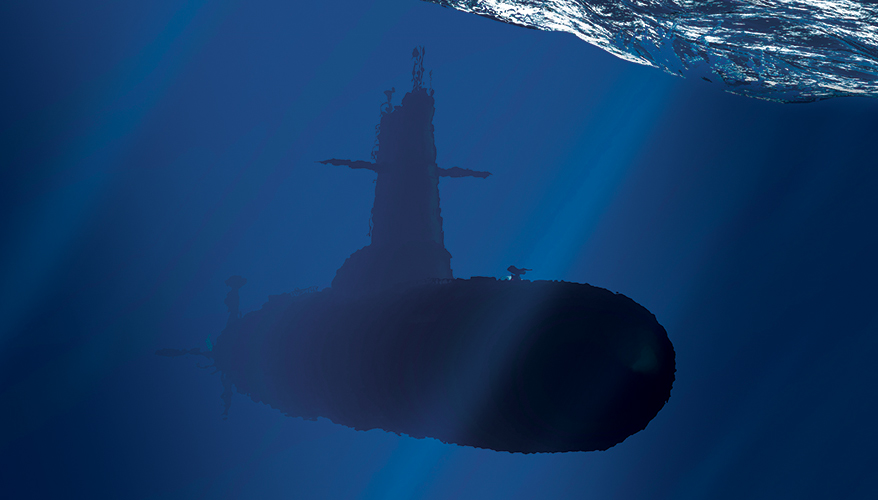 Illustration: iStock
The Navy's program to build a new ballistic missile submarine that would remain on patrol until the 2080s faces a number of hurdles, raising concerns among service officials and analysts that the first boat might not be ready on time.
The Columbia-class is the Navy's No. 1 acquisition priority as it seeks to replace aging Ohio-class platforms, which are slated to begin reaching the end of their service lives in the early 2030s.
The Navy plans to procure the first of 12 boats in fiscal year 2021, and have the lead ship on patrol by 2031. General Dynamics Electric Boat is the prime contractor for the initiative.
The effort is currently on track, Chief of Naval Operations Adm. John Richardson said at a conference in September. But he has concerns.
"I said on track and that's true, but it is [just] right on track … and so we need to find some margin in that program, some margin in schedule in particular," he said.
"In a program of this complexity it's just a fact of life that there are going to be things that will surprise us going forward, and so we need to … build in enough margin to accommodate those surprises," he added.
The Columbia will include new technologies not found on previous boats. Traditional submarines use steam turbines, but the next-generation will have a stealthier all-electric propulsion system.
"That's the element of the ship that is the most untested," said Bryan Clark, a senior fellow at the Center for Strategic and Budgetary Assessments and a former Navy submarine officer. "It's mostly new engineering that has to be done in order to facilitate that."
The Columbia is also expected to be equipped with a life-of-the-ship nuclear reactor, which will eliminate the need for midlife refueling.
"There is a little bit of technical risk," said Clark, who previously served as chief engineer and operations officer with the Navy's nuclear power training unit. "Life-of-the-ship cores is what the Virginia-class has, but that's a 30-year ship, and here we're talking about a ship that's supposed to last up to 50 years."
The reactor technology is well understood, he added. But "the area where the risk lies is primarily on how those [shipboard] materials behave in an environment where they're getting exposed to radiation for a longer period of time."
Adm. James Caldwell Jr., director of the naval nuclear propulsion program, said the service will start buying reactor plant heavy components this year.
There is margin in the schedule to accommodate manufacturing and delivery challenges, he told National Defense at a recent conference, but "we have to work hard at it."
Some technologies and manufacturing techniques that will be used on the new boat will first be incorporated on attack submarines, but the Columbia will be a much larger platform.
"It's two-and-a-half-times the size of a Virginia-class submarine," Caldwell noted. "That is an enormous project."
The industrial base for nuclear reactors is small with a limited number of vendors making critical components for the Navy. Industry is capable of meeting military requirements, "but it takes a lot of energy to sustain that," Caldwell said during a panel discussion at the conference.
Michael Wallace, a senior adviser at the Center for Strategic and International Studies, said the commercial nuclear power industry is hurting. That's bad news for the Navy.
"This industry will not make it unless we take steps to reinvigorate" it with government assistance, he said during the panel. "We are continuing — if not accelerating — in a decline, impacting not only domestic nuclear energy but also the infrastructure to support naval propulsion and … our weapons complex."
Meanwhile, the Navy is working on what will be the most important part of the new submarine — its strategic weapon system. Each Columbia-class boat will have 16 nuclear missile tubes, serving as a deterrent against any nation that might seek to launch an atomic strike against the United States.
Much of the technology that will be installed will have already been fielded on the Ohio-class, noted Capt. Doug Williams, technical director for the Navy's strategic systems programs, or SSP.
The service has already completed life extension work on the Trident II D5 missile, and the new D5LE variant was first fielded last year.
Additionally, the first of a series of scheduled flight tests to determine the overall operational reliability and accuracy of the weapon system was successfully conducted in June, Williams said in an interview. "That was a huge milestone."
"The missile is absolutely not changing" for the Columbia-class, he noted. "I'm taking a missile off of an Ohio and I am on-loading it onto Columbia" when the new boat is ready, he said.
Subsystems will be modernized through SSP's shipboard integration initiative.
"We will pull through the shipboard system and repackage it, which will have the same functionality and capabilities" as the one on the Ohio, Williams explained.
The Navy's decision to use an existing proven weapon system capability will save money, he noted. "That's one less thing you have to go invest in," Williams said. "It just brought down a ton of technological risk."
The service is trying to further reduce risk by setting up a strategic weapons system ashore facility in Cape Canaveral, Florida, that will include the new common missile compartment that the United States is co-developing with the United Kingdom. The Royal Navy plans to install it on its new class of Dreadnought subs.
"All the strategic weapons systems that are going to be on Columbia will be installed and available [at the Cape Canaveral facility] as we go into shipboard fabrication and installation," Williams said.
"All those procedures will be proofed prior to us having to do it for real at the shipyards."
Williams said the repackaging work will not be too technologically challenging. The greater concern is the industrial base.

An artist's rendering of the Columbia-class submarine (Navy)

"The challenge that we're going to have is in the production of the subsystems," he said. "We haven't done it on that scale in a while."
This will be the first time in about 25 years that the Navy has had to exercise the process of building and delivering an entire strategic weapon system, he noted. Each of the subsystems will be produced by a different industry partner, with SSP as the lead integrator.
"The challenge is ensuring that the production lines are up, in tune, producing qualified hardware that get delivered on the schedule that the shipyard needs," he said.
Back in the early 1980s when the Trident II D5 system was under construction, prime contractors did most of the work. But that has changed, Williams said, with the majority of work now being done by sub-tier vendors.
"That has to be a focus for all program managers and our industry partners, ensuring that that's done and done correctly," he said. "For the most part, we're pretty comfortable with the team we have and our industry base that produces the weapons systems."
The Columbia program has already run into problems with its missile tubes. In August, Defense News reported that substandard welds were discovered in some of the units that manufacturer BWXT Inc. delivered to Electric Boat, prompting an investigation by the Navy.
"The concerns right now really center on what the implications are of this most recent quality control problem … and what kind of delays that could cause depending on what the corrective actions are," Clark said.
The missile tube manufacturing or inspection processes might have to be changed, he noted. "That could mean that the tubes will be more expensive or take longer to make, which could cause delays in the program," he said. "There are some open questions about how to recover from this."
Naval Sea Systems Command spokesman William Couch said the service and industry are taking steps to address the problem.
"The Navy is working with the shipbuilder to mitigate schedule impacts associated with the missile tube welding issue," he said in an email. "The shipbuilder and Navy have completed initial bounding actions, have validated the state/quality of other tube vendors, and are aggressively pursuing actions to recover affected tubes and expedite delivery of new tubes."
General Dynamics did not respond to a request for comment about Electric Boat's supply chain.
Couch said the Navy planned for early construction of the common missile compartment, including missile tubes, in case problems were encountered.
Despite the welding issue, the program remains on track for construction of the lead vessel to begin in fiscal year 2021, he said, adding that the Navy and Electric Boat are "aggressively" working to improve schedule margin.
Meanwhile, Richardson said service leaders are considering putting the Columbia on a tighter leash.
"A program of this importance … requires perhaps some increased oversight so that we're not making mistakes and eating into … a program that you know has very thin margins already," he said.
As of press time, the office of Assistant of Secretary of the Navy for Research, Development and Acquisition James "Hondo" Geurts had not provided comment about whether any changes in oversight have been made in recent weeks.
Technical risk and supply chain issues aren't the only challenges facing the project. Major cost overruns must also be avoided. The Navy has estimated the total acquisition cost for the program to be $122.3 billion in fiscal year 2017 dollars, with the procurement cost of the lead ship coming in at $8.2 billion, according to the Congressional Research Service.
"The accuracy of the Navy's estimate is a key consideration in assessing the potential affordability of the Columbia-class program, including its potential impact on the Navy's ability to procure other kinds of ships," said Naval Affairs Specialist Ronald O'Rourke in a recent CRS report titled, "Navy Columbia-Class Ballistic Missile Submarine Program: Background and Issues for Congress."
Some of the Navy's other platforms — such as the Gerald R. Ford-class aircraft carrier, the San Antonio-class amphibious ship and the littoral combat ship — have "proven to be substantially more expensive than the Navy originally estimated," he noted.
But Clark said the Columbia won't necessarily fall into that trap.
"This wasn't like other acquisition programs, where you come in with an aspiration number and then you go figure it out when you actually start building it," he said. "They put a lot of effort into the engineering and analysis of this ship class to determine the cost upfront, so I think the cost estimate they have is pretty accurate."
Politics will also come into play as lawmakers decide where to spend money. Critics of the Pentagon's plan for nuclear modernization — which also includes new bombers, ground-based missiles and air-launched cruise missiles — have argued that it is too expensive, destabilizing and should be scaled back.
Todd Harrison, director of defense budget analysis at the Center for Strategic and International Studies, said the Columbia will likely avoid the budget ax.
"That program, I think, is actually very protected because that's the most survivable leg" of the nation's nuclear arsenal, he said during a briefing with reporters.
Ohio-class ships that they're replacing are reaching the end of their life, he noted. "You're just not going to be able to get much else out of them, so you've got to keep production of the Columbia-class going."
While it's unlikely that lawmakers would want to completely scrap plans for modernizing the at-sea deterrent, they could look for ways to reduce its cost by slowing the construction rate for the new ballistic missile submarines, also known as SSBNs, Clark said.
Tough choices for modernization might have to be made, he noted.
"If a new Congress comes in and decides that they want to spend less on the military, and they want to spend less on shipbuilding as a part of that, then the Navy will try to protect the SSBN funding, which will mean reductions in other shipbuilding accounts," he said.
However, the service can't guarantee that the program won't see any cuts. Lawmakers may want to direct funding to other shipbuilding projects in their districts, he noted.
"The Navy says it's their top priority, but, of course, Congress decides where money gets spent," Clark said. "Congress may say, 'Well, no, … we want to protect those other shipbuilding programs.
So to do that, we're going to accept some reductions in the SSBN spending.' And that will translate into a smaller [Columbia-class] fleet, just kind of by necessity."

— Additional reporting by Mandy Mayfield

Topics: Navy News, Undersea Warfare