Navy to Open New Facility for Live-Virtual-Constructive Training Technology (UPDATED)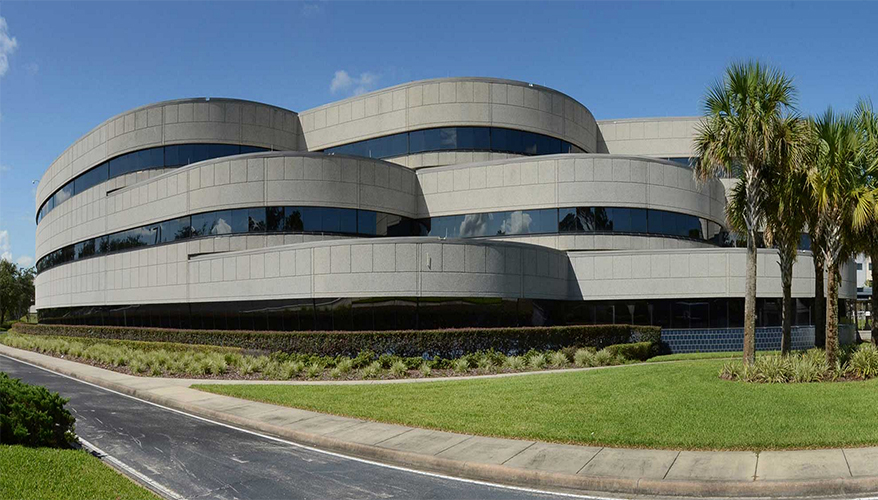 The Naval Air Warfare Center Training Systems Division headquarters (UPDATED)
Photo: Navy
ORLANDO, Fla. — The Navy is opening a new facility that will allow members of industry, government and academia to work on live-virtual-constructive training initiatives year-round.

The facility will be like Operation Blended Warrior "on steroids," Kent Gritton, LVC for training team lead at the Naval Air Warfare Center Training Systems Division, said Nov. 29 at the Interservice/Industry Training, Simulation and Education Conference in Orlando, Florida.
Operation Blended Warrior is an annual event held at I/ITSEC that allows participants to work on a common network in a wargame-like environment. LVC training technologies include simulation and virtual reality products.
"Instead of having one week a year where we try to get together and we are constrained by several different artificialities, one of which is the classification levels, we are now going to be able to do more in teasing out what we can learn from LVC and interoperability at this particular facility," Gritton said.

The new space will be located at the Naval Air Warfare Center Training Systems Division in Orlando, and will have a soft opening in January 2019. The service plans to open the facility for wider use in April, Gritton said.

The price tag for the initiative is still being discussed, he noted. To help offset costs, users will be charged a fee that has yet to be determined, he said.

"[The fee is] not going to be excessive. It's just going to cover what we need to do," Gritton said. His presentation slides said scheduling will be first come, first served.

Users could also choose to set up a cooperative research-and-development agreement to work with the government, he noted. The results of the work would likely be announced at a future event, he said.

"We need to be able to give back to this community within I/ITSEC in an [unclassified] forum and be able to tell people what we did," he said. "That way, we continue to raise the tide of everybody that's working in LVC."

According to a news release, the new facility will contain 14 workstations with multiple capabilities "to replicate a real-world operations center connected to a realistic replication of operational training networks." Gritton said there will also be an area used by the Army, which is working on a new synthetic training environment to better prepare soldiers for combat.

"We will be embedded with [the Army] so they can take advantage of these capabilities also," he said. "But by being outside the gate, it makes it exceedingly easy now for industry ... to be able to bring their equipment into a facility like this."

The hope is that the defense community can improve the way it works on LVC initiatives and shorten their timelines, Gritton noted.

"I don't want to look back in 25 years and see LVC activities the way that we're doing them now, which is the way — basically — we were doing them 25 years [ago]," he said. "It is an imperative so we can then raise the readiness bar and the proficiency bars of our warfighters as we go forward."
Correction: A previous version of this story contained an incorrect title.
Topics: Simulation Modeling Wargaming and Training, Training and Simulation, Navy News