Marine Corps Wants to Dump its 'Antiquated' Industrial Age Education System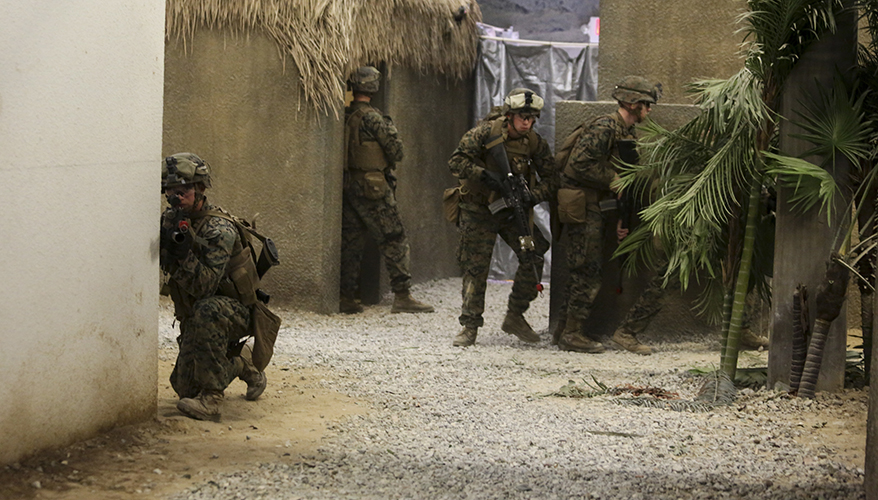 Photo: Marines
ORLANDO, Fla. — Most moviegoers are familiar with the tough-as-nails Marine Corps drill instructor portrayed by actor and former Gunnery Sgt. R. Lee Ermey in the film Full Metal Jacket.

Unfortunately, for new Marine Corps recruits these hard-nosed drill instructors probably aren't going away anytime soon. But after boot camp, service leaders here at the Interservice/Industry Training, Simulation and Education Conference are saying they want to do away with 19th century educational models.

Maj. Gen. William F. Mullen III, commanding general of Marine Corps Training and Education Command, said the service's training is still mired in an industrial age education model, where students "memorize facts, regurgitate the facts on a test, then promptly forget those facts and move on to the next set of facts," he said.

"We have to have an information age process that gets Marines learning as a group," he said. This "problem posing" methodology calls for instructors to be mentors as a small set of students work out a specific problem. By doing so, they learn to "think on their feet," Mullen said.

This is particularly important as a Marine's decision in the field can have wider repercussions, Mullen noted. The Corps once called this concept "the strategic corporal." But nowadays, with cameras everywhere, a poor choice made by a Marine at even lower ranks could have a negative impact on operations, he added.

Brig. Gen. Calvert L. Worth Jr., Marine Corps Training Command commanding general, called the service's educational system "antiquated." Schoolhouses, for example, are not structurally set up for 21st century learning styles.

"We have work to do internally within the service to prepare our facilities to actually be able to receive the new technologies, to increase the bandwidth so that we can actually communicate at the speed of relevance," Worth said.

There are some 15,000 Marines receiving continuing education at any given time, he said. About 3,000 of them are for the most part idle and waiting for new recruits to fill classes.
Mullen said service members should instead be given a syllabus, a tablet, and a self-paced, self-learning online curriculum so they can complete their coursework as soon as possible and get to their units for more hands-on experience.

As for advanced field training, the Marine Corps wants to wire its battlefield "NFL style," Mullen said. That includes connecting to every vehicle, aircraft and troop.

The Marine Corps needs to place instruments on their training grounds so they can track where everybody is, where they are going, what they are doing or not doing, Mullen said. Then leaders can pause an exercise, talk about what went wrong in a constructive way, then have them "back up 500 meters" and restart the scenario. "We have to have that capability," he said. "To me, this is all about technology."

This is not a new concept. The Army and the British armed forces train this way, but the Marine Corps "has been stuck on combined live-fire exercises for too long," Mullen said. "For good reason. It is dangerous. You've got to do it. But you have to have a balance," he said.

One way to accomplish this is live-virtual-constructive training, where force-on-force battles can be simulated. That involves live training, some Marines in simulators with others who are up against computer-generated enemy forces, he said.

On the aviation side, Brig. Gen. Eric E. Austin, deputy commander of Marine Corps Forces Command, said the service would like to set up a "Marine aviation virtual warfare center" at its base in Yuma, Arizona. It would integrate all levels of training down to units, do mission rehearsal and include a laboratory for new training technologies.

"There is a tremendous amount of potential for this concept. But it is just a concept now," he said. As yet, there is no funding allocated to the center, he added.

Closer to reality is the 'live-virtual-constructive training environment," an emerging program of record, according to Col. Lou Lara, Marine Corps program manager for training systems. This initiative would train warfighters in seven areas. It would include legacy training systems and also integrate new technologies as new threats emerge, he said. The Marine Corps is currently undergoing an analysis of alternatives for the program, which is expected to be completed by the end of the year, Lara said.
Topics: Marine Corps News, Training and Simulation, Simulation Modeling Wargaming and Training