Boeing Exec Sees Wider Market, More Missions for T-X Jet Trainer (UPDATED)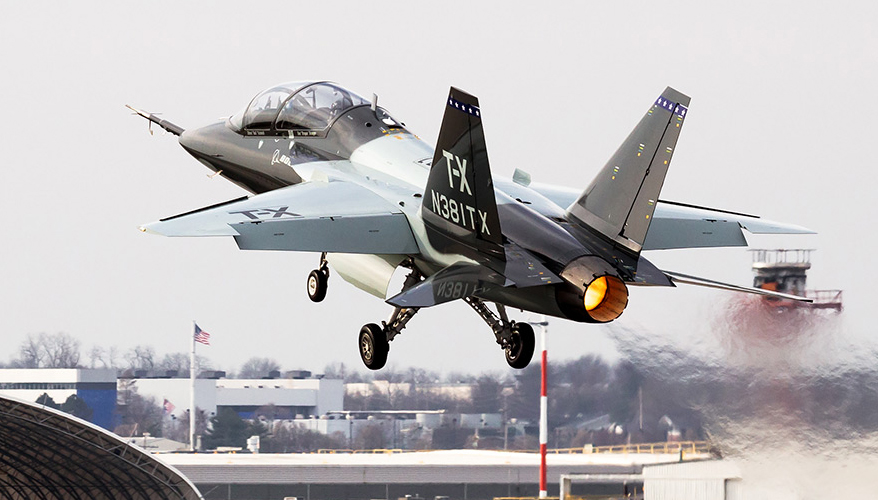 Photo: BOEING
ORLANDO, Fla. — Following a long anticipated contract award for the Air Force's new T-X trainer, the Boeing Co. is moving forward with a plan to reach full operational capability in 2034, a company executive said Nov. 27.
"Part of what we've been doing in these two months is familiarizing our customer with what we've already developed, what we already have, and now we go through the [engineering and manufacturing development] program over the next couple of years," Randy Deidrick, Boeing's ground-based training systems lead for the T-X program, told reporters during the Interservice/Industry Training, Simulation and Education Conference in Orlando, Florida.
In September, the Air Force awarded the Boeing-Saab team a contract worth up to $9.2 billion to develop the a next-generation jet pilot trainer aircraft, which will replace the service's T-38C Talons.
Boeing is also eyeing international sales, Deidrick added. Although the T-X was built primarily for training purposes, there are "provisions made to have it be useful in other roles too, if the opportunity presents itself," he said.
"We see a large market for the T-X aircraft and training system throughout the world," he noted, declining to name potential customers. "The airplane was built with other missions in mind."
According to a service announcement, the Air Force plans to buy 351 T-X aircraft, 46 simulators, and associated ground equipment. However, the indefinite-delivery/indefinite-quantity contract allows the service to purchase up to 475 aircraft and 120 simulators. The first batch of systems is expected to be sent to Joint Base San Antonio-Randolph, Texas, in 2023. Columbus Air Force Base, Mississippi; Laughlin AFB, Texas; Sheppard AFB, Texas and Vance AFB, Oklahoma, are also marked to make the switch from the T-38 to the T-X.
Deidrick said the initial engineering and manufacturing development contract, worth about $813 million, includes the first five aircraft, seven training devices and additional services.
"There's also the training the testers and there's developing courseware to go along with the system. It's all one package," he said.
Deidrick noted that Saab will work as a partner rather than hold a subcontractor role. The Swedish firm's main contribution will be in the development of the aircraft itself, he said, rather than the ground-based training system.
"We will work with them in terms of getting their data from them," he said. "On the airplane side, it's a seamless integration."
Correction: a previous version of this story misstated the worth of the initial engineering and manufacturing development contract.
Topics: Defense Contracting, Air Force News