Navy Pushes Live, Virtual, Constructive Training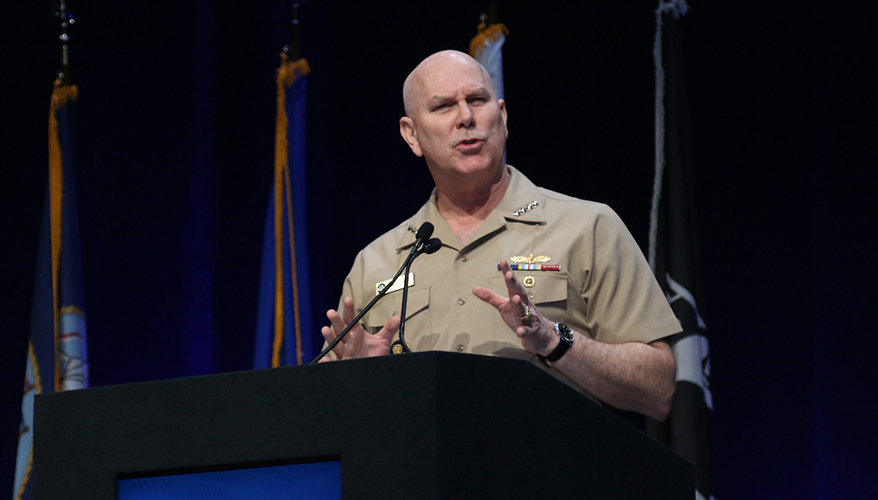 Adm. Christopher Grady
Photo: Melanie Yu / NDIA
ORLANDO, Florida — The Navy seeks to improve how it prepares its sailors for war by using a mix of live, virtual and constructive training capabilities, the commander of U.S. Fleet Forces Command said Nov. 27.

The service is facing a "more lethal and complex battlefield" that now includes space and cyber operations, Adm. Christopher Grady said during a keynote address at the Interservice/Industry Training, Simulation and Education Conference in Orlando, Florida, which is hosted by the National Training and Simulation Association. NTSA is an affiliate of the National Defense Industrial Association.

"We have an imperative to transform how we train and prepare ourselves," Grady said. "We need to adopt an innovative, aggressive approach to our warfighting development."

Live, virtual, constructive (LVC) training — which leverages virtual reality and other computer-generated entities — is one of the initiatives the Navy is pursuing to boost readiness, he noted. This includes incorporating simulations and synthetic weapons, he said.

"We must apply modern training delivery models, understanding that everything isn't best learned in a brick-and-mortar schoolhouse," he said.

For example, the Navy has been utilizing these technologies by holding "SSN fight club[s]," which are virtual battles to help submarine crews strengthen their tactical abilities, he said. LVC training also allows the service to train entire strike groups and provide fleet commanders with the ability to command their forces in realistic conditions during exercises, he added.

Simulated environments help sailors develop "muscle memory" for real-world situations, Grady noted. The intent is to develop versatile sailors that can adapt to different environments and solve problems on the battlefield.

"We want them to become accustomed to quick decisions and efficiently and effectively operating under rapidly changing conditions," he said.

Live training often has limitations, such as safety concerns and high expenses, that the service hopes to bypass by using virtual reality and other simulation technologies, he noted.

"It may be unsafe or impossible to reproduce battle conditions. It can be costly to reproduce the threat density that you expect to see in combat," Grady said. "And just as importantly, we may not want to show our adversaries how we plan to fight."

However, incorporating LVC training is still a work in progress, he noted. Moving forward, the Navy needs to improve its technology; integrate supporting infrastructure; and develop procedures that allow the integration of live, virtual, constructive elements, he said.

"Don't let the shiny vision of what the end state will look like distract you from the hard work it will take to get there," Grady said.
Topics: Training and Simulation, Simulation Modeling Wargaming and Training, Navy News