Training the Space Force: How the Military Will Prepare for Future Battles
Image: iStock
When President Donald Trump announced earlier this year that he was asking the U.S. military to begin the process of establishing a sixth armed service that would focus on space, Washington pundits and analysts wasted no time lauding or decrying the move.
Although details on what a future space force could look like are still nebulous and the reorganization requires congressional approval, industry is already thinking about how it can provide future space warriors with simulators and training equipment to prepare for battle.
While these skirmishes likely won't include hand-to-hand combat in full astronaut gear, space warriors will need to understand how to deal with hostile actions from adversaries that could include everything from electronic warfare attacks that jam signals, or even missile strikes that obliterate key satellites, experts have said.
While Air Force Space Command already takes the lead in equipping and training, a dedicated space force could be advantageous, said Gene Colabatistto, CAE's group president for defense and security.
There is an opportunity to consolidate space with "an intent to focus attention … and ultimately resources to ensure that the space mission is not held subordinate to all the other missions that defense and national security has to execute," he said in an interview.
It will be important to train from the tactical, operational and strategic levels, he noted.
At the tactical level, the military already has some space-based systems in its flight simulators.
"Clearly when we build a flight simulator and a high-fidelity cockpit, that cockpit will be outfitted with avionics that depend on GPS," he said. "Whether it's GPS, satellite communications, or some other service provided by space-based assets, the operator needs to know that they're there. They need to know the capabilities and limitations. They need to know how to use it."
While such training already occurs, it will need to be enhanced in order to prepare for future threats, he said.
Mission planners must also be trained, Colabatistto said. They need "to understand what other systems are out there to include ones they may not know about today, and get them to actively ask not just what are we doing but what can we do, and can we organize our space-based assets in a way … [that changes how they] support the commander?" he added.
For industry, this presents a number of opportunities, he said.
The first "opportunity for us is to make sure that space-based capabilities are fully represented in our synthetic environment," he said. "That includes both friendly and the opposing forces space-based capabilities."
CAE already supports Army Space and Missile Defense Command's mobile training teams' efforts to understand the capabilities and limitations of space systems, he noted.
The company sees space training "as a market segment that we may be able to expand" into, he said. "I'm encouraged because I think that's a market segment where more funding will flow and it connects directly to our core users — the operational users of aircraft, ground combat systems and ships."
Kratos Defense and Security Solutions is also eyeing opportunities that may emerge should a space force come to fruition, said Frank Backes, the company's senior vice president for satcom products and federal satellite solutions.
How a space force trains would likely be different than the way the military currently educates its operators, he noted.
"Current space training systems are space-program focused," he said. "You would have a training system that is focused on GPS or remote sensing satellites or milsatcom, as an example, and the current training environment is sufficient to support introductory training." That includes both flying satellites and working on payloads that may be hosted on space assets.
"Space force training kind of opens the aperture to include anomalies of those satellites and threat training to understand how adversaries may attack a particular satellite capability," Backes said.
A major part of that will be attack response training, he noted. If an adversary uses an anti-satellite missile to target a U.S. space asset, there would be an extremely limited amount of time to react.
"If that satellite that they're shooting down is in geosynchronous orbit you might have … 45 minutes [or] an hour and a half to deal with that situation," he said. "But if your satellite were in a low-Earth orbit, you might only have five to 10 minutes."
But not all space threats are as dramatic as an anti-satellite missile. Sometimes it could be a competitor jamming a communication signal and knocking out access to a particular satellite for a period of time, Backes said.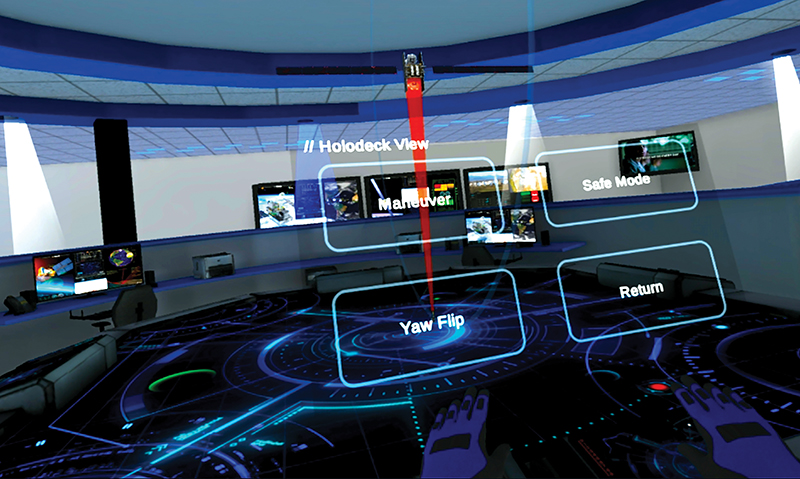 An image of a Kratos prototype that enables users to put themselves into a satellite control station. (Kratos)
"If it's timed exactly right it might have some pretty catastrophic effects," he said.
Future training for a space force will require multi-media systems, Backes said. That will include virtual, augmented and mixed-reality technology.
"Some of those might be free-play environments," he said. "You'd have a group of people doing the attacking side and then you would have a group of people on the other side dealing with the interpretation of those attacks and the potential responses."
Crew-level mission training would also be key, Backes added.
"Let's say you have a crew in … [a] GPS operations center and they need to not only understand how to fly the GPS satellite and how to manage the GPS payload, but … they would also need to understand what threats could possibly be impacting the GPS system and then how to respond to those particular threats," he said.
Simulations will be particularly important as training with real space assets would be prohibitively costly in many cases, he added.
Kratos is interested in how a space force could translate into new business opportunities, Backes noted.
"Because a lot of the threats against our space systems are new, we're in an environment right now where the DoD and other agencies that use space systems need to first define the nature of the threats that the space warfighters are going to deal with," he said. "Once those threats have been defined then we can start looking at training curriculum to be developed against those particular threat environments."
During a recent breakfast meeting in Washington, D.C., hosted by the Air Force Association's Mitchell Institute for Aerospace Studies, Brig. Gen. DeAnna M. Burt, director of operations and communications at Air Force Space Command, discussed ways the service currently trains its space warriors. That includes everything from classrooms to large-scale exercises with coalition partners.
While Burt would not comment on how the establishment of a dedicated space force would affect training, she did note that the Air Force recognizes that it must beef up its curriculum in order to overmatch adversaries who are investing in counter-space capabilities.
When Burt entered the Air Force at the end of 1991, space was a benign and peaceful environment. Now near-peer competitors such as Russia and China "are absolutely competing with us in space … and putting up capabilities that put our assets at risk," she said.
The undergraduate space training program for both officers and enlisted airmen at Vandenberg Air Force Base, California, will be increasing from 77 to 111 days to add depth, she said. It will also raise the required security clearance level needed to participate so instructors can talk about threats in greater detail.
Air Force Space Command is also putting a premium on wargaming and collaborating with coalition partners, she said.
For example, the Schriever wargame, which took place at Maxwell Air Force Base, Alabama, wrapped up in October. A number of countries including the United Kingdom, New Zealand, Australia, Canada, Germany, France and Japan participated.
"We have definitely taken it to the next level," Burt said. The wargame looked at technology that is anticipated to be fielded over the next 10 years and examined what a space engagement in the 2028 timeframe may look like.
The objectives of the game included: working with international partner capabilities; gaining insight into resiliency and deterrence through synchronization of space and cyberspace operations; examining various combined command-and-control frameworks; and identifying strategic and operational contributions of space and cyberspace in multi-domain conflict, according to Air Force Space Command.
The latest game focused on the U.S. Indo-Pacific Command area of responsibility.
The command is also taking part in events known as Space Flag, which mirror the famed Red Flag aerial combat exercises that take place at Nellis Air Force Base, Nevada, Burt noted.
The organization has completed four Space Flag events in the past two years.
The exercises are a way for space operators to learn how to participate in large force employment, Burt said. They include a number of organizations such as Air Combat Command, the National Space Defense Center, the Combined Space Operations Center and the National Reconnaissance Office.
The command utilized a Boeing-owned virtual warfare center to execute its most recent Space Flag, she said.
"It takes a lot to run these, but we get about 50 folks through the game at a time," she said. "We're working hard with Boeing. The facility they have is incredible. But we're only using a portion of the space. We're trying to figure out how to … put more operators through a given rotation."
The command has currently budgeted for three additional Space Flag exercises. There is a push from Secretary of the Air Force Heather Wilson to increase coalition involvement, Burt said.
One of the command's biggest shortfalls is with simulators, Burt said. The service needs newer, more cutting edge systems that can prepare operators for new threats. The Air Force plans to increase funding for them, she added.
Bill Ostrove, an analyst at Forecast International, said until there is more clarity on what a space force would look like, it would be difficult to say what specific training opportunities would present themselves. However, it is likely that there will be an influx of personnel who will require more familiarity with space.
"There would also be opportunities just from the expanding mission and the expanding role of space within DoD — which is certainly related to space force — but not necessarily only because of space force," he said.
Ostrove noted that the proliferation of cubesats — small satellites that are less costly than traditional systems — may help train space warriors.
"Because they are so much cheaper you can use them to practice with," he said. "If you're spending $100,000 on a satellite you can take a lot more risk with it than a $100 million satellite. So if we do see a dedicated space force, we could see more opportunities for cubesats … as a learning tool for incoming personnel into that new branch."


Topics: Space, Training and Simulation