Minuteman III Replacement Program Moves Toward Next Phase (UPDATED)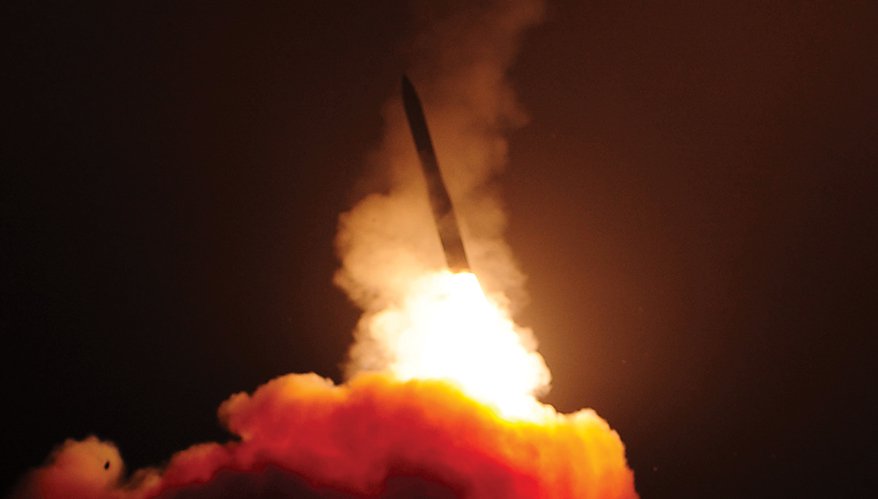 LGM-30G Minuteman III
Photo: Air Force
The current ground-based strategic deterrent system is reaching the end of its useful lifespan. First installed at Northern Tier Air Force bases in 1968, the LGM-30 Minuteman III intercontinental ballistic missiles were intended to serve for a decade.
Fifty years later, the Minuteman III remains in place as the land-based component of the nation's strategic triad – complementing nuclear-weapons systems that are deployed on the Air Force's strategic bombers and Navy's ballistic-missile submarines.
As the legacy platform ages, the Air Force and industry are moving forward with plans to replace it with a new ground-based strategic deterrent, or GBSD.
"Our existing systems are getting old. They need to be replaced," said Ann Stefanek, an Air Force spokesperson.
Tom Karako, senior international security program fellow at the Center for Strategic and International Studies, said, "The Trump administration, like Obama before it, is going over everything — all of the options — and saying, 'We really need to replace this, and also nuclear command and control.'"
Mark Gunzinger, a senior fellow at the Center for Strategic and Budgetary Assessments, said: "We are reaching the limit to our ability to continue to extend the service life of the Minuteman III."
Last August, the Air Force selected two companies — Boeing and Northrop Grumman — as the two primary competitors to design and build the GBSD. Both firms are now entering the second of a three-year, technology maturation and risk reduction phase, funded at roughly the same amount of money for each. Northrop Grumman received $350 million, while Boeing got $349 million.
"We're supposed to inform [the Air Force about] requirements going into the next phase — engineering, manufacturing and development," said Patricia Dare, team lead for strategic deterrence systems at Boeing.
Northrop Grumman declined to be interviewed for this story.
The Air Force is expected to award a contract sometime around next August. Once complete, the new GBSD systems would be installed in existing silos and workspaces at three Air Force bases —
F. E. Warren in Wyoming, Minot in North Dakota, and Malmstrom in Montana. Under terms of the New Strategic Arms Reduction Treaty (New START) with Russia, GBSD will be limited to 400 operational weapons. The system should be ready by the end of the next decade.
"One of the things we're doing with this contract is keeping competition longer in the process than we may have done in the past," Stefanek said. "When you have competition, typically it drives costs down."
Stefanek said the service does not expect the budgetary process to change much in the meantime. The Air Force will come forward with a five-year proposal, she said, with budgetary projections based on cost estimates that emerge as the competition and down-selection processes progress.
The two companies are focusing on a complete replacement of the Minuteman III system. The much criticized floppy discs will go away. Other parts that are aging out are becoming irreplaceable. Sustainment costs would entail paying companies to manufacture parts and produce software that has long disappeared from the commercial market. Maintenance of archaic propulsion and guidance systems simply do not make sense anymore. Analyses have determined that it would be cheaper in the long run to replace the system entirely, officials have noted.
"Sustainment costs of the current system are expected to continue to rise as it gets older," Stefanek said. "We're going to have to put money in either to fix the existing system or put a new system in."
Once the award is issued next year, the winning company will enter an engineering, manufacturing and development phase. The designers will move forward with the understanding that the ICBM they are building will be expected to last more than 50 years — just like its predecessor. It will need to incorporate a modular design, so that parts and systems can be upgraded during its lifespan as both technologies and threats change over time.
"Replacement of the entire weapon system includes the aerospace vehicle equipment — the missile — as well as the infrastructure supporting the weapon system," said Dare. "It's very important to get the new system in place with capabilities that will meet emerging threats. We want to make sure the warfighter has the best capabilities to execute the mission."

Left: A Boeing artist's concept of an ICMB / Right: Northrop Grumman's GBSD concept art
For Gunzinger, the plan to replace Minuteman III with GBSD must be taken into consideration in the context of the need to enhance the entire nuclear triad. As an Air Force officer, he piloted B-52 bombers. After retiring from active duty, he served as deputy assistant defense secretary for force transformation resources under President George W. Bush.
"When I first joined SAC [the Strategic Air Command], there was a pretty robust missile force," Gunzinger said.
The strategic arms limitation treaties between the United States and Soviet Union significantly reduced those numbers before, during and after the Cold War, Gunzinger said. Funding for strategic defense forces, which was as high as 11 percent of the budget at one point, eventually dropped to a low of 2.5 percent.
"That was enough to sustain our triad with incremental upgrades and life-extension programs, but not enough to replace the Minuteman III," Gunzinger said.
"However, at the very same time DoD funding fell off, Russia never stopped. They've modernized all three legs and continue to do so. China has an acknowledged strategic triad as well," he added.
Challenges would come with any decision to simply upgrade rather than replace Minuteman III, he noted.
"For example, take the engines. Those of two of the stages are made out of metal, and the third is a composite. The first two probably could be scrubbed out and the propellant could be re-poured, but there's going to be some attrition. We wouldn't know until we do that," Gunzinger said.
The composite stage cannot be re-poured, he said.
Karako said it is significant that the GBSD acronym does not mention the word "missile." The distinction implies the necessity to replace everything associated with Minuteman III — the host of ground-based systems that accompany the ICBM force, including command and control and ground stations.
"It's not just holes and missiles. It's lifecycle costs," Karako said.
The winning company should, however, be cognizant of components in the old system that may merit adaptation into a current and useable form. For instance, he cites the fact that the computers in silos still require floppy disks drew incredulous responses when reported widely in the media a little more than two years ago. Floppy disks, Karako notes, cannot be easily hacked.
"There are other elements of analog, which from the scheme of things might be just fine or have qualities we don't necessarily want to dispense with," Karako said. "That said, there are a lot of operations and maintenance things that can be improved."
New ground stations and equipment would be easier and cheaper to maintain, he said.
Karako is ready to counter any contentions that ICBMs have outlived their usefulness and are too expensive to maintain or replace.
"You have to emphasize the strategic context. Every time the U.S. looks at the possibility of getting rid of the ICBM, sure enough it tends to come back to the same conclusion," Karako said. "Pound for pound, dollar for dollar, the ICBM leg is relatively inexpensive and provides a significant contribution to the overall nuclear deterrent provided by the triad."
Bombers and submarines are effective, but are limited in number, Karako said. Ground-based ICBMs provide promptness, range and distribution. Their presence forces potential adversaries to double down in their own strategic deterrence efforts. The qualities and characteristics of a ground-based force, he believes, simply cannot be replaced. Even though arms-limitation treaties let potential adversaries know how many warheads the United States can bring to bear, the very presence of a large number of ground-based silos would require them to commit a significant chunk of their resources toward eliminating them.
"If somebody wants to decapitate our ICBM force, they'd have to go all in," Karako said. "Russia would have to expand much of its nuclear force to hit the silos in the American West, and they still wouldn't be able to hit our other [triad] legs."
In due time, Karako said, the Air Force will award the contract and the modernization will take place.
"It's the right thing to do. It's not an artificial timeline that has to be met," he said.
To fully understand what is at stake and what is required, Karako said that the focus should go beyond simply counting the number of warheads and look instead at the uniqueness of the protection the strategic triad provides.
"We don't know what the future holds. We're building systems that are going to be around for many decades to come," Karako said. "It is important that we be cautious in terms of not dispensing with something today. The fact is, these particular qualities and contributions proved useful in the past. We should be careful about dispensing with this for what could be an uncertain future."
Correction: A previous version of this story had an incorrect caption.
Topics: Strategic Weapons