U.S. to Challenge China in Territorial Dispute Using Military, Economic Means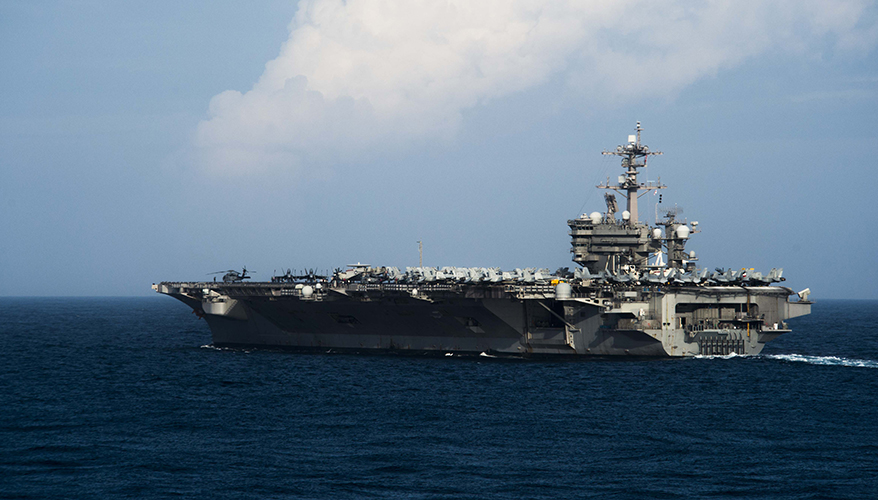 The aircraft carrier USS Carl Vinson in the South China Sea.
Photo: Navy
HALIFAX, Nova Scotia — Indo-Pacific Command Commander Adm. Philip Davidson said the United States will continue to challenge China over its claims in the disputed South China Sea region with both military and economic means.

Davidson came to the Halifax International Security Forum in Canada Nov. 17 and delivered a message similar to one the Trump administration gave on the other side of the world the day before: The United States intends to beat back China's influence over its smaller, less wealthy neighbors.

Davidson — as well as Vice President Mike Pence speaking Nov. 16 at the Asia-Pacific Economic Cooperation summit in Papua New Guinea — both accused China of using its economic might to "coerce" nations into doing its will and ultimately giving up part of their sovereignty.

Davidson cited a new "clarity of vision" for the region — one in which the United States is more engaged economically in the Indo-Pacific, and one that gives options for nations seeking development dollars. The administration is accusing China of predatory lending practices. Smaller nations seeking loans to build infrastructure borrow money at high interest rates they cannot afford to pay back, putting them in what he called a "debt trap." China then uses the debt as leverage to have these nations do their bidding in international forums.

That coercion has extended to the dispute over China's building of manmade islands in the South China Sea and its claims of sovereignty over the region.

"In the ongoing negotiations over a South China Sea code of conduct between China and the Association of Southeast Asian Nations, China is pressuring members into granting it de facto veto authority over the states to sail, fly, train and operate within the South China Sea," Davidson said. "This is a clear violation of the international sea and air standards that are codified in the United Nations Convention on the Law of the Sea," he added.

Neighboring nations "do not have to choose who they trade with and who they partner with because of fear or coercion," Davidson said. Yet he emphasized that he was not asking nations to choose one sphere of influence over another. That goes against "the very phrase 'free and open,'" he added.

As for dealing with China, Davidson said: "Engagement is critical. Dialogue is critical. So is designing the solutions that will help promote and advance a free and open Indo-Pacific. … The United States will continue to cooperate where we can, but as our National Defense Strategy makes clear, we will compete where we must. The stakes in the region are just too high."

Over $3 trillion in goods traverse the South China Sea region every year along with commercial air traffic, commercial shipping, as well as information and financial data through undersea cables, he said.

Davidson later told reporters that he planned on making his first trip to China early next year. As an example of cooperation, the U.S. Army was currently carrying out joint training with China on disaster relief scenarios, he said.

Nevertheless, the U.S. military continues to wrestle with the issue of island building in the South China Sea. China promised in 2015 that it wouldn't militarize the manmade islands, then secretly installed anti-ship missiles, electronic jammers and surface-to-air missiles earlier this year, he noted.

Countries such as the United Kingdom, Australia, Japan, Canada and France have all exercised their right to sail in the disputed waters. "I think that's sending a key message to China that the international community is interested in an open seas and airways — certainly in the South China Sea," he told reporters.

The United States can offer nations an exit from China's sphere of influence, Davidson said. They can choose "open investment environments, transparent agreements between nations, protection of intellectual property rights, fair and reciprocal trade — all of which are essential for people, goods and capital to move across borders and through international seas [and] cyberspace for the shared benefit of all."

Pence said in his APEC speech: "We're all aware some are offering infrastructure loans to governments across the Indo-Pacific and the wider world. Yet the terms of those loans are often opaque at best. Projects they support are often unsustainable and of poor quality. And too often, they come with strings attached and lead to staggering debt."

He announced a new $400 million Indo-Pacific Transparency Initiative and a partnership with Japan on a $10 billion energy initiative for the region.

Those sums, however, stand in stark contrast to China's Belt and Road Initiative, an effort to tie some 68 nations economically to China through infrastructure development. China announced it would contribute $40 billion of its own funds to the initiative, along with the investments from Chinese banks.
Topics: Shipbuilding, Maritime Security, Navy News