EXCLUSIVE: Q&A with Adm. Karl Schultz, Commandant of the U.S. Coast Guard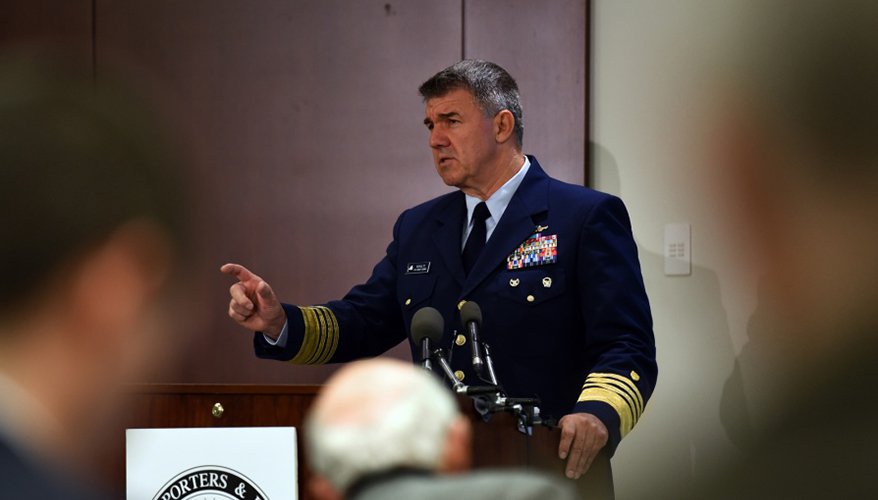 Coast Guard Commandant Adm. Karl Schultz
Photo: Coast Guard
HALIFAX, Nova Scotia — Adm. Karl Schultz, who was sworn in as the 26th commandant of the U.S. Coast Guard in June, sat down Nov. 17 with National Defense's Editor in Chief Stew Magnuson on the sidelines of the Halifax International Security Forum.
Schultz discussed managing the service under a continuing resolution, shipbuilding plans and a new name for its heavy polar icebreaker program. The interview has been edited for brevity and clarity.
Q: I know you can't talk numbers or any specifics, but how are prospects for your budget next year?

A: We haven't got a '19 budget yet. … We sit in the Department of Homeland Security. And so we're under the current [continuing resolution] that extends to Dec. 7. So if you're talking about the '19 budget, we're eagerly awaiting an outcome there. And we'll see what the Congress chooses to do with that in terms of what's in the '19 budget. I'm guardedly optimistic. We're hoping to get the first of what will be multiple Polar Security Cutters funded in there.
If you're talking '20 budget, that's very much in the deliberative phase as you know. The budget has been submitted through our parent the Department of Homeland Security, and it's gone off to the Office of Management and Budget. And this is the time of year and the coming weeks here when we go through what they call the pass-back process.
So to be frank there is not a lot to talk about on the '20 budget at this stage in the game. I mean we've heard the president now talking about some potential topline impacts on that. But I would say until we go through that deliberative process with our department and the Office of Management and Budget, I'm not going to speculate on '20.

Q: And how is the continuing resolution affecting you?

A: The CR affects us in that you can't do new-starts in acquisitions. The bad news is that we've gotten sort of pragmatic about dealing under a continuing resolution. There has been an awful lot of them. I forget the numbers: it has been 30-plus interim ones in the last decade or so. We're hanging in there. I'm hoping something comes here in the coming weeks there and there's a budget.
I think at the end of the day, we don't have garrison forces and short of a shutdown, we're probably OK. We keep going if there's the threat of the government shutdown. And for a smaller organization like the Coast Guard that can be palpable if we send people home because those folks have jobs that supply and support frontline operations. But at this point we're hanging in there and just waiting to see where it goes with the Congress.

Q: Do you have any new-starts that will be affected?

A: I think we're fine with things. We awarded the Offshore Patrol Cutter and I think we got that out the gate right before the new year. So actually I don't think I can point to anything between now and Dec. 7 that's at risk. But as this rolls into the next calendar year, there's probably some things that pop up.

Q: Let's talk about the Offshore Patrol Cutter, are you still on track for its 2021 delivery date?

A: 2021 is the date when I think we anticipate the first delivery. We would take them as soon as possible. We're running some 50-plus year old, 210-foot medium endurance cutters and some 35-plus or minus 270-foot cutters. But 2020 or 2021 is when we expect to get the first in the class there.

Q: And is that on track?

A: I hope so. We just awarded the contract late September to Eastern Shipbuilding Group. They were up in Panama City, so they were on the track of Hurricane Michael. This is week-old information, but I believe that 80 percent of their workforce is back. They suffered a lot of damages. They're working very hard to reconstitute that. And we're tracking that very closely. My sense from some conversations we've had in leadership level with Eastern Shipbuilding Group is they're getting their selves back together. But a major storm like that will have some impact on the organization. So at this point we're working closely with them just to figure out, did we lose any time in here? But we're on the start of a 15-plus year relationship. … We're excited about being in the partnership with Eastern. We hope they're going to build a great Offshore Patrol Cutter force.

Q: And how about the current numbers on the National Security Cutters? You have gotten more than was originally planned.

A: So the program of record on the National Security Cutter is actually eight and the Congress has basically awarded us funds for three additional cutters. So the 2018 omnibus put monies in there for 10th and 11th National Security Cutters.

Q: Did that come from the Coast Guard saying that this was a new requirement?

A: That was the will of Congress to buy us those additional hulls. … We did not on budget ask for those additional hulls as we have a finite amount of trade space. We welcome the additional hulls to be frank. The National Security Cutters are fantastic ships.

Q: Moving on to the Arctic, how are your plans to build up your infrastructure there going?

A: We're doing some infrastructure in Alaska because we're assigning Fast Response Cutters up there. So that's a piece in terms of Arctic. There's a lot of different looks across the government about what's the right infrastructure in the Arctic right now for us. For the foreseeable future, I think sea basing is really where we intend to be. There's not really a port up there. I was up with the secretary of the Navy at Port Clarence and at Spencer Point, and there's some talk about putting some moorings down there where you could come and get [a ship] protected away from the weather if you had to evade the weather, or had to do some maintenance. But truly there's potentially a broader conversation down the road about maybe a port up there, and that will be something in conjunction with other stakeholders.

Q: How about communications up there?

A: Comms are challenging. We're actually putting up some cubesats on Monday or Tuesday next week and doing some testing about enhancing our ability to communicate up north. That is a challenging space: communications. But we have some pretty good hope that this may be a capability that's going to allow us to increase our communication.

Q: And how is progress coming along on acquiring new polar icebreakers?

A: So [the requirement] is a minimum of six icebreakers — new icebreakers — three of those have to be heavy or what we're calling 'polar security cutters' just to give us the access we need in the high latitudes. And then we really need one now. I mean we are behind the threats up there in the Arctic. It's a competitive space. Our Chinese counterparts are up there every year since 2016 with … their research vessel. They just launched the second Sea Dragon II. …. They just launched that weeks ago. It probably won't be operational for a year. And my understanding is they're working on a heavy icebreaker as well. They've declared themselves a near-Arctic nation and stayed there in recent months.
So there's a requirement. There's untapped energy up there, you know, 13, 14 percent of the undiscovered petroleum there on the Arctic shore. … There's a third of the gas. A trillion dollars of minerals. So we've got clear sovereign interests. We've got security interests up there. We re-designated the icebreaker to the Polar Security Cutter because I think things have changed. [Defense] Secretary [James] Mattis was up in the Arctic in the June timeframe and he [said] we really need to up our game in the Arctic here a little bit, and he pointed to the Coast Guard. And I'm absolutely aligned with that.

Q: You're calling the heavy icebreaker the 'Polar Security Cutter.' Is this a different design, or will it have multiple missions?

A: We honestly haven't changed the design requirements but it's a little bit of a name change to be in tune with the evolving mission up there. … Up there, presence equals influence and there is a security mission up there.
It's a competition for influence up there. And when you're talking about an icebreaker that appeals to a pretty small constituency. … And I go back to, you know, where the SecDef talks about the great powers' competition. I think if I remember his quote, it was along the lines of, 'We'll cooperate where we can and we will compete vigorously where we must.' I would argue the Arctic is one of those places where it's a competitive space and the Coast Guard is sort of the face of that. I think the Polar Security Cutter speaks much better than a 'heavy icebreaker' to be honest with you. We're not planning on arming it at this point. It will have small arms. The type of stuff we've had in all our ships.
Topics: Maritime Security