Pentagon Plans to Shield Space Programs from Potential Budget Cuts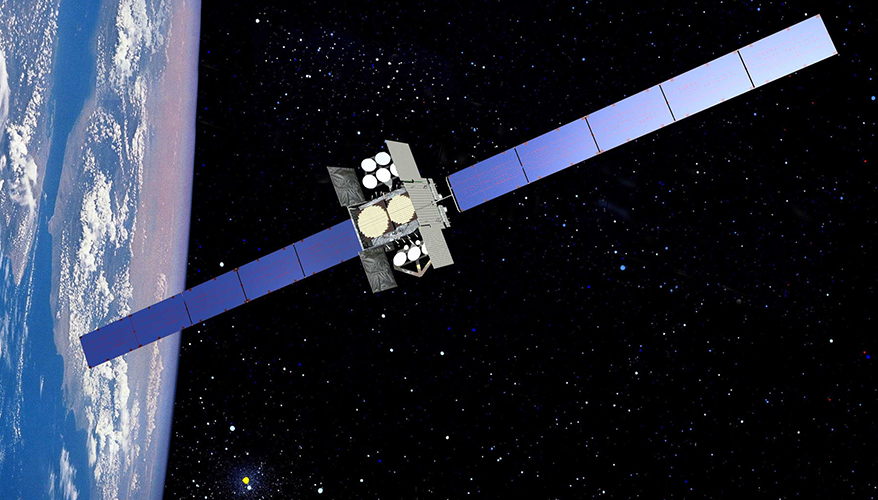 Artist's rendition of Wideband Global Satellite
Image: Air Force
Protecting space program funding will be a top priority for the Pentagon as it carries out President Donald Trump's order to trim $33 billion from its fiscal year 2020 budget blueprint, Deputy Secretary of Defense Patrick Shanahan told reporters Nov. 15.
Pentagon officials have spent about 10 months building a $733 billion budget to submit to the White House. But a few weeks ago, Trump tasked the department to come back to him with a $700 billion proposal for 2020.
The military services are expected to provide their input about areas to cut on Monday. Defense Secretary Jim Mattis and other officials from his office will then adjust those spending numbers before they are delivered to the White House, Shanahan said during a meeting with reporters at the Pentagon. Department leaders are expected to brief Trump about the smaller budget the week after Thanksgiving, he noted.
National Defense asked Shanahan about the modernization categories that Pentagon leaders hope to shield from potential cuts.
"Space is a super high priority," he said.
Efforts to protect space funding might be well received by Trump. The president has repeatedly talked about the need to beef up the United States' capabilities in this realm, and he has proposed creating a new independent branch of the military that would focus on space.
The cost of creating an independent space force would likely be much less than the Air Force's $13 billion projection, Shanahan noted. The office of the secretary of defense's latest estimates suggest that the bureaucratic reorganization will cost less than $10 billion and perhaps less than $5 billion, he said.
Cyber is also a high priority, Shanahan said. The Pentagon has identified cyberspace as a warfighting domain on part with air, land and sea, and the department is looking to beef up its defensive and offensive capabilities.
Hypersonics development, Undersecretary of Defense for Research and Engineering Mike Griffin's top priority, is another area that officials will seek to protect from the budget axe, Shanahan noted.
In good news for the Army, Pentagon leadership hopes to shield some of its top modernization priorities. "There are certain elements that are on a critical path," Shanahan noted without identifying them. The service's top six modernization priorities are: long-range precision fires; next-generation combat vehicle; future vertical lift; the network; air-and-missile defense; and soldier lethality.
Shanahan declined to identify lower priority modernization efforts that could see trims. "I don't want to say 'tank' or I don't want to say 'combat vehicle' because then everybody who builds one of those [platforms] thinks that that's something that's an imminent decision," he said.
Shanahan suggested that Pentagon brass are hoping that Trump will change his mind about the budget cuts.
"What I want the president to understand when we bring forward [the revised budget] is what are those tradeoffs so he has an informed position" about what will happen if the military has to settle for $700 billion, he said.
"I either get reduced capacity, I get lower quantities in procurement [or] I change modernization" plans, he noted. "He needs to have an awareness of what that number really translates to in terms of performance here for the department."
Even if the White House ultimately submits a $700 billion budget proposal for the military to Congress, lawmakers will have the final say on how much the Pentagon receives. Senate Armed Services Committee Chairman Sen. Jim Inhofe, R-Okla, said earlier this week that $733 billion should be the floor when it comes to funding the department. Other lawmakers, such as Rep. Adam Smith, D-Wash., who is expected to become chairman of the House Armed Services Committee when the new Congress is sworn in in January, have suggested that defense spending should be reduced.