Defense Department Test Ranges Called 'National Assets'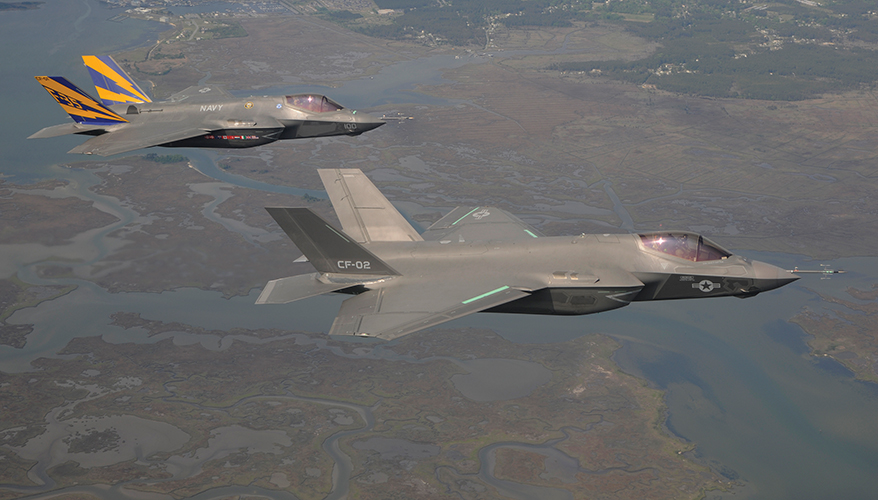 Test flight of F-35 joint strike fighters at the Atlantic test range.
Photo: Air Force
The Defense Department and the military services operate an extensive enterprise of development and operational test and evaluation ranges and facilities.
When looking at the national defense strategy, Brian Hall, acting deputy assistant secretary of defense for developmental test and evaluation, said readers should think "big picture." And the development T&E sites are definitely "big picture," with big facilities to conduct big tests.
According to Hall, the Defense Department has more than 500 test and training ranges, with 23 of them considered the "critical core," and are collectively known as the major range and test facility base. "If we lost one of those, we would lose a major national asset to test some commodity of systems."
The enterprise is large. "Within the [base], there's about 22,000 square miles of land; 336 square miles of airspace; 381 square miles of sea range; and a workforce of 23,000 people, not counting the defense acquisition T&E workforce or the folks in the operational test commands," Hall said.
The ranges are located in different parts of the country, and tend to specialize in different types of testing. They all have the challenges of safety, security and introducing new types of technology, and having a qualified workforce to operate the ranges and conduct the testing.
"Each of the ranges are designed to perform a specific mission set that is consistent with that military service's needs and the commodity of weapons systems that they need to test and evaluate there," Hall said.
The military services coordinate and leverage the use of these capabilities, which are often highly specialized. "There's sharing of the test capabilities in the department, not just between the military services, but also across the federal government," Hall said. "It's an enterprise endeavor."
Test and evaluation includes developmental, operational, integrated and live fires. "Developmental tests and evaluation are the most valuable source of data to inform design improvements and production readiness, whereas OT&E — or operational test and evaluation — is the most valuable source of data to inform combat readiness," Hall said. "Integrated T&E generally refers to how we leverage contractor testing and government testing, and it also refers to how we can leverage efficiencies between developmental and operational testing. Live-fire test and evaluation informs assessments of DoD systems, their vulnerability and the lethality of those programs."
The services manage sophisticated ranges to conduct the testing, and leadership meets regularly as part of the range commanders council. It serves as a forum to promote advancements to testing and training ranges. It has developed technical standards for sharing and trying to get interoperability of test infrastructure across the services, so that similar testing done at different ranges could be compared to the same metrics. If testing is conducted at one range, the data as it's presented would be the same if a similar test was conducted at another range.
The council meets periodically and has 12 standing groups, and some of them have sub-groups, which also meet regularly to deal with specific issues or technologies, and involve the relevant subject matter experts that work at the ranges. "They're the primary means of technical exchange across the ranges," Hall said.
Robert Vargo, director of the Atlantic test range at the Naval Air Warfare Center — aircraft division, Naval Air Station Patuxent River, Maryland, said, "We provide the ability for the acquisition programs to conduct flight testing in both the local Patuxent River operating area and … various places that they will need to go, whether it's their initial contractor facility, the primes, all the way to when they deploy, take systems out to the ship to do testing. So we do it here and 'on the road.'"
It is one of the two warfare centers under Naval Air Systems Command, the others being Naval Air Warfare Center — weapons division at China Lake, California. Both operate test ranges. They are the primary warfare centers, "but our competencies — including the ranges and the flight test engineering — are national," Vargo said.
"We test the aircraft in every potential condition it will be in — from high angle of attack/flat spins, to every configuration that aircraft can have. We start with one weapon all the way up to every type of set up of multiple weapons stores," he added. "They have to go up and do different testing to make sure that the plane is able to fly in that configuration in all aspects."
The range provides the environment to conduct a test. The Atlantic test range offers customers fully instrumented and integrated airspace and surface target areas for test and evaluation of aircraft and for warfighter training missions. The range is equipped with fixed and mobile radar and precision optical tracking systems for a variety of scenarios. Its telemetry data center offers real-time radio-link reception, translation, processing and display of test data using the real-time telemetry processing system.
Alan Perry, team lead for the electro-optical tracking systems section, which is part of the optical systems branch at the Atlantic range, says his group uses cameras and the tracking instruments to test and acquire the data. There's a metrology group that does the measurements. And the data reduction group analyzes the imagery data and correlates it with the time, space and position information to do the analysis on it.
"If you want to know where an item is in space at any time, point in time, we can calculate that for you optically and we can tell you where it is. You can do a time history of where the item is and generate a plot to see where the bomb went when it left the aircraft, where it impacted and what trajectory it took," Perry said. "You can generate that optically, with radar and with GPS. If all else fails, there are always ways to do that optically."
Perry said the range has several target sites with instruments located at each one of them. "We have good triangulation which provides us good geometry for developing a solution," he said. The still and motion imagery — using both visible light and infrared — provide both quantitative and qualitative data, he added.
Each of the target sites have cameras, and there is a remotely operated pedestal in the center of the airfield. Plus, Perry has mobile systems he can take anywhere. "We have fixed assets and mobile assets. That's how we cover everything. We have standard HD video, and we run a lot of high-speed imagery," he said.
In the situation involving the arresting gear, Perry said it wasn't until they used high-speed cameras that they could see the oscillations. "That thick, heavy cable had standing waves and ripples as the tires run over it, and it's actually quite amazing to see it do that."
Each of the major test ranges has experts like Perry and his team. Perry is chairman of the optical systems group, which is one of the sub-groups under the range commanders council.
There's a lot of information sharing at the twice-per-year meetings. "It's a chance to have someone who is struggling with a problem to find out from others how they synced their cameras together, for example. There's a lot of benefit," he said.
Not only do the experts at the various ranges share information, discuss trends and new technologies, they also hear from the vendor community. Perry said there is real value in having the contractors there. "It's an opportunity for us to have all those people that make the tools that we use in one place, and they get to hear what we do with their stuff and what the problems are and we can go around and see what they're working on," he said.
A few years ago a company called Innovative Signal Analysis showed up with its WAVcam at the group. "They've been to several of our meetings, and we've had a dialogue back and forth with them on how to tailor their product to make it useful for what we do. They've been listening and making improvements, and getting their product to more closely meet our needs," he said.
"They've been here to Pax River, and they have a demo scheduled at White Sands for later this year. So that's an example of beginning and building a relationship, because they've got something that could be super useful to us, and they're tweaking it and tuning it, and are making improvements to it because of the input that they're getting from us," he added.
WAVcam combines long-range zoom imagery in a wide angle format. "It would be very useful for range safety here for the restricted area out in the bay. Also, if a range has cameras monitoring a target, and instrumentation focused on a particular area, if the impact is outside that area and the equipment didn't see it, well, where did it go? A system like WAVcam is looking at broad area and can complement a range's data acquisition cameras," Perry said.










Topics: Defense Department, Test and Evaluation