Industry Gunning for Next-Generation Combat Vehicle Program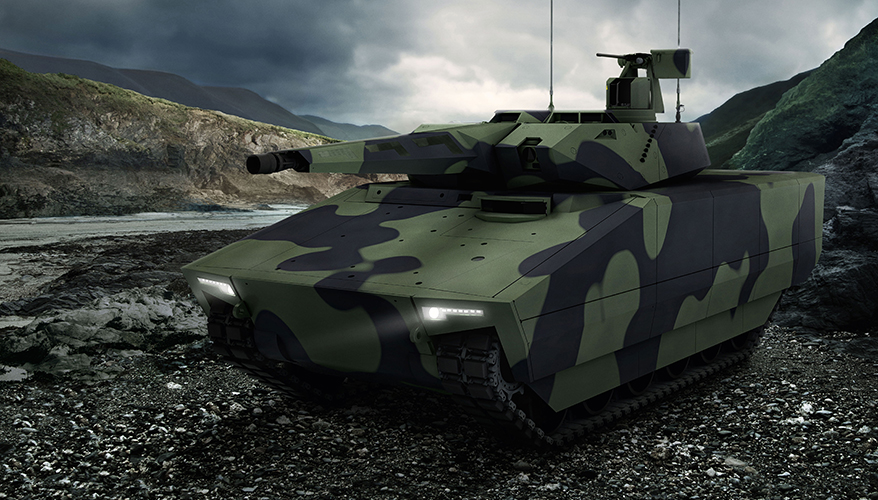 Lynx infantry fighting vehicle concept art
Concept art: Rheinmetall Defence
Industry is gearing up for a competition to provide the Army a new optionally-manned combat vehicle, which the service hopes to field by 2026.
The next-generation combat vehicle portfolio, or NGCV, is the Army's No. 2 modernization priority behind long-range precision fires. It expected to include a family of systems that would replace the Bradley Fighting Vehicle and the M1A1 Abrams tank.
A request for proposals for a new platform — known as the optionally-manned fighting vehicle — is expected to be released no later than January, Brig. Gen. Richard Coffman, director of the NGCV cross-functional team, said Oct. 9 at the Association of the United State Army's annual convention in Washington, D.C.
"We've been clear enough with the objective threshold requirements to allow industry to innovate and come to us with options," he said during a meeting with reporters.
Several major industry players are displaying their platforms at the AUSA conference to help pique the Army's interest.
BAE Systems brought its CV 90 Mk IV.
"We're looking forward to a good conversation with the Army," said Jim Miller, BAE's business development director for combat vehicles.
"We really want to see how this fits to what they're thinking about so that when the time comes to deliver a vehicle or a proposal, we have a vehicle that's going to give them their best option," he said Oct. 8 during a briefing with reporters. "That's why we brought it here to the show."
The CV 90 has already been fielded by seven nations and has seen combat in Afghanistan, he noted.
The system has built-in modularity and growth potential, he said.
"We have a great capability on the CV 90 to adjust to … the [Army's] requirements," he said.
Meanwhile, Raytheon and Rheinmetall have teamed up to offer a clean sheet design known as the Lynx infantry fighting vehicle, the companies announced Oct. 8 at the show.
"As we looked towards the future and the requirement and what the Army really needs to bring to bear… Rheinmetall has the absolute [best] vehicle to answer the call," said Kim Ernzen, vice president of land warfare systems at Raytheon's missile systems division.
Ben Hudson, global head of Rheinmetall's vehicle systems division, said Raytheon technologies including an active defense system, unmanned aerial vehicles, missiles and sensors will be integrated onto the Lynx.
That will "really set this vehicle apart in the market once it's integrated," he said during a media briefing. "We think that will create a lot of interest with the customer here in the U.S. but also potentially in the global market as well."
General Dynamics brought its Griffin III technology demonstrator to the conference. The company developed the system using internal research-and-development funding, noted Michael Peck, director of enterprise business development at General Dynamics Land Systems. It is based on an Ajax chassis that the company developed for the United Kingdom.
"What we did is we listened to the Army and the Army said, 'We want certain things — we think,'" Peck said in an interview. "We said, 'OK if that's what they think they want let's show it to them and maybe they'll decide that's not what they want.
"This gives us an opportunity to talk to them about it before they make a decision. That's why we call it a tech demonstrator," he added.
The company could offer a clean sheet design or a modified Griffin III for the competition, depending on the Army's requirements, he said.
"The issue is what is it you really want and then how much do we have to diverge from this path to something else" to meet those requirements, he said.
Active protection systems are a major area of interest for the Army. BAE's CV Mk IV has the Israeli Iron Fist, and Rheinmetall's Lynx is expected to carry Raytheon's Quick Kill.
"APS is important on the battlefield" to counter threats from Russia or other countries, Coffman said. "There's a lot of options out there. We've asked industry to come back to us with what integrated APS systems … would work best and provide us some options."
The Army also wants drones to be linked to the new vehicles as shooters and sensors. The Lynx will be able to carry Raytheon's Coyote UAV. The Griffin III is able to deploy AeroVironment's Switchblade which can function as a loitering munition.
"Small [unmanned aerial systems] will be a part of the future combat vehicles at some point," Coffman said.
Whether the UAVs will have to be able to be launched from the optionally-manned fighting vehicle or from another location has yet to be determined, he said. The systems will need to be hardened against cyber and electronic attacks, he noted.
Size and weight requirements are also undetermined at this point, Coffman said.
"If you have nine people in the back of a vehicle it gets really dang heavy" if it is well armored, he noted. "The squad will be nine men or women and that's not changing. It's how do you transport them" on the battlefield that must be decided, he added.
The CV 90 Mk IV is an eight-seater with a three-person crew. The Lynx can carry nine soldiers plus a crew of three. The Griffin III is optimized to hold a two-person crew and six passengers.
"At this stage before the RFP is written we're looking at everything as options," Coffman said. "The idea is we have a smaller vehicle that is lighter but survivable. … But paramount in all of this is that it's upgradable so it has power that if we do decide as an Army to add appliqué armor onto it, it has the power" to accommodate that, he added.
Coffman was asked if the Army preferred a clean sheet design or a vehicle that has already been developed.
"All options are on the table, but the schedule will be the schedule," Coffman said. The Army plans to field the optionally-manned fighting vehicle by 2026, he noted. A company that came up with a clean sheet design would need to be able to meet that delivery timeline, he said.
Topics: Army News, Land Forces