Army Chief of Staff Warns of Losing Momentum on Readiness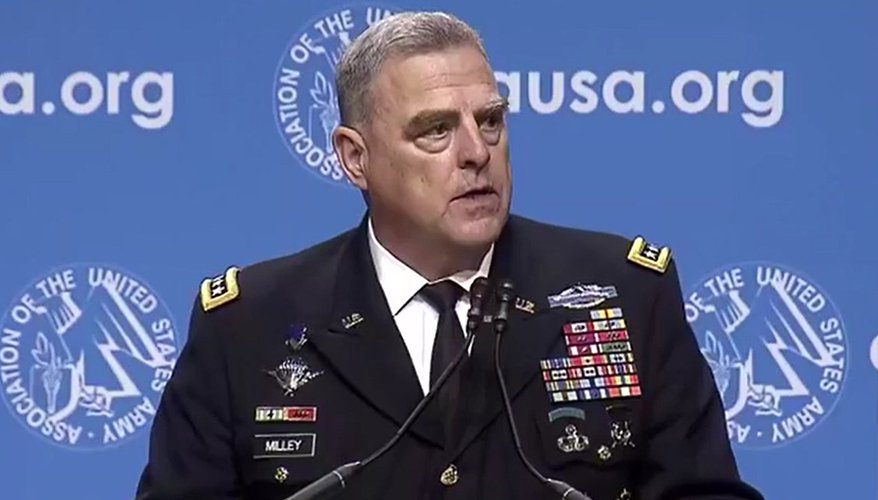 Mark Milley
Photo: Army
In what was his final speech at the Army's biggest annual trade show and conference, Chief of Staff Mark Milley said Oct. 9 that the service has reversed its downward slide and is gaining strength with each passing month.

"Right now today, our Army is strong and getting stronger. It is trending positively in all the right directions," Milley said at the Association of the United States Army's annual conference in Washington, D.C. However, the nation faces many threats and the Army must maintain its focus on readiness, he added.

"We cannot stop, not even pause, because the future will be here in the blink of an eye and we must be prepared for whatever lies ahead," he said.

"Today we face threats that are serious and growing and we must be ready for conflict that requires us to go to war in a very short period of time," Milley said.

The Army can't deploy unready forces in a time of crisis, he said. China and Russia are spending "tremendous treasure" to be able to strike quickly. The two nations recently participated in a military exercise that involved 250,000 troops, 50,000 ground vehicles and thousands of aircraft. It was Russia's largest exercise since 1981.

Milley in his speech repeatedly returned to the Korean War as an example of when the United States sent poorly equipped and trained troops to fight only five years after winning World War II. They were nearly defeated.

"Failing to prepare for war. That is not our option," he said.

The service must grow it strength by attracting the best and the brightest without compromising quality for quantity, he said. The goal is to reach 90 percent of authorized strength by the end of this year, 100 percent by 2021, and 105 percent by 2023, he added.

The Army is converting brigade combat teams to create its 15th and 16th armored brigade combat team and is making plans for a 17th armored brigade combat team, he said.

Modernizing "the Army is going to take years, but that journey has begun in earnest," he said, referring to the creation of Futures Command in Austin, Texas.

The Army intends to change the way it fights by refining its multi-domain operations concept, which calls for forces to overwhelm opponents with a variety of dilemmas in order to disrupt their operations, he said.
Topics: Land Forces, Army News, Defense Department