Raytheon, Saab Working on New Guided Munition for Ground Forces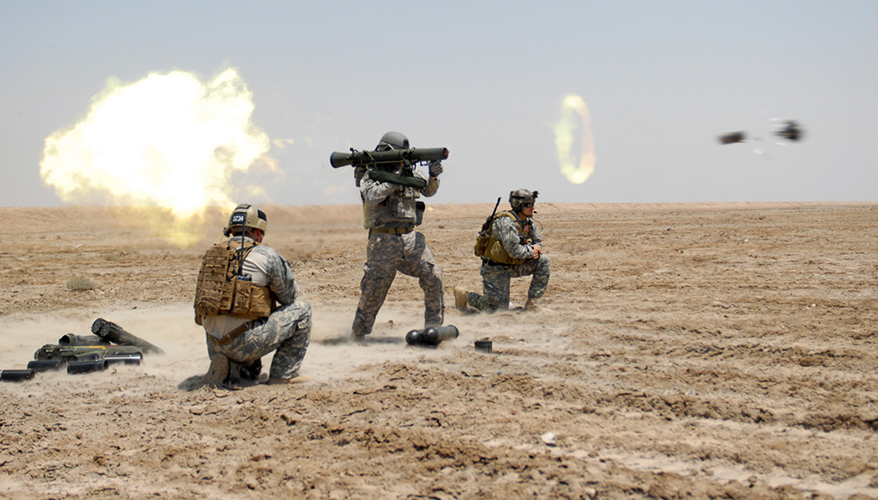 Soldiers train with the Carl-Gustaf man-portable shoulder-fired launcher.
Photo: Army
Raytheon Co. and Saab signed a contract with the U.S. Army to demonstrate a laser-guided munition to be used with the Carl-Gustaf man-portable shoulder-fired launcher, the companies recently announced.
This would be the first laser-guided munition to be deployed from the Carl-Gustaf, which has existed since 1948. Saab introduced a fourth version of the launcher in 2015. Some 40 nations currently use various iterations of the weapon.
"It's a tandem warhead, so it's for multiple targets. You're talking triple brick, eight-inches reinforced concrete, those type of hard structures," Ty Blanchard, Raytheon senior manager of land warfare systems, told reporters Oct. 3 at an event prior to the Association for the United States Army's annual conference in Washington, D.C.
The new munition — in development for the past two years — will engage multiple targets at distances up to 2,000 meters. Those targets might include moving vehicles with light armor, bunkers and concrete structures. Like the Hellfire missile, a second warfighter would be required to "lase" the target before it is fired.
The Army is asking the companies to do live-fire demonstrations targeting a structure, a bunker and an armored vehicle in the spring of 2020.
U.S. Special Operations Command has a requirement seeking a laser-guided shoulder-fired munition. The new munition would be compatible with older Carl-Gustaf systems — known as the M3 to U.S. forces — as well as the new version, the M4.
The Army has expressed interest in fielding one Carl-Gustaf in each infantry and Stryker platoon. The Marines Corps would like one system in each squad, Blanchard said.
"To have a precision round will be an absolute game changer," said Blanchard, who also serves in the National Guard as a special operations forces officer and has used the Carl-Gustaf in combat.
"Finally, people are starting to think about soldier lethality," Blanchard said. "We are trying to bring that precision down to that soldier, to that squad, to that platoon level, which has not existed."
Topics: Strategic Weapons, Strike Land Attack Air Defense, Land Forces