Analysts Reflect on String of Boeing Contract Victories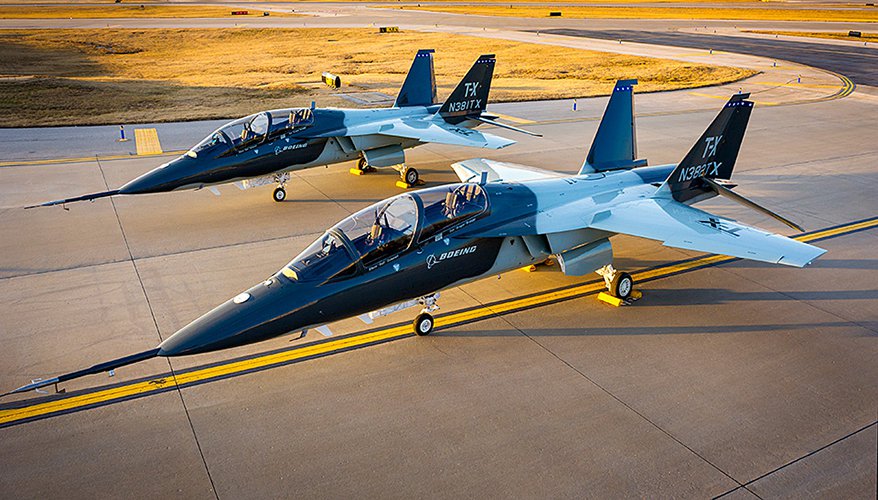 Boeing's T-X offering
Photo: Boeing
The Boeing Co. is riding high after a streak of recent aviation contract awards that could have major implications for future industry competitions.
In August, the Navy announced that the company had been selected for its MQ-25 Stingray unmanned aerial refueling tanker program. The $805 million contract for prototypes is part of an effort that is estimated to cost about $13 billion. The victory comes as the Air Force is pondering a next-generation tanker that could also be unmanned.
Then in September, in a move that surprised analysts, the Air Force revealed that it had awarded Boeing-Leonardo a $2.4 billion contract to replace its aging fleet of UH-1N Huey helicopters, edging out rotary-wing behemoth Sikorsky as well as Sierra Nevada Corp.
But the recent win with the largest implications could be Boeing's capture of a contract to build the Air Force's next-generation jet pilot trainer aircraft, said Byron Callan, an analyst at the equity research firm Capital Alpha Partners.
Just days after the Huey replacement announcement, the Air Force disclosed that a Boeing-Saab team beat out a Lockheed Martin-Korea Aerospace Industries team and Leonardo DRS for the T-X program. The contract could be worth up to $9.2 billion if all options are exercised.
"They [Boeing] were probably the most motivated bidder here given the future that they were facing in St. Louis," Callan said during a podcast. "F-15 and F-18 production will probably start to wind down in the middle part of the 2020s, and while MQ-25 would help sustain that St. Louis facility they really needed T-X to keep that facility and that workforce whole.
"So it has some competitive implications I think for the global fighter market when you start thinking about things like penetrating counter-air [programs] or what else might come down the pike … in the late 2020s and into the 2030s," he added.
Boeing's T-X offering could position it well for a future program to replace the Navy's trainer aircraft, Callan noted.
"At some point in the 2030s the Navy is going to have to replace their T-45 trainer fleet, and there's some design features in the Boeing airplane … [that suggests] they also had that T-45 replacement in mind," he said.
Richard Aboulafia, vice president of analysis at the Teal Group said: "They sort of had this heart attack moment after losing the [B-21 bomber competition] to Northrop Grumman" in 2015. But the string of recent contract wins "clearly points to a nice resurgence for Boeing military aviation."
- Additional reporting by Yasmin Tadjdeh
Topics: Air Power, Defense Contracting