(UPDATED) Report: Defense Industrial Base Faces 'Unprecedented Challenges'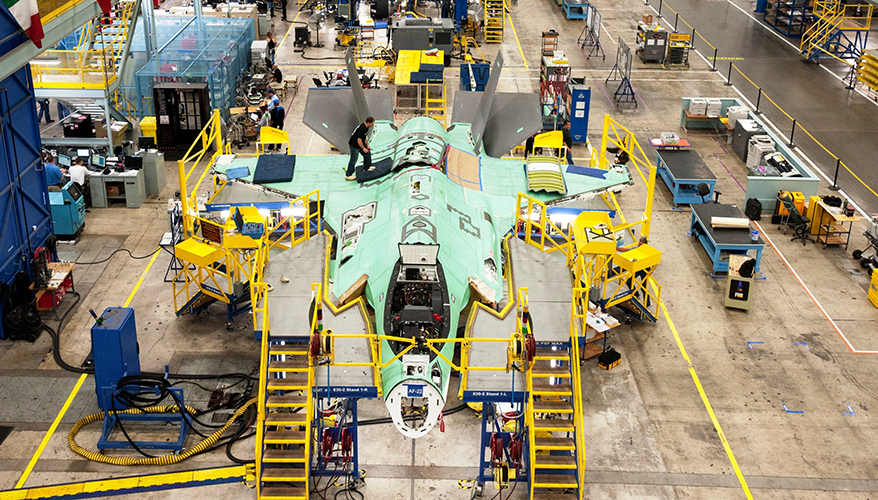 Photo: Defense Dept.
A long-awaited report on the health of the U.S. defense industrial base to be released Oct. 5, says the sector is facing an "unprecedented set of challenges" that will ultimately affect the Pentagon's ability to fight in large-scale wars with peer competitors.
President Donald Trump on July 21, 2017, signed Executive Order 13806 to identify the impacts and come up with recommendations to support a "healthy" defense industrial base.
An advance copy of the report, "Assessing and Strengthening the Manufacturing and Defense Industrial Base and Supply Chain Resiliency of the United States," was distributed to reporters Oct. 4. It identified five major challenges: sequestration and uncertainty of government spending; the decline of critical markets and suppliers; unintended consequences of U.S. government acquisition behavior; aggressive industrial policies of competitor nations — particularly China — and the loss of vital skills in the domestic workforce.
"Combined, these challenges – or macro forces – erode the capabilities of the manufacturing and defense industrial base and threaten the Department of Defense's ability to be ready for the 'fight tonight,' and to retool for great power competition," it stated.
The pressure exerted on the defense industrial base results in risks such as: single-source suppliers; fragile suppliers and markets; loss of specialized equipment and workers; material shortages; and a lack of capacity when needed, the report said.
For those who follow the defense industry, the 146-page report held few surprises. Industry has long complained about unstable federal budgets, Chinese intellectual property theft and a lack of skilled workers. The report, however, broke its findings down to more granular detail, citing several industries that are suffering under the five macro-economic factors.
Budget uncertainty and the decade-long reliance on congressional continuing resolutions has exacerbated uncertainty, both for DoD and across the supply chain and resulted in the "rise of single and sole source suppliers which create individual points of failure within the industrial base, as well as fragile suppliers near bankruptcy and entire industries near domestic extinction," the report said.
The focus on upgrades rather than new-start programs caused by budget instability, for example, has harmed the military ground vehicle industry. "This resulted in a generation of technicians, engineers and scientists lacking experience in conceiving, designing, constructing and integrating technologically advanced combat vehicles," it said.
Industries involved in the manufacturing of shipbuilding components were among the hardest hit by the global shift in the industrial base over the last 20 years, it said. The nation is down to six shipyards run by four companies.
The report singled out China on several occasions as a source of instability. "In order to obtain the capabilities needed to support these advanced technologies, China relies on both legal and illicit means, including foreign direct and venture investments, open source collection, human collectors, espionage, cyber operations, and the evasion of U.S. export control restrictions to acquire intellectual property and critical technologies," it said. Its "actions seriously threaten other capabilities, including machine tools; the production and processing of advanced materials like biomaterials, ceramics and composites; and the production of printed circuit boards and semiconductors."
The report broke down the defense industrial base into sectors, spelling out some of the risks they face.
The aircraft sector, for example, "is experiencing a shortage of workers with critical hardware and software design capabilities due to large retirement populations, limited platform knowledge transfer opportunities, and skyrocketing demand for software engineers outstripping supply in multiple product line sectors."
Chemical and biological defense is a niche market heavily dependent upon Defense Department procurements for sustainability.
In the ground vehicle sector, "a lack of steady orders for vehicles leads prime vendors and their suppliers to reduce excess capacity in labor and facilities, leaving the ground systems sector at risk of not meeting service and combatant command requirements for modern, new and additional equipment that can dominate the battlefield," the report said.
The munitions and missile market is defined by a conflict-reliant pattern, creating significant management and viability challenges for suppliers and their sub-tiers, the report said. The ammunition and munitions base is critical to the life cycle management of more than 650 programs, over 1,200 end items and over 1,300 components, it added.
As for nuclear warheads, the nation lacks skilled workers and engineers with security clearances necessary for designing, maintaining and producing such weapons, the report said.
The soldier system sector is more complex, with some 12 sub-sectors, including weapons, body armor, clothing, footwear, radios, sensors, power supply, shelters, food and other service-member support items essential to executing the many distinct U.S. military missions. The report highlighted risks to the textile industry and rechargeable and non-rechargeable battery industries, with foreign dependencies on many of the raw materials needed for their manufacturing.
As for space, "increasing cyber-threats, non-trusted supply-chains, foreign acquisitions, reliance on vulnerable foreign sources, industrial policies of competitor nations — in the form of subsidies, domestic preference, etc. — and erratic demand is threatening the loss of essential space capabilities and critical skills," the report said.
Retired Air Force Gen. Hawk Carlisle, president and CEO of the National Defense Industrial Association, publisher of National Defense, said, "this report paints a sobering picture of the current state of our defense industrial base by identifying more than 250 areas where the base and its supply chain face critical risks."
In addition, "the report highlights a drain on talent that now flows toward Silicon Valley startups instead of defense-focused industries," he said.

Congress must scrap sequestration and make the on-time budgeting and appropriations of resources truly the normal order, he said. "Only through a constant, predictable flow of adequate resources can we make the investments over time to remain dominant, enabling our warfighters to effectively deter and defeat potential adversaries."

In multiple cases, the sole remaining domestic producer of materials critical to DoD are on the verge of shutting down their U.S. factory and importing lower cost materials from the same foreign producer country who is forcing them out of domestic production.
Without relief from unlawful and otherwise unfair trade practices, the United States will face a growing risk of increasing Defense Department reliance on foreign sources of vital materials, the study said.
The report offered several recommendations to address the problems it documented including: create an industrial base policy in support of national security efforts to inform acquisition practices; expand direct investment in the lower tier of the industrial base to address critical bottlenecks, support fragile suppliers and mitigate single points of failure; diversify supply sources to reduce dependence on items from politically unstable countries; and work with allies and partners on joint industrial base challenges.
It also recommends: modernizing the "organic" government-run industrial base to sustain fleets and meet surge requirements; accelerating efforts to boost the U.S. workforce's science, technology, engineering, math and critical trade skills; improving processes to reduce the security clearance backlog; and strengthening efforts to explore next-generation technology that could be used to counter future threats.
Additional steps are proposed in a classified annex, which includes directions for the Defense Department to conduct another "comprehensive" study on the industrial base requirements needed to support force modernization efforts, the report said.
"The classified annex has discrete mitigations that are applied against each of those risk [areas] and ... we'll be using that going forward as the action plan," Deputy Assistant Secretary of Defense for Industrial Policy Eric Chewning told a group of reporters during a meeting at the Pentagon Oct. 4 to discuss the report's findings.
More money is expected to be forthcoming to help fix the problems, Chewning said.
"We already have existing industrial base sort of mitigation tools, and so there's already money available to address some of these challenges like the Defense Production Act Title III authorities or [Industrial Base Analysis and Sustainment program] authorities," he said. "In the classified annex we do talk about increases to those programs."
More funding will also be requested to address these issues in the president's fiscal year 2020 budget request, which is expected to be released in February, he added.
"There will will be requests for additional money in specific mitigative tools, but … I wouldn't think of this just as just an additional ask for money," he said. "We also need to be spending what we do more wisely and this isn't just an investment fix. … There's legislative fixes, there's policy fixes, there's regulatory fixes. And so we need to be able to hit all of those levers. It isn't just a fact of just we're not spending money — sometimes we're just not spending money in the right way."
Trump is scheduled to host an event at the White House with senior government officials after the report is officially released, where he is expected make an announcement about a funding initiative to boost the U.S. industrial base.
Updated: This story has been updated to include additional remarks from Eric Chewning.
Topics: Contracting, Defense Contracting, Defense Department