'Perfect Storm' Transforming Space Industry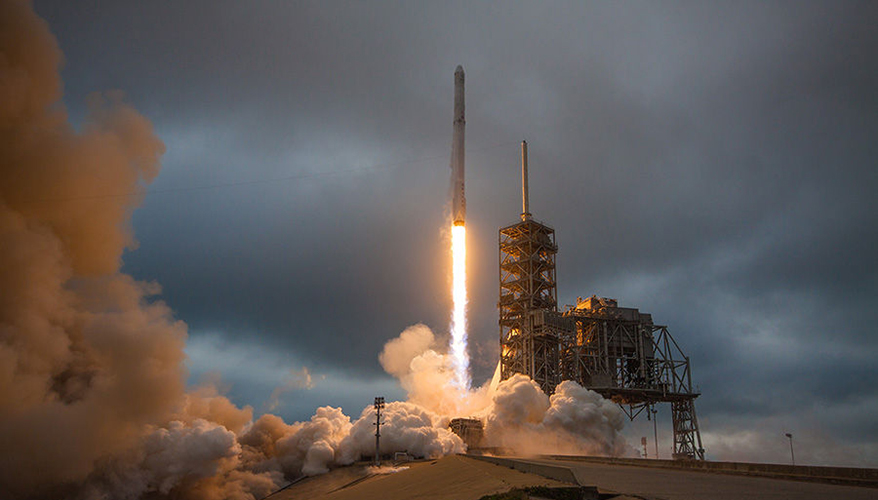 SpaceX Falcon 9
Photo: SpaceX
LOS ANGELES — A confluence of trends is reshaping the space enterprise for the military and contractors, industry leaders said Oct. 31.
President Donald Trump is pushing to create a new space force as an independent branch of the armed forces. Meanwhile, emerging threats to U.S. space assets from peer competitors and other adversaries have prompted the Pentagon to try to move faster and create more resilient architectures.
The commercial space sector is also booming and creating new opportunities for partnerships, industry executives said during a panel discussion at the MILCOM conference in Los Angeles hosted by AFCEA and IEEE.
All of this is creating "a perfect storm" that is leading to a greater focus and sense of urgency for developing new capabilities, said Kay Sears, military space general manager and vice president at Lockheed Martin's space division.
"It feels like a different time right now for this nation and for space," she said. "We've got new organizations being formed to address the challenges. … We have an increasing threat environment. And so I think there is a significant change in behavior around space, and … that requires a corresponding change in behavior of all of us."
The U.S. military is trying to take advantage of other transaction authority agreements to promote rapid prototyping of new technology, and spur the development of a layered satellite architecture that would be less vulnerable to enemy attack. Air Force Space Command's Space and Missile Systems Center is leading the charge in this area. A revamped organization, SMC 2.0, recently achieved initial operating capability.
Jamie Morgan, acting director for military satellite communications at Northrop Grumman Aerospace Systems, said the establishment of SMC 2.0 could yield major dividends. "It gives me a lot of hope that we're going in the right direction," he said. "That's certainly a transformation from our perspective."
Resiliency of space systems is a much greater concern today than it has been in the past. Morgan noted that building a more resilient architecture will challenge both government and industry.
"We've got … to figure out the optimal way to acquire, deliver and launch all that stuff," he said.
Tony Gingiss, CEO of OneWeb Satellites, noted that large investments are being made in the commercial sector. Billionaires like Elon Musk of SpaceX and Jeff Bezos of Blue Origin are pumping money into space technology with commercial and military applications. Gingiss compared these types of investors to the titans of industry of previous eras who helped transform the economic landscape.
"I really think of the era that we're in as a new space race," he said. "We're seeing it across both government and commercial. … Some of the billionaire investors today are the Rockefellers" of the 21st century, he added.
Technology advancement has been rapid in the commercial sector, he noted.
"We're seeing things being developed on cycle times that are radically different than all of us have experienced living in the industry," Gingiss said.
Certain space technologies are also becoming more affordable, offering buyers more bang for their buck, he added.
The balance between what the Pentagon buys from the commercial space industry and the traditional defense industry will continue to shift, he said.
The best commercial and military-specific technologies should be combined in an optimal way to deliver capabilities to the warfighter, Gingiss said. "That is the … ecosystem I see developing across the industry."
Roger Teague, Boeing's vice president for space, intelligence and missile defense operations, noted that there will also be more opportunities for international partnerships moving forward.
Gingiss said: "We will not recognize the space industry in 10 years, and I think that's a really good thing. It will be a good contracting concept."
Topics: Space