Space Center Commander Wants More Interoperable Systems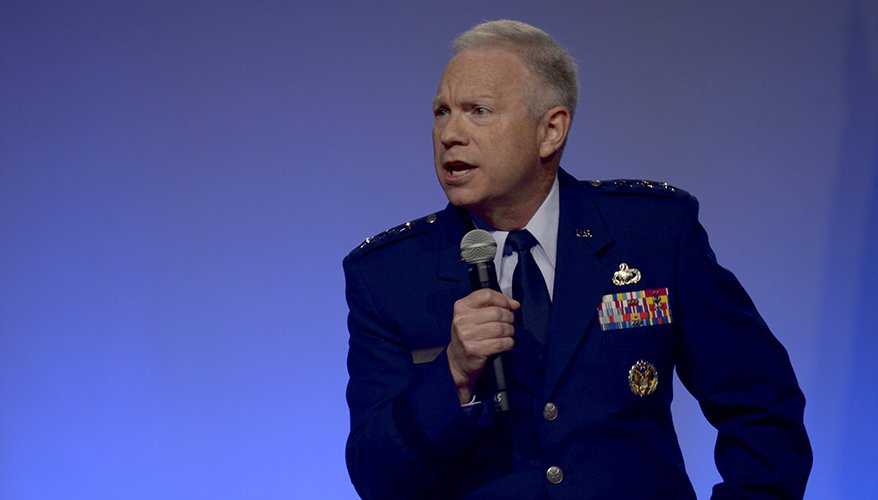 Lt. Gen. John F. Thompson, Air Force Space Command Space and Missile Systems Center commander
Photo: Air Force
LOS ANGELES —
The United States needs more modular space systems as the Pentagon moves to improve the way it acquires new technology, the commander of the Air Force Space and Missile Systems Center said Oct. 29.
The space domain is becoming more contested and congested, Lt. Gen. John F. Thompson noted during a keynote address at the MILCOM conference in Los Angeles hosted by AFCEA and IEEE. That makes U.S. assets much more vulnerable than they have been in the past.
"We need to be able to fight and defend ourselves in space, and we do that by deploying an agile, resilient and secure [command, control, communication and computers] space architecture," he said.
However, current military satellite communications architectures limit agility and resilience because there are different types of satcom for different missions, he added.
"Each frequency band — protected wideband, narrowband — has special characteristics that differentiate one from another and make it better suited for a particular service," he said. "Each satellite system has a particular ground terminal that supports communications over that frequency spectrum."
The Air Force recently reorganized the space enterprise under an initiative known as SMC 2.0. The new organizational construct, which achieved initial operating capability in recent weeks, is focused on promoting enterprise-wide partnership, innovation, culture and speed, or "EPIC Speed," Thompson noted.
For military satcom, the EPIC Speed concept means incorporating more modularity with various host platforms such as the enterprise ground system and protective tactical anti-jam satcom, or PATS, Thompson said.
"Ground enterprises to promote interoperability are things of the future," he said. "Not every satellite or satellite system, whether it's communications or not, needs to have its own independent ground system. We need to be able to do things more as an enterprise."
The Space and Missile Systems Center oversees about $7 billion in procurement for the Defense Department each year, about 85 percent of the budget for space materiel. At any given time, Thompson's organization is managing about $15 billion in contracts, he said.
The new SMC 2.0 is trying to help the U.S. military acquire new technology faster.
Thirteen other transaction authority contracts have already been awarded through the space enterprise consortium for prototyping and experimentation.
"We've got to emulate, innovate and collaborate with industry, government and academia on prototypes at all segments — space, ground and user," Thompson said.
The U.S. military is interested in working with traditional and nontraditional firms on space technology, he noted. For small, nontraditional companies, the best way to engage with the Space and Missile Systems Center is through the new SMC 2.0 enterprise portfolio architect office, he said. Thompson encouraged MILCOM conference attendees to visit the MILSATCOM booth to get in touch with the right people.
Meanwhile, the Trump administration is working to create a new space force as a separate branch of the military. Thompson was asked about the implications of such a move for his command. He suggested that the personnel under him would continue to play a major role in the space acquisition enterprise going forward.
"Regardless of whether we have a U.S. Space Force or not, regardless of how we decide to invest dollars in space materiel, you're going to need organizations and people that know how to do it," he said.
"I've got about 30,000 years of space acquisition experience within the Space and Missile Systems Center, [and] the U.S. Space Force is going to need experts on space acquisition," he added. "We're very excited about the various concepts of Space Force and we're just as anxious to figure out how it's going to end up as the rest of you."
Topics: Air Force News, Space