ROBOTICS AND AUTONOMOUS SYSTEMS
Annual Naval Exercise Showcases Unmanned Underwater Vehicle Capabilities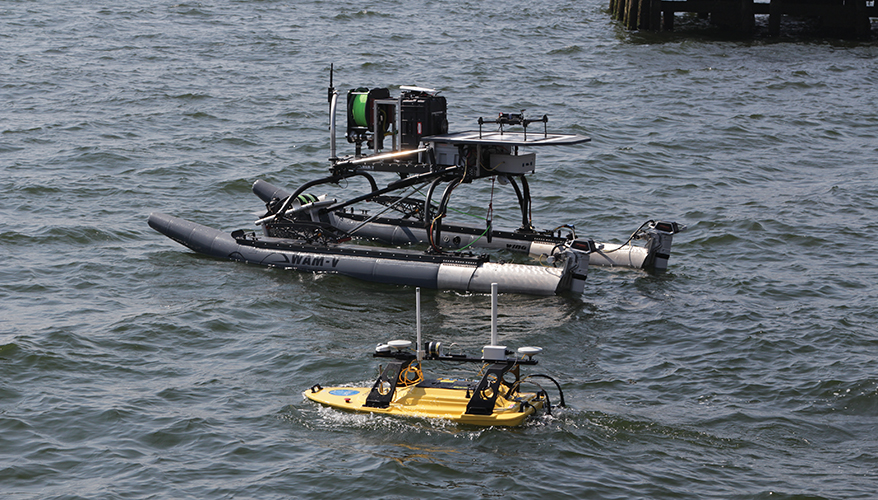 Unmanned autonomous surface vessels
Photo: Navy
NEWPORT, R.I. — Along the coast of the Narragansett Bay in Rhode Island, members of industry, academia and the Navy recently experimented with unmanned underwater vehicles that officials believe could one day prove key in future naval skirmishes.
The fourth iteration of the Advanced Naval Technology Exercise took place in late August at Naval Undersea Warfare Center Division Newport. As part of the event's theme, "human-machine interaction," researchers focused on increasing trust between operators and autonomous vehicles.
While industry has made strides in developing unmanned platforms that can perform a variety of tasks underwater, more trust is still needed, said Rear Adm. John Tammen, director of undersea warfare at OPNAV N97.
"At the end of the day, [those of] us who are wearing the uniform have to trust the vehicles, the machinery, the interfaces, because if we don't trust them we're not going to use them when it comes time to go into combat," he said during remarks at the exercise.
Events such as ANTX give military operators the ability to give positive and negative feedback to UUV manufacturers so they can tweak them and roll out improved versions, he added.
That means that when the "rubber has to meet the road, we are going to use the stuff that you guys are putting together because we're confident in it," he told industry.
Ronald Vein, technical director at NUWC Division Newport, said participants at the event are identifying technologies that enable or achieve coordinated detection, localization and tracking of undersea, surface and air threats.
This year's ANTX was the largest exercise the service has hosted in terms of the number of participants, vehicles and technologies taking part, Vein said. NUWC Newport collaborated with Naval Meteorology and Oceanography Command for some experiments and also teamed up with the Southeastern New England Defense Industry Alliance, or SENEDIA.
"We do this because we want to broaden our audience and leverage our shared interest, and that is … undersea superiority," he said.
Sen. Sheldon Whitehouse, D-R.I., said that he wanted NUWC Newport to expand the work it is doing in unmanned systems and continue to grow ANTX.
"I want this to be the equivalent of the Paris Air Show for unmanned and remote vehicles," he said. "I want to make sure that Newport stays at the very forefront of it."
Nick DelGreco, ANTX's integration lead, said this year's event had three primary goals: foster collaboration amongst participants, innovate faster and provide valuable feedback.
"We've received feedback in the past that many of our participants wanted to hear from the Navy itself on how their technologies might be able to be utilized," he told reporters during the event. "Providing them with that feedback enables them to develop their technologies faster or maybe in a different way than they're used to."
Peter Hardro, director of ANTX, said one of the biggest things to set this year's excercise apart from previous ones is its teaming with SENEDIA, the industry consortium. Prior to the exercise at NUWC's Newport location, the alliance hosted a series of defense innovation days at a nearby hotel for interested participants, he said.
"It's more like a trade show," he noted. "You talk about the technologies, you see what it can do, and then you come here, you put it in the water, and see if it matches what we said we can do."
NUWC Newport developed a technology known as Topside to conduct command-and-control during the exercise, Hardro noted.
"It gives you an overview of all the things that are going on. So you can manage multiple unmanned systems with one person, and they can be in any domain," he said.
Scott Houde, a computer scientist at NUWC Newport, said Topside can be thought of as a Google Earth for the Navy. At its core, the government-owned, government-controlled product is a geospatial visualization tool that is designed to be flexible.
Topside's software and software development kit is offered to industry so long as they sign a limited partnership cooperative research-and-development agreement, or CRADA, with NUWC Newport, Hardro added.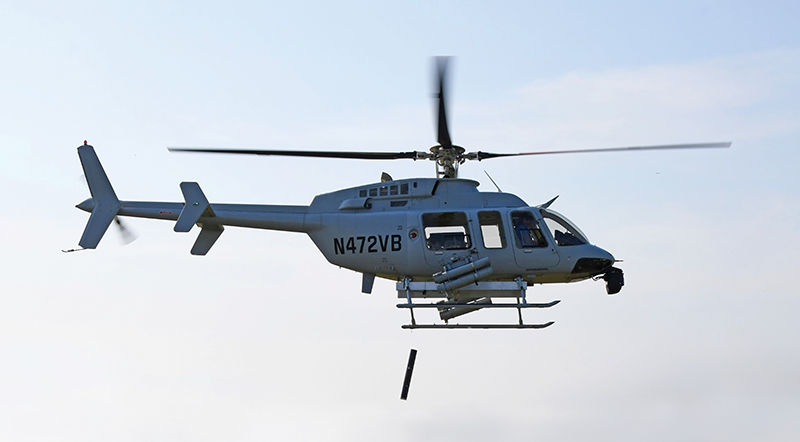 Northrop Grumman's Fire Scout autonomous surrogate launches a sonobuoy as part of ANTX. (Northrop Gumman)
"They're able to write their own interface and … then use this software to manage their missions, create mission plans … [and generate a] common operating picture of their product," he said. "This kind of human-machine interaction is how can we take the burden off of the operator to do more with less and let the vehicles start to make more decisions."
During the three-day event, numerous companies tested their platforms including major defense contractors such as Northrop Grumman, General Dynamics and Huntington Ingalls.
Northrop Grumman, which has participated in ANTX for years, demonstrated an air drop of sonobuoys from a surrogate Fire Scout aircraft, said Dan Redman, the company's ANTX program manager. The company used a variety of unmanned platforms to coordinate the drop, including OceanServer Iver3-580 autonomous underwater vehicles and two Liquid Robotics Wave Gliders.
"The undersea vehicles talk to that Wave Glider through acoustic communications, that goes to the helicopter, then all the information is reported back," he said.
Alan Lytle, vice president of undersea systems at Northrop Grumman, noted that the Iver3-580s are man-portable and offer warfighters the flexibility to deploy them from many different locations.
The company also deployed its micro-synthetic aperture sonar, he noted. The system is a low size, weight and power high-performance payload that can be used on an autonomous underwater vehicle for classifying mine-like objects, according to Northrop.
"We were able to demonstrate to the warfare community and Navy stakeholders that micro-SAS running with real-time automated target recognition, operating off of that small Iver manned portable platform," he said. "That was a really great demonstration, and we think that adds a lot of capability for the mine warfare community."
Northrop sees the exercise as an opportunity to develop and showcase new and innovative concepts, Lytle said.
"It's really an experimental phase," he said. "We get to get together and draw on a whiteboard some new concepts, then start piecing together the capabilities to really showcase those concepts. It's not … a trade show in that context, where people are seeing finished products. People are coming in and seeing ideas."
Huntington Ingalls Industries also conducted a demonstration in support of ANTX prior to the exercise, said Ross Lindman, director of operations at the company's technical solution's fleet support group.
Using its Proteus dual-mode undersea vehicle — which was developed by both Huntington and Battelle — the company showcased a full-kill chain demo on seabed warfare, he said.
"The mission that … we're representing in our demonstration would be the launch of a large UUV outside of contested or denied waters, maybe several hundred miles from the coast," he said.
During the demonstration, the vehicle used a synthetic aperture sonar — located on both the port and starboard side of the UUV — to pinpoint undersea infrastructure such as cable boxes or other devices to be targeted and destroyed, he said. When a target was located, Proteus was able to launch a kill vehicle to neutralize it, he said.
"The big significance of this is that we ran the full kill chain," he said. "We ran a shortened version of an actual mission. We didn't say, 'Well we're doing this part and you have to imagine this or that.'
We ran the whole thing to illustrate a capability that can be used in the near term."
The demo took place out of Panama City, Florida, in late July. The company elected to conduct the experiment before ANTX so it could film it and then display Proteus at the exercise, he noted.
"This way we can film it, do it and then have the hardware here for people to see and touch," he said.
Rusty Kollmorgen, vice president of strategy and business development at General Dynamics Mission Systems, said the company demonstrated a cross-domain, multi-platform capability by simulating a theater warfare planning tool.
The company simulated two submarines, a littoral combat ship and unmanned aerial vehicle to send information to real unmanned underwater vehicles, he noted. The purpose was to show that they could change the tasks of the UUVs mid-mission, which is difficult because such systems rely on acoustic signals to send information, and vehicles in the air use radio frequency.
"Typically we launch a UUV, we send them out, they go do something for X-amount of hours or days, and they come back and they get recovered and we take the mission information from them at that point," he said. Now a commander can communicate with the platforms in real time.
"What this is all driving to is for the warfare commander to be able to make the decisions that are based on what he thinks is high-confidence input quicker than his adversary can," he said. "That's the goal — we want to be able to … let them make warfare-related decisions quicker than anybody else out there."
Rep. James Langevin, D-R.I., ranking member on the House Armed Services Committee's subcommittee on emerging threats, said ANTX showcases the importance of partnerships between the Navy, academia and industry in driving American innovation, which in turn gives the U.S. military technological superiority over adversaries.
"Unmanned underwater vehicles present a variety of opportunities to protect our own naval assets and project power, gather information and conduct operations in conjunction with our traditional fleet all over the world," he said. "These emerging technologies promise to open up significant new warfighting opportunities and complement existing capabilities."
Topics: Navy News, Robotics and Autonomous Systems, Robotics