Navy to Roll Out First Comprehensive Education Study in 100 Years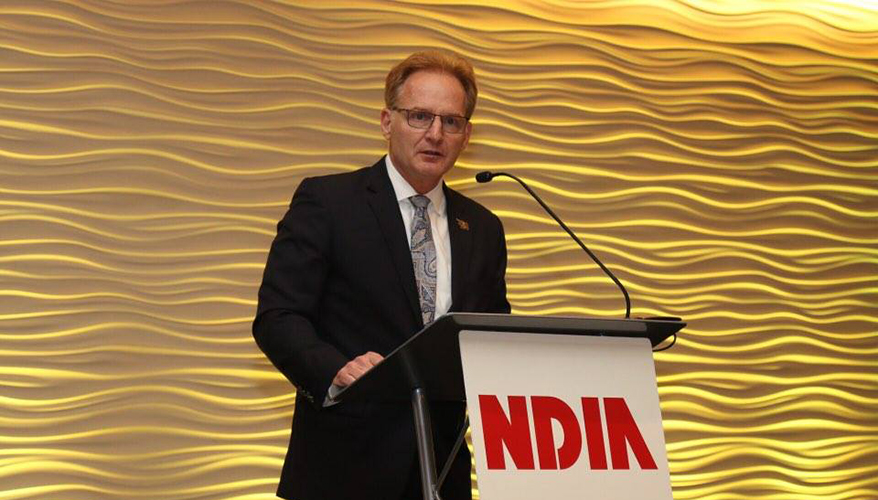 Thomas Modly
Photo: NDIA / Melanie Yu
ANNAPOLIS, Md. — The Department of the Navy will soon roll out a comprehensive study meant to review how the service educates sailors and Marines, said the undersecretary of the Navy Oct. 16.
Thomas Modly, along with Secretary of the Navy Richard Spencer, commissioned a study — known as Education for Seapower — earlier this year that would span across all of naval education and provide the service with a clean-sheet review.
There is a "need to refresh our approach to education given the revolutions in technology and learning that are permeating every element of our society," Modly said during remarks at the National Defense Industrial Association's annual Expeditionary Warfare Conference in Annapolis, Maryland.
"The last time that the Navy performed such a comprehensive review of its education system was in 1918 — so 100 years ago," he noted. "We think it was about time we looked at it again because a few things have changed over 100 years."
Spencer and Modly are slated to brief Adm. John Richardson, chief of naval operations, on the study this week. Gen. Robert Neller, commandant of the Marine Corps, will be briefed in the coming weeks, Modly said.
Meanwhile, Modly said that in an era of great power competition, the Navy needs to run itself more like as a business in order to be more agile.
"Imagine if we ran our business processes and supply systems more like the private sector instead of our current legacy systems … and arcane acquisition rules," he said. "What if we relied more on the private sector to run those systems for us so we can focus on the core missions of the department and leverage those core strengths that makes certain businesses world-class in their terms of agility?"
Modly noted that the recent landmark industrial base study, "Assessing and Strengthening the Manufacturing and Defense Industrial Base and Supply Chain Resiliency of the United States," found that the average time to field a major acquisition program is eight years.
"At the end of those eight years, 70 percent of the technology bought and paid for by the American taxpayer for those platforms is already obsolete," he said.
But agility is needed within the Pentagon as victory is no longer preordained, Modly said.
"Competition is again global and multipolar and our peer adversaries have a significant vote," he said.
The current threat environment is rapidly evolving and is predictable only in its unpredictability, he added. That creates tension between prioritizing funds for the fight today and the potential fight of tomorrow, he said.
"Which one of these should we prepare for?" he asked. "The answer, of course, is both."
With the 2018 national defense strategy released earlier this year, military leaders recognized both the pervasive effects and demands of the current complex global security environment which is wrought with competition and increased global instability, he said.
"But this is also an era of tremendous potential," Modly said. "We enjoy a window today to think and act anew about the entire continuum of conflict from presence and show of force to escalation and de-escalation to achieve policy objectives."
Topics: Defense Department, Navy News