Air Force to Use Rapid Acquisition Authority for New Satellite Program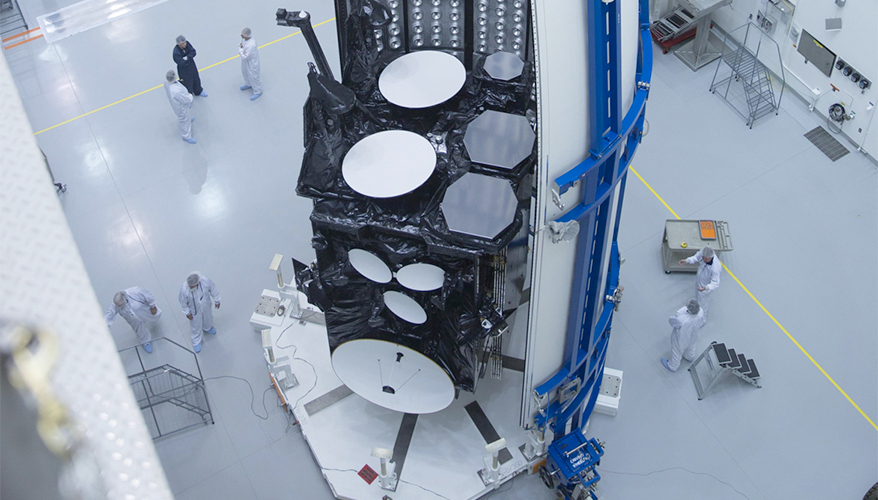 AEHF-3 Communications Satellite
Photo: Air Force
The Air Force plans to use authorities granted by Congress to build its next constellation of highly protected military communications satellites, an Air Force official said Oct. 15.
Col. David Ashley, program manager for the Air Force's advanced extremely high frequency (AEHF) system, said during a media teleconference that the service will use the Section 804 rapid prototyping and fielding authority for its follow-on to the Advanced-EHF satellite program.
Section 804 is a new approach geared toward streamlining the acquisition process in hopes of bringing operational capabilities to the field in under five years.
Ashley also serves as program manager for the evolved strategic system, which will be the follow-on protected communications system. The Advanced-EHF satellites provide U.S. forces and allies such as Great Britain, Canada and the Netherlands highly protected communications and nuclear command and control.
The Air Force plans to meet in December with their senior acquisition executive to "get that strategy approved," Ashley added. He declined to give further details on the matter.
The Air Force has come under criticism for the slow pace in which it fields space systems, which is also one of the stated reasons for the Trump administration called for the creation of a space force. Air Force Space Command awarded the first Advanced-EHF contract in 2001.
AEHF-1 was launched on August 14, 2010, four years behind schedule. AEHF-2 was launched on May 4, 2012, and AEHF-3 was launched Sept. 18, 2013.
Meanwhile, the fourth communications satellite of the Advanced-EHF constellation is scheduled to launch Oct. 17 from the Cape Canaveral Air Force Station aboard a United Launch Alliance Atlas V rocket.
The AEHF program, which is a series of six satellites, will provide 10 times the extended data range of the 1990s-era MILSTAR satellites, using the extreme data rate, or XDR payload. The AEHF is a follow-on to the MILSTAR constellation.
The AEHF-4 was scheduled to launch in October of 2017, but was delayed due to requests from the government to provide the satellite with additional protections, Mike Cacheiro, Lockheed Martin's AEHF program manager said. An Air Force Space Command statement said another reason for the long gap between launches was to reconfigure the Atlas V boosters "to maximize chances for mission success."
Ashley acknowledged that not all ground terminals were ready to use the XDR payload. "Some of the terminals are not yet compatible with the XDR and they are in the process of transitioning to that," he said of users such as U.S. Strategic Command.
Lockheed Martin is the prime contractor for the satellites and the ground systems with Northrop Grumman providing the XDR payloads.
Topics: Space, Space Industry, Acquisition, Air Force News