Book Excerpt: LikeWar - The Weaponization of Social Media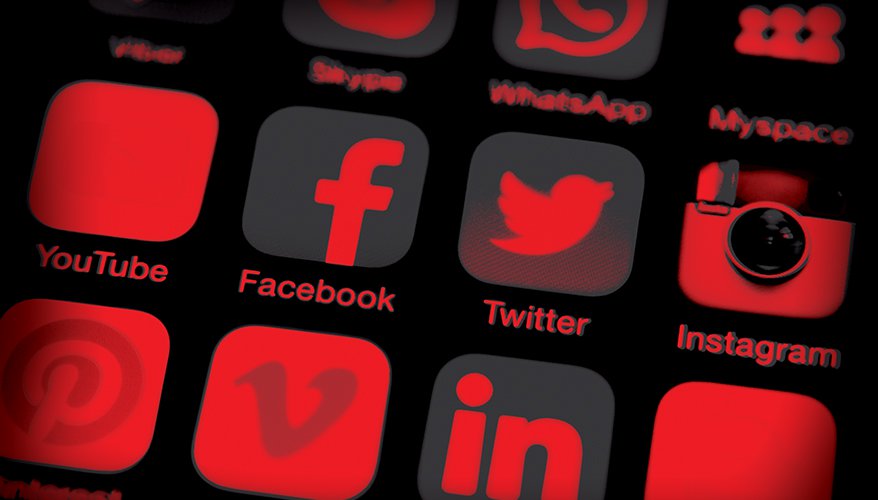 Art: iStock
The following is an excerpt from the new book LikeWar: The Weaponization of Social Media and reprinted with the permission of Houghton Mifflin Harcourt.

To many Palestinians who live in Gaza City, Ahmed al-Jabari was a hero: the commander of Hamas, the militant wing of resistance to the Israeli occupation. To Israelis, he was a villain: a terrorist who exploded bombs on packed school buses and rained mortar shells down on cities. But most of all, Jabari was a survivor. He'd lived through five assassination attempts and boasted that he no longer feared bullets or bombs.
His reckoning came on November 14, 2012, as Jabari and his bodyguard were driving down a residential street in Gaza City. High above them, an Israeli Heron drone loitered. Its high-powered camera zoomed in as Jabari's car sped past a packed minibus and onto a stretch of open road. Then the drone fired a missile.
Jabari never saw the explosion that ended his life, but millions of other people did. Even as his body smoldered, the IDF's official Twitter account spun into action. "The IDF has begun a widespread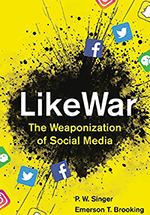 campaign on terror sites & operatives in the #Gaza Strip," declared @IDFSpokesperson. Then came an infographic that listed Jabari's crimes in bullet points, with a big red box reading "ELIMINATED" slapped across his glowering face. After that came the YouTube clip. "In case you missed it—VIDEO—IDF Pinpoint Strike on Ahmed Jabari, Head of #Hamas Military Wing." You could watch Jabari's car trundling down the street before it exploded in a ball of fire. You could watch him die as many times as you wanted (the video has since been viewed nearly 5 million times) and share it with all your friends.
Within a few hours, IDF aircraft had destroyed dozens of missile caches hidden across Gaza City. "We recommend that no Hamas operatives, whether low level or senior leaders, show their faces above ground in the days ahead," @IDFSpokesperson taunted. The challenge didn't go unanswered. "Our blessed hands will reach your leaders and soldiers wherever they are," a Hamas spokesperson, @AlqassamBrigade, fired back. "(You Opened Hell Gates On Yourselves.)"
The Israelis called it Operation Pillar of Defense. IDF air strikes perforated the buildings in which suspected Hamas fighters gathered, killing militants and innocent families alike. Hamas fighters responded with hundreds of unguided rockets, eager to kill any Israeli they could. Few reached their targets. Israel had a new, U.S.-provided trump card, the Iron Dome, a missile shield that could intercept the projectiles in midair. The result was an eight-day, one-sided campaign. The IDF hit every intended target; Hamas, almost none. Two IDF soldiers and four Israeli civilians were killed, and another 20 Israelis were wounded. On the Palestinian side, roughly 100 militants and 105 civilians were killed, and another thousand were wounded.
But this wasn't the only fight that counted. There were now three fronts at work in the conflict, Israel's chief information officer explained. Two were predictable: the "physical" fight, which Israel easily dominated, and the "cyber" fight, in which the IDF just as easily beat back the efforts of Palestinian hackers. But there was a third front, he said, "the world of social networks." This front would prove more troublesome, and impossible to contain, soon seeping into every corner of the internet. A comparatively tiny physical conflict, fought in an area the size of Portland, Oregon, became a global engagement, prompting the exchange of more than 10 million heated messages on Twitter alone.
The IDF deployed a Twitter account, Facebook pages in multiple languages, Tumblr blog pages, and even a Pinterest page. There were slick infographics and a stream of videos and statistics.
"It was a conflict in which each side had organized to taunt and troll each other online..."
Maximizing follower engagement, the official IDF blog offered small digital rewards for repeat users. Visiting the blog ten times got you a "Consistent" badge; searching the website got you recognized as a "Research Officer." Memes were fired off in volleys and tested for engagement, the best ones deployed extensively. The IDF's most widely shared image showed Hamas rockets bearing down on cartoon versions of Sydney, New York, London, and Paris. "What Would You Do?" the caption asked in bold red letters.
By contrast, the propaganda efforts of Hamas's militants were less structured. Most of its social media response came from millions of unaffiliated observers around the world, who watched the plight of Palestinian civilians with horror and joined the fray. The Twitter hashtag #GazaUnderFire became an unending stream of images of atrocities: bombed-out buildings, dead children, crying fathers.
The scourge of war left nothing untouched —including video games and fast-food chains. The IDF hijacked the hashtags for the World Cup, a new James Bond movie, and even the same Call of Duty franchise that Junaid Hussain would weave into his own recruiting ("Playing war games on Call of Duty last night? Over a million Israelis are still under REAL fire#BlackOps2"). Meanwhile, pro-Hamas hackers took over the Israeli Facebook page of Domino's Pizza, using the opportunity to threaten a merciless reprisal of "more than 2000 rockets" against Israeli cities. When Domino's regained control of the account, it had a message of its own: "You cannot defeat . . . the Israeli hunger for pizza!"
Even as the missiles flew, the IDF and Hamas continued to narrate the conflict, each posting nearly 300 messages: alerts, updates, and a steady string of taunts. "Warning to reporters in Gaza," wrote @IDFSpokesperson. "Stay away from Hamas operatives and facilities. Hamas, a terrorist group, will use you as human shields." @AlqassamBrigade couldn't let this stand. "Stay away from Israeli IDF," the Hamas spokesperson mimicked. "We are just targeting Israeli soldiers, fighter jets, tanks and bases." It was a remarkably juvenile exchange. But these taunts couldn't be dismissed as easily as the ones you might hear in a kindergarten classroom. After all, they were salvos lobbed by two combatants in a real, shooting war.
There was a temptation, after the sides had settled into an uneasy cease-fire, to dismiss this weird internet flame war as a bunch of digital noise. After all, the angriest tweets were still just tweets — literally, "short bursts of inconsequential information." But that would have been a mistake. Years after Operation Pillar of Defense had slipped from the public mind, American University professor Thomas Zeitzoff conducted a painstaking study of hundreds of thousands of tweets, which he then mapped across each hour of the physical side of the eight-day conflict.
What he found was shocking. In the case of Israel, a sudden spike in online sympathy for Hamas more than halved the pace of Israeli air strikes and a similarly sized leap in Israel's own propaganda efforts. If you charted the sentiment (pro-Israel or pro-Palestine) of these tweets on a timeline, not only could you infer what was happening on the ground, but you also could predict what Israel would do next. IDF commanders hadn't just been poring over battlefield maps. They'd also been keeping an eye on their Twitter feeds — the battlefield of the social network war.
Taking place in 2012, Operation Pillar of Defense offered a glimpse of an emerging way of warfare. It was a conflict in which each side had organized to taunt and troll each other online, even as they engaged in a life-and-death struggle in the real world. Their battles drew in millions more international fighters. Some were passionate supporters of one side; others had just stumbled upon the war while looking for video game news or pizza. They shaped the fight all the same, strengthening the voice of one faction or another — and, by tiny degrees, altering the course of events on the ground.
The lesson was clear: Not only did modern war require a well-planned military campaign. It required a viral marketing campaign as well...

P. W. Singer is a strategist at the New America think tank. Emerson T. Brooking is an expert on conflict and social media and a former research fellow at the Council on Foreign Relations.
Topics: