New Soldier Lethality Technologies on the Way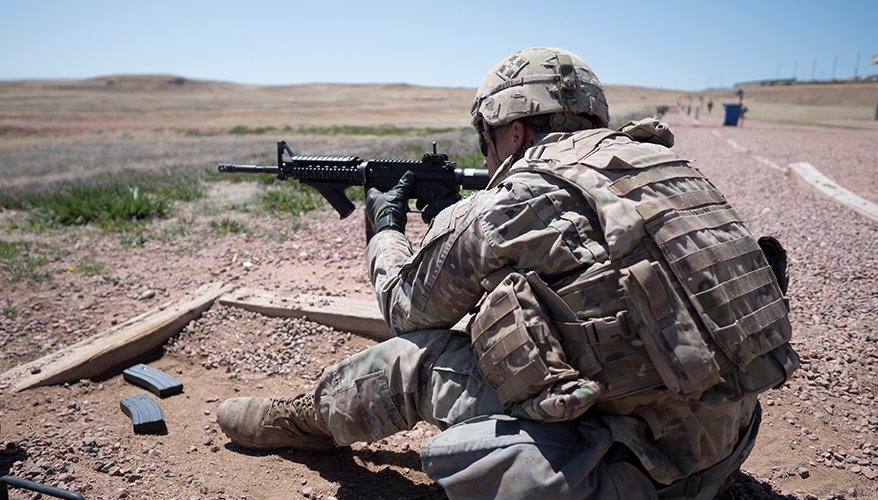 A soldier fires an M4 carbine.
Photo: Army
This is part 1 of a 6-part series covering the Army's modernization priorities leading up to the Association of the United States Army's annual meeting in Washington, D.C., Oct. 8-10. Today's focus: Soldier Lethality.
The Army is investing in a slew of new capabilities to make soldiers more effective.
"At the end of the day, the Army's people, they are our most important asset," said Vice Chief of Staff Gen. James C. McConville. "We are going to give our soldiers leap ahead technology that is going to make them much more capable and lethal on the battlefield as we move forward."
Soldier lethality is the service's sixth most important modernization priority going forward, he noted during remarks at the National Defense Industrial Association's Army Science and Technology Conference in Washington, D.C.
"What we've done is we've invested a tremendous amount of organizational and intellectual energy on this effort as we go forward," he said. "Our resources are aligned with our priorities and if you're out there in industry, you ought to check those priorities because that's where our resources are going, that's where we're spending money."
Soldier lethality encompasses a wide range of technologies that will enable troops to shoot, move, communicate, protect and sustain themselves better, according to Army documents.
Thomas Russell, deputy assistant secretary of the Army for research and technology, said that while soldier lethality is the last on the service's list of major modernization efforts, that doesn't mean it isn't as important.
"If I'm looking at trying to engage with a near-peer adversary, the first problem is really the long-range precision fires," he told National Defense in an interview. "If they're outshooting your distance, then my dismounted soldier may not get into the fight, right? So I wouldn't say that it's less of an importance, I would just say that you have to … think about some of the sequencing of an operation."
The service's focus on soldier lethality ties in closely with work being done by the Defense Department's Close Combat Lethality Task Force, he said.
"We are linked in … [and] we are working hand in hand," Russell said.
Secretary of Defense Jim Mattis announced the initiative earlier this year with a goal to develop, evaluate, recommend and implement improvements to U.S. squad-level infantry combat formations in order to ensure close combat overmatch against high-tech adversaries.
"I am committed to improving the combat preparedness, lethality, survivability and resiliency of our nation's ground close-combat formations," Mattis said in a memo. "These formations have historically accounted for almost 90 percent of our casualties and yet our personnel policies, advances in training methods and equipment have not kept pace with changes in available technology, human factors science and talent management best practices."
In July, Robert Wilkie, then-undersecretary of defense for personnel and readiness, and now the head of the Department of Veterans Affairs, said more attention is needed for troops and small units.
"This town gets wrapped around the axel worrying about the cost of a carrier or a new fighter. We have a nuclear posture review, a seapower review and now we're debating how to achieve supremacy in cyberspace. But nothing for the tip of the spear," he told members of industry.
"Because of America's technical restlessness, we are always looking for that silver bullet that can somehow change the nature of war … [but success] relies not only on technical superiority but more importantly the human dimension," he added. "There is nothing more important than focusing our energy now on developing and nurturing new capabilities in human performance — that means bringing fresh vigor, renewing our sense of urgency and enhancing the lethality of our frontline Army and Marine Corps troops."
Wilkie noted that the task force is looking at answering a variety of questions, including how to provide troops with the best nutrition, how to employ cognitive and social science to make teams more lethal, and how to recruit the best people to serve in the military.

ONYX exoskeleton (Lockheed Martin)
The United States faces an enemy today that is organized and adaptive, he said. Allied nations have faced similar challenges, he noted. For example, during the 2006 Lebanon War — a conflict between Israel and Hezbollah — the Israeli Defense Forces encountered sophisticated kill zones and advanced combined arms operations, he said.
"Ultimately, as they usually they do, they adapted … but they paid a heavy price," he said. "The [close combat lethality] task force will aim to end that type of combat learning curve."
As part of its soldier lethality modernization effort, the Army is looking at a variety of technologies. Between fiscal years 2019 and 2023, the service plans to spend about $1.25 billion in S&T investments on soldier lethality efforts, according to Russell's presentation slides.
There is a "big focus on the next-generation squad weapon," Russell said. "Can we actually produce a weapon that is beyond the carbine, the traditional M4, and can we create something that is more lethal?" he asked.
There hasn't been a major advancement in a carbine for decades, he said. "The dismounted soldier has ... been at parity for years."
The service is currently undertaking a number of demonstrations aimed at fielding a new weapon, Russell said.
"There's an opportunity now with some new technologies that have been developed in the carbine-like capabilities that give us the ability to potentially create a handheld weapon that is more lethal than the current capability," he said.
The Army is working closely with industry on the effort, he added. While not describing specific requirements, Russell said the service wants a carbine that can be more effective and provide greater range.
Firm requirements are still being formulated, he said. However, "the S&T piece of this is almost done and so it's moving into the development and programs" phase, Russell added.
Karen N. Gregorczyk, biomechanics team and physical performance branch lead at the Army's Natick Soldier Research, Development and Engineering Center, said the Army is making investments in exoskeleton systems as part of the soldier lethality initiative.
"It's important for us to keep abreast of this technology, understand it's current state and limitations," she said during the Army S&T conference. Natick defines an exoskeleton as a rigid wearable device that augments, enhances or enables motion or physical activity.
"I'm not talking about movie exoskeletons that can do everything," she said. "I'm talking about single joint exoskeletons that are meant to augment specific tasks such as walking tasks or lifting tasks."
Exoskeletons have military, industrial and medical applications, she said. Within the military realm, they can be used for maneuvering, movement and sustainment tasks.
Over the past decade, the Army has assessed a number of systems designed to augment load carriage, Gregorczyk said. "We've seen improvements in metabolic reduction of using these systems for load carriage-type tasks," she added. "But these are very controlled environments performing specific tasks, like walking on a treadmill."
The Army has examined systems such as a bionic boot that could reduce the metabolic cost of carrying a load and potentially increase walking speed, she said. The service wants the system to provide a soldier with 25 percent metabolic reduction, an increased speed of 15 percent, a durability of 450 miles and be dust- and rain-proof.
Another system the Army is working with is Lockheed Martin's ONYX, a knee augmentation exoskeleton that is designed for mountainous terrain or stairs, she said.
Onyx has already demonstrated that it can reduce the "cost of transport" for a soldier walking up an incline with a 40-pound load by four to six percent, according to Gregorczyk's presentation slides.
In another test, a user performing a 185-pound squat without the system was able to complete 26 reps. With Onyx, that increased to 72 reps, the slide noted.
The service plans to acquire new systems with higher technology readiness levels and assess them, she added. However, "the actual application and use of these in the field is yet to be determined," she said. For now, "we're trying to show the efficacy of these devices to show that they are showing improvements."
The Army is also working at enhancing body armor, said Kristopher D. Behler, a senior material scientist at the Army Research Laboratory.
"Increased soldier survivability depends on research and development for new armor ceramics for lighter weight soldier protection technologies," he said. "We do this by focusing on engineering their structures from the Angstrom to the macro-scale."
While the United States has kept pace with adversaries when it comes to body armor, it must begin to make more than just incremental advacements, he noted. "What happens if there are new threats? What happens if there is a paradigm shift?" he asked. "We're already using some of the lightest and hardest materials possible for torso protection."
Additionally, while the material used for body armor today performs well the first time it is hit, the material tends to fail after the second and subsequent shots, Behler noted.
To tackle the problem, ARL is looking at testing new ceramics, additives and blends that could improve systems, he said. For example, the lab is looking at blending current materials — usually silicon carbide or boron carbide — with diamonds, he noted.
The Army must also consider altering the process it uses to make body armor ceramics, he said. "We [can] do this through some newer technology such as, say, additive manufacturing," Behler said.
"It's already very well established in polymers [and] somewhat metals. Ceramics are still kind of in the infancy."
Part 2: Army Working to Fill Air-and-Missile Defense Gaps
Part 3: Big Challenges Face Army in Quest to Revamp Network
Part 4: Joint Multi-Role Rotorcraft Program Moving Forward
Part 5: Next-Gen Combat Vehicle to Require Emerging Tech
Topics: Army News, Land Forces, Defense Department