Humvees Retrofitted With New Safety Upgrades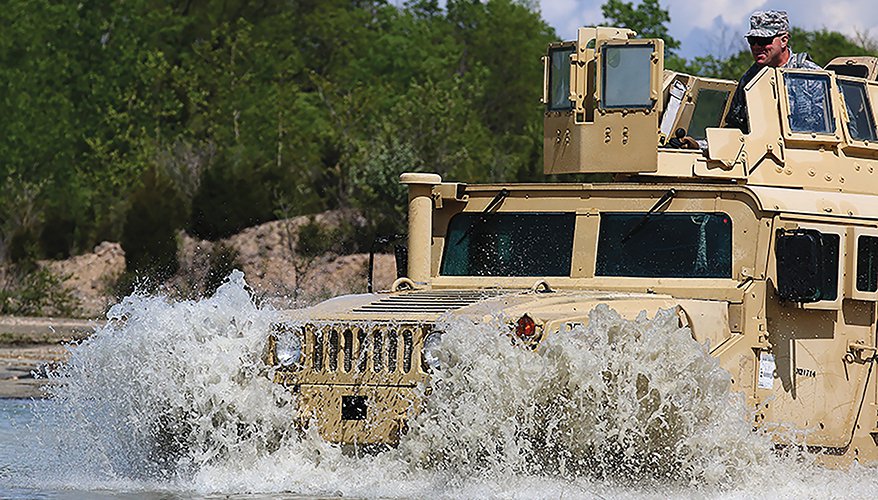 Citizen airmen assigned to the 445th Security Forces Squadron drive a Humvee.
Photo: Defense Dept.
A portion of Michigan National Guard Humvees have recently been retrofitted with new braking and stability control systems developed by Ricardo Defense Systems. The aim is to reduce fatal rollovers, said a company executive.
Ricardo, a Detroit-based subsidiary of global company Ricardo Plc, recently announced the successful completion of a pilot program to retrofit 10 National Guard vehicles with its optimized antilock braking system and electronic stability control to keep soldiers in Humvees — and the populations around them — safer, said Thom Green, company vice president of business development.
"It's developed. It's ready to go. It has been tested," he said.
Ricardo supplied the protection systems as part of the program in coordination with the Office of Naval Research, the Army Tank Automotive Research Development and Engineering Center and the Army Tank-Automotive and Armaments Command, he added. The company also partnered with LIFT - Lightweight Innovations for Tomorrow, a public-private partnership operated by the American Lightweight Materials Manufacturing Innovation Institute, based in Detroit.
The organization supplied funding to Ricardo to help scale up and validate the systems, said Joe Steele, LIFT communications director. The public-private partnership also provided engineering oversight and program management, he added.
"As a Department of Defense-sponsored manufacturing institute, we saw this as an opportunity to meet the needs of the DoD, to help further support the safety of our men and women in uniform, and also to help Ricardo further develop this system," he said.
Ricardo is currently working with the Army to put the antilock braking and electronic stability control systems on all in-production Humvees, as well as retrofit current vehicles "as soon as possible," Greene said. The pilot program was "a great opportunity" to figure out new ways to make a vehicle more lightweight while adding new safety measures, he added.
"Every pound, every ounce that we took out of the vehicle, we could add more protection, more components and [communications] equipment," he said. The system is now available for purchase by military units worldwide, he noted.
The retrofitted Humvees have already seen over 50,000 miles of driving, according to a company press release.
Topics: Land Forces, Tactical Wheeled Vehicles