VIEWPOINT DEFENSE DEPARTMENT
Centcom Seeks Open Dialogue with the Private Sector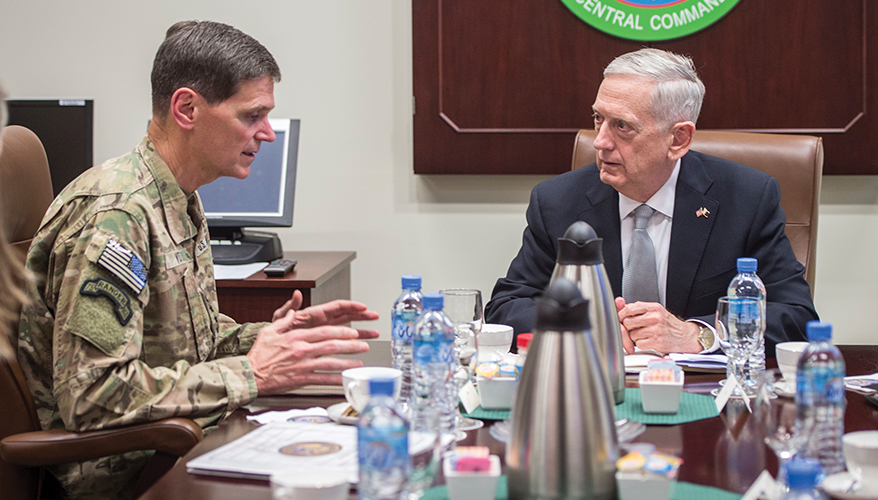 Secretary of Defense Jim Mattis meets with Centcom Commander Gen. Joseph Votel.
Photo: Defense Dept.
Synchronized efforts of capable partners is a mainstay of effective coalition, command, control, communications and computers mission support. The first "C" in our use of the acronym C5, coalition, reflects this warfighting norm.
For the U.S. Central Command's communications and computers directorate, the J6, providing, operating and defending C5 environments in the most complex and volatile region of the world requires persistent coordination and collaboration across stakeholder communities — within the Defense Department, the interagency, private sector and international counterparts in the central region and beyond.
The breadth and depth of U.S. commitment to ongoing military and warfighting missions across Centcom's area of responsibility reinforces the need to establish and maintain strong partnerships across stakeholder communities, and to enable those partners to play a greater role in mission support and execution.
Centcom Commander Gen. Joseph L. Votel refers to this increased reliance on partners in the conduct of warfighting missions as the "by, with and through" approach, stating, "We win the current fight and plan to win the next one by, with and through our partners."
Secretary of Defense James Mattis defined a key line of effort for the DoD of strengthening alliances and partner building. "Few of us — in my case, never, did I fight in an all American formation. … I've always fought alongside coalition partners," he said at an Air Force Association conference last September. He further stated that "we have to recognize that our organizations, our processes and procedures have got to be allied friendly."
The command's recently published regional engagement strategy and newly formed regional engagement teams are bringing renewed discipline and rigor to U.S. multi-stakeholder efforts to enable and empower regional partners in current and future coalitions.
Through a wide range of regional engagement or security cooperation activities — from bilateral military-to-military working groups to multilateral whole-of-government and private sector conferences — the J6 team provides regional partners with valuable knowledge and resources to build and enhance coalition-friendly communications and information technology capabilities and capacity.
The primary objective of J6 regional engagement efforts over the last five years has been to enhance the interconnectedness and assured information sharing central to effective coalitions, key drivers in our focus on U.S.-partner technical interoperability and advancing partner cybersecurity programs. The goals of interoperability engagement are common U.S.-partner military tactics, techniques and procedures and common standards for shared infrastructure, networks, systems, applications and information.
Through cybersecurity engagements, we seek to build and enhance partner ability to integrate cybersecurity best practices in how they provide, operate and defend key infrastructure resources to prevent loss or degradation of military and national cyberspace capabilities.
Over the last decade, collaboration with U.S. stakeholders has been a key factor in successful regional engagement efforts. The Central Region Cybersecurity Conference, formerly the Central Region Communications Conference, provides the best example of combined whole-of-government and private sector efforts.
"The foundations for greater private sector partnership may exist within a common set of objectives."
The J6 team leads this one-of-a-kind multinational, multi-stakeholder — whole of government plus industry and academia — event, bringing together U.S. leaders, regional leaders and subject matter experts to address national and military cybersecurity issues of common U.S.-partner interest and concern. The multi-stakeholder approach allows J6 to leverage each U.S. community's unique perspectives on regional challenges and opportunities, and make best use of their respective authorities, skills and resources.
For regional partners, the conference may be the only opportunity each year to participate with their national counterparts in a cross-sector dialogue on cybersecurity. Its cybersecurity topics of interest include national and ministry-level cybersecurity strategies, policies, organizational structures, workforce planning, training, defensive cyber operations and critical infrastructure protection. An evolving topic of great interest amongst partners are means to improve regional and U.S.-partner cyber threat information-sharing.
Successfully planning and executing each conference requires close coordination with U.S. whole-of-government leaders and subject matter experts in the Defense Department, the Department of State, the Federal Communications Commission, the Departments of Commerce and Homeland Security and other whole-of-government stakeholders. This team approach allows us to assemble the highest level of U.S. and regional representation, including regional ministers, senior regulatory officials, senior defense officials and their U.S. counterparts. We have leveraged the same group of U.S. whole-of-government partners to plan and conduct cybersecurity webinars, providing regional partners with more detail on cybersecurity topics.
The J6 team truly values the contributions of whole-of-government counterparts to the successful execution of the conference and quarterly cybersecurity webinars. The valuable information each U.S. stakeholder is willing to share with regional partners is key for building partner capacity to align in collective defense.
Yet, we learned long ago that whole-of-government approaches are not enough to provide the insights and influence solutions that best serve regional partners and goals and objectives in the central region. Thus the reason we include in conference a limited representation of private sector experts — well renowned individuals in their own right outside of their industry and academia affiliation — yet able to provide partners with valuable private sector perspectives.
This limited interaction with the private sector likely misses key opportunities to maximize collective U.S. efforts to support objectives in the central region. Improved coordination with the private sector might establish common messaging, common solutions, and help to avoid confusion and mistrust among regional partners who hear differing messages and recommendations from each U.S. stakeholder with whom they engage — a situation that is often not in the best interest of the U.S. or partner nations.
Unfortunately, options for open dialogue with the private sector are very limited, and even less so to collaborate on specific regional initiatives. We must remain cognizant of legal and regulatory limits on the ability of Defense Department organizations to engage the private sector outside normal acquisition processes, and to avoid potential or real conflicts of interest.
Secretary Mattis emphasized these challenges in his remarks to the 2017 AFA conference, stating "what struck me when I met with the industry leaders was how they had very good relations with certain elements of the Department of Defense and others had no relationship."
He described how "services had gotten to the point of paralysis, because they felt they could not speak to members of industry, representatives of industry, because somehow it was illegal." He went on to say, "I think that the most important thing is that we open the lines of communication in a way that consider industry, American industry and allied industry where it's appropriate, as partners in this effort."
On the secretary's cue, and with the caveat to do so within legal and ethical bounds, the J6 team will work to identify greater opportunities to interact with private sector counterparts.
The foundations for greater private sector partnership may exist within a common set of objectives. Both need an ability to operate freely in cyberspace, to include the conduct of business in and through network infrastructure owned and operated by regional partners. It is therefore in the collective best interest to help regional partners build and enhance cybersecurity capabilities.
Security forces in some partner nations have a direct responsibility for defending national cyberspace infrastructure. We can also work together to ensure regional partners are able to take advantage of the opportunities developing in the U.S. private sector.
A solid set of common objectives and a willingness of Defense Department leadership to rethink the status quo in terms of partnership with the private sector could lead to tremendous opportunities to accelerate partner-nation progress toward their own interoperability and cybersecurity goals, and to establish coalition-friendly cyberspace capabilities.
Improving U.S.-partner interoperability, and building and enhancing regional partner cybersecurity capabilities and capacity can serve as unifying objectives of all U.S. stakeholders in the central region — a basis for common outcomes aligned with national and regional priorities.
Building on the long history of close partnership within the department and the U.S. public sector, and expanding dialogue and partnership with the private sector, will improve collective awareness, understanding and opportunities. The next step for the J6 team is to identify and go after specific opportunities to open dialogue with the private sector. We welcome ideas.

Maj. Gen. Mitchell L. Kilgo is director of command and control, communications and computer Systems, J6 and chief information officer at U.S. Central Command, MacDill Air Force Base, Florida.
Topics: Viewpoint, Intelligence and Surveillance, Defense Department