Secretive Pentagon Office Shares Details About Hypervelocity Missile Defense Weapon (UPDATED)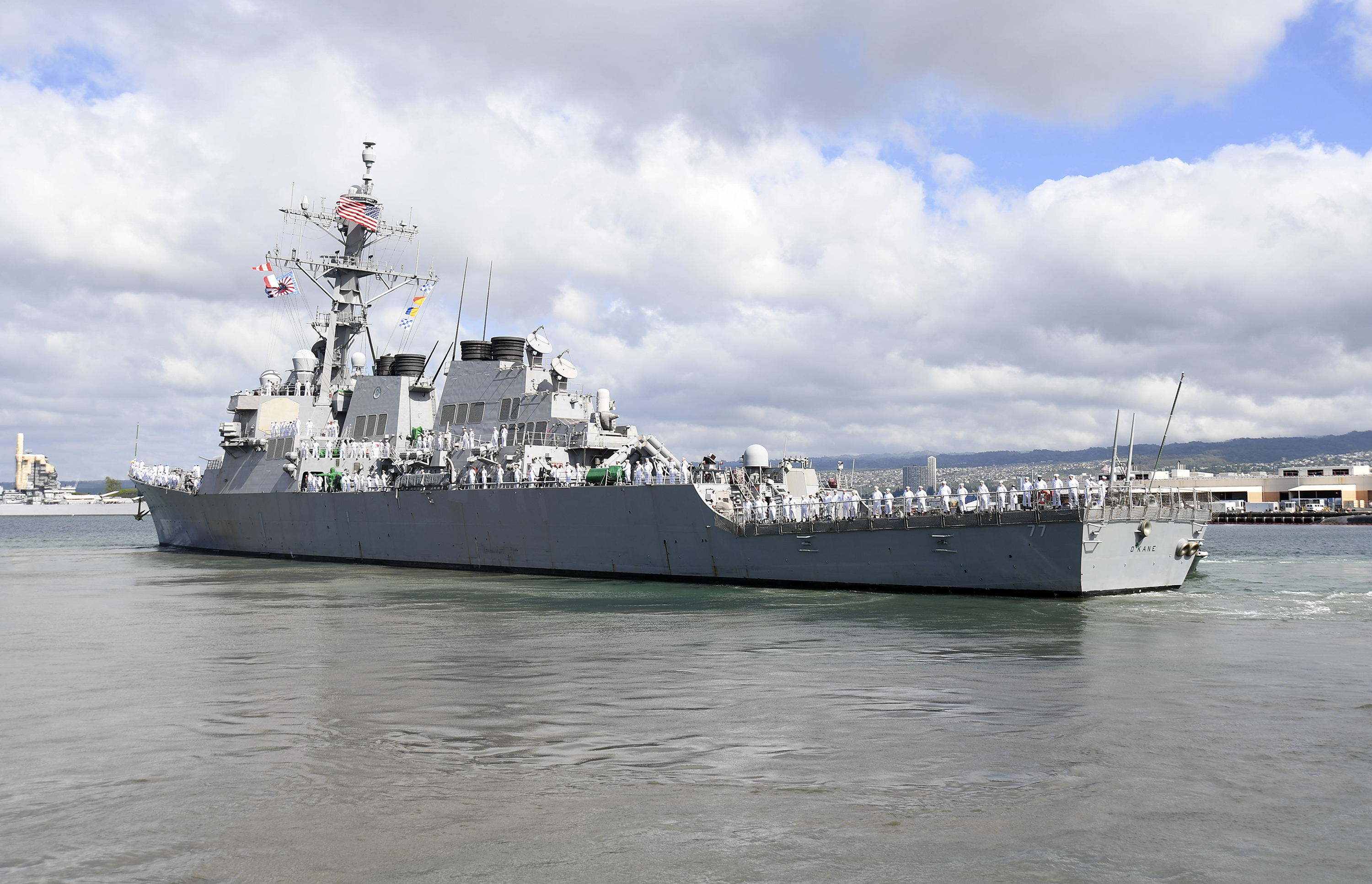 The hypervelocity gun weapon system could potentially be used on Navy destroyers such as the USS O'Kane (pictured above).
Defense Department
A new weapon system developed by the Strategic Capabilities Office — a secretive Pentagon agency meant to advance cutting-edge technology — could improve integrated air and missile defense by reducing overall costs and increasing flexibility, said an official Jan. 25.

The technology — known as the hypervelocity gun weapon system, or HGWS — is a small, flexible hypervelocity projectile, said Vince Sabio, program manager for the system.

"That projectile is being designed to engage multiple threats," he said during a panel discussion at the Center for Strategic and International Studies, a Washington, D.C.-based think tank. "There may be different modes that it operates in and … we may tell it shortly after it comes out of the gun which type of a threat it is going after, and it will configure itself for that type of threat in terms of the dynamics — how does it maneuver, how does it close on the threat."

The projectiles can be shot out of Army 155 mm howitzers and Navy 5-inch deck guns on destroyers, he noted.

"Any place that you can take a 155, any place that you can take your Navy DDG, you have got an inexpensive, flexible air and missile defense capability," he said. "For both the Marines and Army, [this is] a new concept which is essentially air and missile defense on the move, or in the Marine sense, expeditionary air and missile defense — something that the military currently does not have and fundamentally needs."

The technology is also affordable, Sabio said. The projectiles cost about $85,000 per round. Other missile interceptors in the inventory cost millions of dollars each.

"That is way, way, way cheaper than anything that is currently in the U.S. missile defense architecture," he said. "You can shoot a lot of those things and not feel badly about it at the end of the day."

The Strategic Capabilities Office, also known as the SCO, currently sees three major shortcomings with the United States' missile defense architecture. First, it is brittle and is designed to only address one type of threat, Sabio said.

"We need to get away from … just ballistic threats," he said. "There's cruise missiles, there are [hypersonic glide vehicles]. We need to be able to address those types of threats — subsonic, supersonic, sea skimming, land hugging, coming in from above and dropping down on top of us."

It's also inflexible, he added. "It's designed for the threat to be coming in, or those threats to be coming in, on a very specific set of axes … and a very specific set of elevations," he said.

Additionally, many systems have a high price tag, he noted.

"Our finger pauses over the fire button just because we know every time we push it we're pushing a fair amount of money out of that launcher," Sabio said. "We need to get to a less expensive architecture, and there are ways that we can do that."

The hypervelocity gun weapon system addresses many of these issues, he noted.

The Strategic Capabilities Office has also worked on other projects that allow the military to engage multiple threats with one system. For example, in the past it has taken a Standard Missile-6 air defense weapon and modified it so it can also function as an anti-ship missile, he said.

"We're kind of blending the offense and defense," Sabio said. "We can [also] work it the other way. Inherently offensive capabilities can also be modified to have inherently defensive capabilities."

Multi-mission systems pose challenges for adversaries, he said.

Enemies "know right now we have defensive capabilities over here, we have offensive capabilities over there," he said. "They know how to plan for that and they know how to engage each of them independently. But if those capabilities are each both offensive and defensive, we now complicate their planning."
Clarification: This story has been updated to clarify the type of Army howitzers that can fire the hypervelocity gun weapon system projectiles.
Topics: Advanced Weapons, Defense Department, Navy News, Army News, Defense Innovation