Block Buy of Icebreakers Could Save Money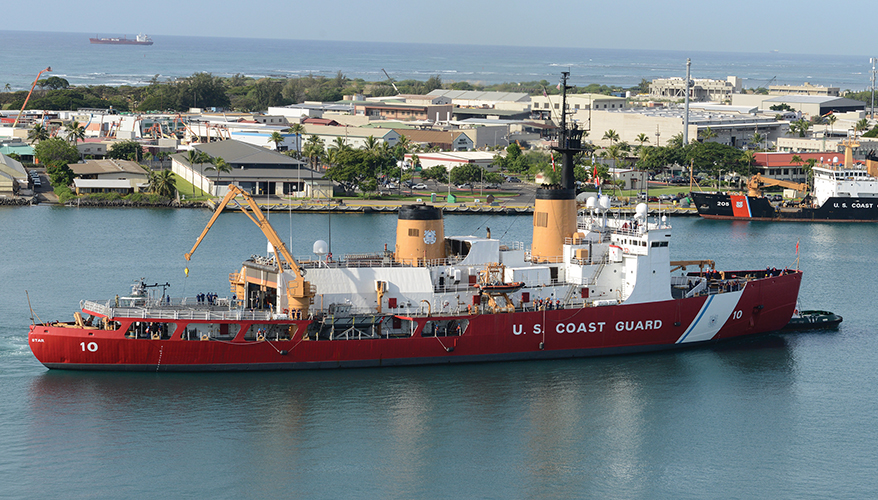 USCGC Polar Star
Photo: Coast Guard
Purchasing new icebreakers with a block buy contract could yield major savings for the cash-strapped Coast Guard, analysts said.
As the sea service looks to replace its legacy platforms, the heavy-duty USCGC Polar Star and medium-duty USCGC Healy are the only polar icebreakers that are currently operational.
In October, a Navy-Coast Guard integrated program office released a draft request for proposals for the detail design and construction of one heavy polar icebreaker with options for two additional such ships. Industry responses were due in December.
"An alternative would be to procure the three envisaged polar icebreakers with a block buy contract," Naval Affairs Specialist Ronald O'Rourke said in a recent Congressional Research Service report, "Coast Guard Polar Icebreaker Modernization: Background and Issues for Congress."
"Compared to annual contracting, a block buy contract would reduce the government's flexibility regarding whether and when to acquire the second and third ships, and what design to build them to, and in return reduce the combined acquisition cost of the three ships," he explained.
CRS estimates that using a block buy contract could reduce the combined acquisition cost of three heavy polar icebreakers by upwards of $200 million. Those findings are roughly in line with a congressionally mandated report last year from the National Academies of Sciences, Engineering and Medicine on the acquisition and operation of polar icebreakers.
Using a block buy strategy could reduce the average cost per heavy icebreaker to approximately $791 million, if four ships were acquired, the study found.
The total acquisition cost of a new polar icebreaker had been estimated at approximately $1 billion, but the Coast Guard and Navy now believe the lead ship could cost less.
"We've been able to find offsets to drive the cost down," Coast Guard Commandant Adm. Paul Zukunft said in January during remarks at the Surface Navy Association's national symposium.
The sea service is aiming to field a new heavy icebreaker by 2023. The 2018 budget requested $19 million in acquisition funding, and the joint integrated program office hopes to make a contract award by fiscal year 2019, he said.
The service is planning to procure the lead ship first but is considering awarding a block buy type of contract for subsequent vessels, he said.
"We have not built a heavy icebreaker really in 40 years," Zukunft said. "There is a front-end expenditure for our U.S. shipyards … but the lead ship, as you see with pretty much any fleet rebuild, will cost more" than the others.
In recent years the Coast Guard has had to grapple with constrained acquisition budgets. Some observers have suggested that new polar icebreakers could be funded in the Navy's shipbuilding account to prevent the vessels from eating up a huge chunk of the Coast Guard's procurement dollars.
Rep. Rob Wittman, R-Va., chairman of the House Armed Services seapower subcommittee, said there is bipartisan support in Congress for buying new icebreakers.
"The question then becomes how do we do that," he said at the SNA conference.
The Coast Guard is part of the Department of Homeland Security and its icebreakers and other ships are not normally part of the Pentagon's budget, he noted.
"Some have pushed to say, 'Well, let's just fund them out of the [Navy's] shipbuilding account,'" Wittman said. However, doing so could potentially derail Navy efforts to achieve a 355-ship fleet if the service's shipbuilding account doesn't receive extra money to accommodate icebreaker funding, he warned.
"We have to stay on track to 355," he said. "If you are going to build [icebreakers] out of the shipbuilding account it can't come by taking money away from other shipbuilding. It has to be in addition to." Otherwise, the new icebreakers should be funded in the Homeland Security budget, he added.


Topics: Budget, Maritime Security