Internet of Things to Provide Intelligence for Urban Warfare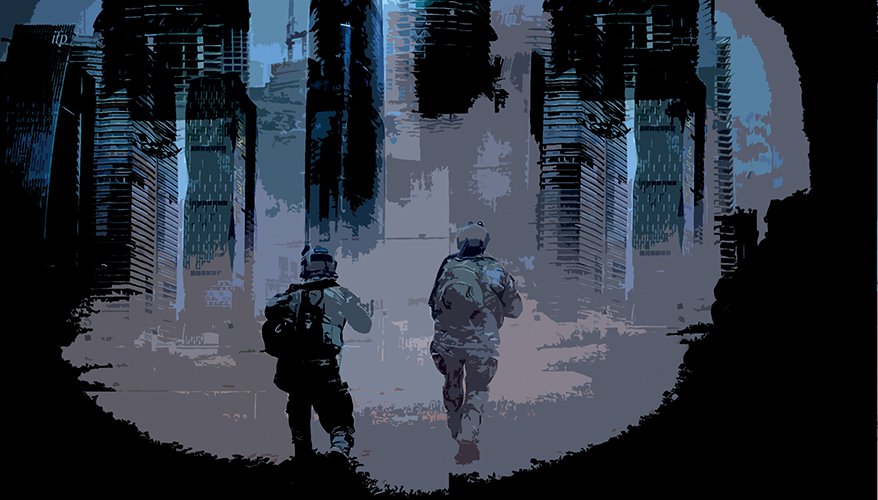 Photo-illustration: Defense Dept. images
Over the next 30 years, the U.S. military will find itself fighting more battles in urban areas as populations rise across the globe. Cities such as Shanghai and Beijing currently contain more than 20 million residents each, and the United Nations expects the number of "megacities" — with populations surpassing 10 million people — to increase from 28 in 2016 to nearly 50 by 2030.
Residents in those areas will use smartphones, tablets and wearable devices, and be connected to the internet. As data sources become more widespread, the proliferation of "internet of things"-enabled devices — electronic tools that use the web to interact with each other and with the physical world — offer increased benefits for situational awareness, signals intelligence and communication, military and industry leaders have said.
"You need to distribute IoTs throughout the city, everywhere you can possibly think to distribute them, to gather every type of signal that you think is relevant and … analyze those against known parameters," said Thomas Burns, director of the strategic technology office at the Defense Advanced Research Projects Agency.
But these devices could also open troops up to potential attacks from adversaries who exploit cybersecurity gaps, and the Pentagon must develop tools that allow service members on the ground to communicate in increasingly congested environments, while keeping their assets safe.
The Defense Department was an early user of internet-of-things technology, utilizing it on Army programs such as the Nett Warrior integrated dismounted situational awareness and mission command system, and the Force XXI Battle Command Brigade and Below communication platform, said Keith Gremban, director of the Institute for Telecommunication Sciences at the National Telecommunications and Information Administration within the Commerce Department.
But as commercial industry has surged ahead in developing new ways for users to communicate, sense, process and actuate data through connecting devices, the military has been slower to harness the technology, he said at a recent Armed Forces Communications and Electronics Association MILCOM conference in Baltimore.
"When I started my career, the cutting-edge work was all in defense," he said. "Is DoD still a player in IoT [or] have they drifted out?"
Burns said the devices could help troops monitor urban areas in the future, particularly as megacities continue to proliferate. He called it "crazy" to consider asking U.S. and allied forces to fight in those environments without enhanced systems "unless there really is no other means."
Sensors distributed throughout megacities could help the military track the "health of a city," meaning the health of its population, infrastructure, economy or other sectors, he said. "The problem with that is the only way we can make that work is if we use the internet."
Commercial industry is taking advantage of the internet of things at a faster rate than the U.S. military and its government partners, Burns noted. That is because the private sector prioritizes accessibility and cost when it comes to developing the technology, while the defense world is more worried about survivability and security, he added.
"Our issue is hardening the packaging so [the devices] can survive in really challenging environments," he said.
The Defense Department is currently willing to spend "a lot of money" for devices that can be used for an extended period of time, and industry could help by developing products that last longer, he added.
In December 2016, the Defense Department's chief information officer's office released a paper titled, "DoD Policy Recommendations for the Internet of Things," which described the potential benefits that such technologies can bring to battlefield situational awareness.
"The very small size and low cost of sensing and communications devices makes them ideal for deploying in low-power networks in forward situations to provide warfighters with enhanced situational awareness, giving them real power to see around corners and across hostile terrain," the report said.
While connected to communications systems built into their uniforms and armor, warfighters can more effectively engage and dominate enemy forces in difficult environments, it added. Additional internet capability would allow more information to be relayed from the battlefield back to command and support facilities, "allowing advice and additional big picture information to be sent back to the warfighters," it continued.
The report recommended that defense officials prioritize addressing the highest risk vulnerabilities already installed in mission systems, such as ensuring that the information is encrypted where needed.
The U.S. military's $12 billion investment in internet-of-things technologies "pales in comparison" to commercial investments, said Lt. Col. Jeffrey Kawada, branch head for the Marine Air Ground Task Force for electronic warfare, offensive cyberspace operations and information operations at Marine Corps Base Quantico, Virginia.
While Kawada acknowledged that the Marines and the U.S. military writ large need to better utilize internet-of-things-enabled tools, he noted that the longevity and security concerns are important.
"There are areas where we need a physical, secure area," he said.
"There is a time and a place to be open. Right now, we're trying to gain superiority. Then we can bring in the IoT," he added.
Burns said the fact that people tend to view the internet of things as the sensor or device, rather than the network itself, could be hampering the military's adoption of the technology.
"This might be why IoTs are not rolled out as dramatically as they are in the commercial realm," he said, adding that the military could be concerned about connecting the devices to public internet networks.
Troops on the ground also do not currently have the necessary technical expertise to properly deploy the systems, said Maj. Ryan Kenny, operations and executive officer for the Army's 30th signal battalion's network enterprise center at Wheeler Army Airfield in Hawaii.
As the Pentagon looks to take advantage of the technologies within the department, every command should include data scientists, Kenny said.
"If I have to convince a maneuver commander that it's worth putting forces in the field and worth making an investment, I have got to have a subject matter expert that can articulate that and organize and consolidate a planning effort," he said. "I think that's a gap that, broadly speaking, the DoD is trying to figure out."
That is not an easy task when data scientists are already in high demand across U.S. job sectors, he added. "Most of those folks probably aren't trying to come inside the DoD. … This can be really tough."
But Kenny said that's the kind of expertise needed in the field so an officer can smartly deploy devices to gather intelligence that can help leaders make decisions.
David Cooper, communications, navigation and surveillance technical director for BAE Systems, said the U.S. military should look for opportunities where a distributed field of sensors makes more economic sense than one large, expensive device.
Signals intelligence is one such area, while another is vehicle logistics, he noted. For example, New York City is using internet-of-things technology to alert the Metropolitan Transportation Authority when its hybrid buses need to be repaired, he said.
"Some brakes are just ready to fail on some buses," he said. With distributed sensors aboard the vehicles, authority officials can bring the buses in for repair and not have to tow them in, he added.
The Army in particular could benefit from this type of technology to rapidly remove a tank from a battlefield when it needs repair, he noted. "Having vehicle prognostics distributed around … would actually be very cost effective," Cooper said.
Other areas of opportunity include perimeter defense, intrusion detection and border patrol, he added.
Even if the military is not quite ready to widely adopt internet-of-things-enabled devices into its own mission sets, the Defense Department will have to account for new developments in the commercial world, Kawada said.
Companies such as Google and Uber are investing heavily in autonomous driving vehicles, and Amazon is experimenting with delivering packages via unmanned systems, he noted.
"In a megacity, you have a lot of interference, you're going to have a lot of … propagation issues," he said. Troops will require command-and-control systems that can operate in an environment with a lot of signals congestion, he added.
"That's some great technology to bring in, because we're going to have the same problem going into armed megacities … going forward."
The military must also prepare to counter peer adversaries in an electronic warfare environment, Kawada noted. Countries including China, Russia and North Korea are currently developing anti-jamming capabilities that can affect military communications and other data transmissions.
In the cyber domain, internet-of-things technologies could help the military gather data more quickly through targeted advertisements and other social media tools, Kawada said.
"I can do a search on the internet, and all of a sudden, boom, on Facebook, I've got all of these ads pop up for the stuff I searched for," he said. That currently saves the advertising industry a lot of money, and the warfighting community could take advantage of those strategies for mapping and data-mining missions, he added.
"That is really stuff that industry is leading the way on that we can pull in," he said.
Troops on the ground could also benefit from tools that can transmit sets of data across devices, Kenny said. If soldiers could pull in information from privately housed sets of data, they might be able to better monitor and understand the city where they are operating, he noted.
"One opportunity that the DoD will struggle with is how do you maximize the analytical capacity?" he said. "How do you pull in information, not only from your public DoD government sources but also those private sources?"
That integration of public and private data sets could enhance a commander's understanding of the population, which could in turn meaningfully impact a combat operation, he added.
Kawada said the key to properly harnessing internet-of-things technology is an agile and distributed command-and-control capability.
The technologies will also help the warfighter sift through endless amounts of data through word-recognition software or other services, Kawada said.
"I want a capability that will tell me at a tactical level, … 'Hey, what is this transmission saying?'" he said. "Data is data and it will just get confusing. There's too much of it."
Topics: Infotech, Information Technology, Cyber, Intelligence and Surveillance