EDITOR'S NOTES EMERGING TECHNOLOGIES
A New Year, a New Commitment to the Magazine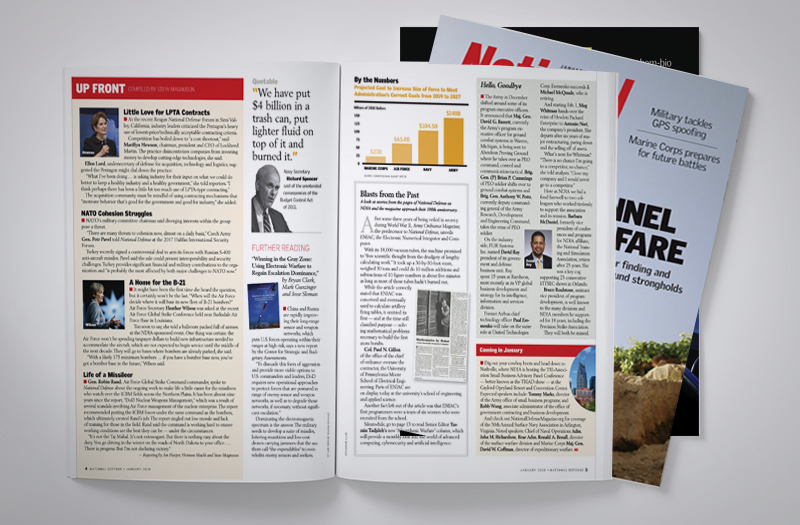 Change, as they say, is constant.
And that goes for whether one is developing cutting-edge technology, monitoring the Byzantine Defense Department acquisition regime, or producing a magazine that covers these two constantly shifting topics.
Recently being named editor-in-chief of National Defense Magazine was both a great honor and a great responsibility. Its heritage — like its publisher the National Defense Industrial Association — goes back nearly a century.
It began as a publication of the Army Ordnance Association in 1920, and was appropriately called Army Ordnance Magazine. As the association evolved, so too did the magazine, later becoming simply Ordnance, covering all the services. In 1973, it became National Defense as the organization's scope widened.
Building on the legacy of the great editors who made the magazine what it is will require remaining relevant.
And association leadership has reconfirmed its commitment to the magazine itself. The physical manifestation of National Defense appears in members' mailboxes once a month and serves as a steady reminder of their membership. While readers can see all its content online, the association will for the foreseeable future continue to produce a four-color magazine.
"The report of my death was an exaggeration," was Mark Twain's quote after an erroneous dispatch about his demise.
The same can be said of all the so-called "old" media. It might surprise some that the music industry sold a projected $1 billion worth of records in 2017. That's not CDs or digital downloads, but actual black vinyl records. The Kindle and other eReaders were supposed to spell the demise of books about five years ago. It hasn't happened. In fact, book sales are rising and eBook sales are sharply decreasing.
So with some 80,000 copies of National Defense being printed every month, the tangible version of the magazine is very much alive. Meanwhile, magazine stories are posted online without need of a password at nationaldefensemagazine.org, along with breaking news, web-only articles and the monthly podcast.
While print may not be dead, keeping the magazine relevant is another matter. Former Deputy Secretary of Defense Bob Work identified several key technologies that the Pentagon will have to master in the coming years if it is to be successful on the battlefield as part of what he called "the third offset strategy." The U.S. military will "offset" any adversary's battlefield advantage through the use of learning machines, human-machine collaboration, assisted human operations, man-unmanned combat teaming and autonomous systems. Hypersonics, electronic warfare, directed energy, advanced manufacturing and other technologies are sometimes added to this list.
"So with some 80,000 copies of National Defense being printed every month, the tangible version of the magazine is very much alive."
National Defense will focus on these technologies in the coming years and keep track of their progress. However, the list is not engraved in stone.
At a recent NDIA conference, Tomas Diaz de la Rubia, chief scientist and executive director at Purdue University's Discovery Park, introduced the idea of "continuous offset." De La Rubia has spent more than three decades working at Lawrence Livermore National Laboratory, the private sector and now in academia. He asserted that technological change is accelerating at such an unprecedented pace that it would be foolish to stick with one list. Disruptive technologies that may impact the battlefield can pop up anytime, he said.
Work said, "the technological sauce of the third offset is going to be advances in artificial intelligence and autonomy."
To that end, the January issue is the debut of Senior Editor Yasmin Tadjdeh's new "Algorithmic Warfare" column. Its name is inspired by the Pentagon's newly created algorithmic warfare cross-functional team and builds on the notion that the military that masters AI, or comes armed with the best software, will have a decisive edge on future battlefields. The column will take a dive into advanced computing, artificial intelligence, cybersecurity and other such technologies.
Also new this month is the "Up Front" section. This is not a "deep dive" but a two-page section with tidbits readers may have missed and is exclusive magazine-only content designed to inspire readers to open up the hard copy when it arrives in the mail. Among its features will be information about that month's NDIA events and conferences where National Defense staffers will be providing daily online coverage.
Technology is only half the equation.
Can the United States — with its industries, government labs and academic powerhouses — collectively develop the offset technologies necessary to give its military a decisive edge on tomorrow's battlefields? Absolutely.
Can it produce these vital technologies while hamstrung by both an antiquated acquisition system and a Congress that is not providing the necessary resources in a timely manner?
That answer is not so clear.
Two columns, "Budget Matters" by Managing Editor Jon Harper and "Government Contracting Insights" provided by the Covington & Burling law firm will continue to provide analysis into these matters. In addition, the Viewpoint section, which are commentaries from outside experts with deep knowledge of their fields, will give readers more in-depth insights into these questions.
A magazine must ultimately be at the service of its readers, and National Defense's audience is mostly NDIA's 1,600 corporate and 85,000 individual members. For them, there is the monthly "Ethics" column, a topic that touches on everyone. NDIA president and CEO Hawk Carlisle's monthly ruminations on many of these topics can be found in the "President's Perspective" column.
NDIA has also identified several key issues it must address: acquisition reform; the national security budget; cyber threats; defense innovation; government-industry collaboration; the shrinking industrial base; barriers to international cooperation and sales; and the struggles of small businesses.
Covering all these topics is a tall order, but the magazine is committed to doing so as it approaches its 100th anniversary.
Topics: Emerging Technologies, Defense Department