With Upcoming Launch, Air Force to Complete Baseline Missile Warning Satellite Constellation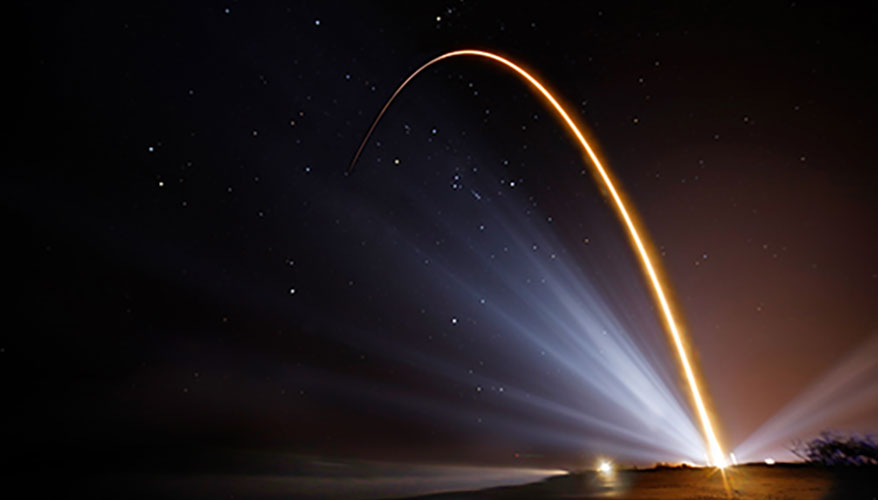 The Air Force's space-based infrared system GEO Flight 3 launched from Cape Canaveral Air Force Station, Florida, on Jan. 20, 2017.
Photo: Lockheed Martin
The Air Force is preparing to launch the fourth space-based infrared system satellite into geosynchronous Earth orbit this week. Once in orbit, the latest SBIRS system will complete the service's baseline constellation to provide worldwide missile warning, battlespace awareness and other intelligence data to U.S. forces, officials said Jan. 16.
SBIRS GEO Flight-4 is currently scheduled to launch on Jan. 18 just before 8 p.m. Eastern time from Space Launch Complex-41 at Cape Canaveral Air Force Station, Florida, said Col. Dennis Bythewood, director of the Space and Missile Systems Center's remote sensing systems directorate during a media call.
The successful launch and operation of this satellite will mark the completion of the SBIRS baseline constellation, he said. The system is intended to provide missile warning, missile defense, battlespace awareness and technical intelligence from around the globe to U.S decision-makers, he added. Lockheed Martin is the prime contractor and Northrop Grumman is the payload integrator. The satellite will be launched aboard a United Launch Alliance Atlas V vehicle.
Todd McNamara, a launch weather officer at Cape Canaveral, said on the call that the weather currently looks favorable for the Jan. 18 launch. There is a 20 percent chance of any violating weather conditions, he noted.
In the event of a 24-hour delay, Jan. 19 is also looking favorable, he added.
The SBIRS system includes satellites in geostationary Earth orbit as well as two previously launched into highly elliptical orbit to provide complete coverage over the Earth, Bythewood said. It is meant to replace the legacy defense support program which has provided missile warning data to the U.S. government since 1970.
The aging system "has been the bedrock of our missile warning constellation and continues to provide phenomenal data," Bythewood noted. "However, the sensors that we have on the SBIRS constellation are leaps and bounds ahead of them in capability, and as we launch those and move them into the constellation, we are able to … keep pace with the missiles our adversaries are fielding day to day."
On Jan. 13, residents of Hawaii received a cellphone alert stating that a ballistic missile attack was imminent. The alert was quickly identified as a false alarm, but not before inciting a statewide panic as the population scrambled to find cover.
Once fully operational, the SBIRS system would act as a bellwether for any attack launched around the world, Bythewood said. It would initiate any real-life warnings regarding incoming missiles, and be able to easily discredit any false alarms, he added.
"Whether there be an actual launch or a false indication of a launch, the missile warning architecture is there to provide the truth data that allows us to understand what actually happened," he said.
GEO-4 will contain Lockheed Martin's latest Block 10 ground control system, said Tom McCormick, vice president for Lockheed Martin's overhead persistent infrared systems mission area. That system will include enhancements including faster data collection times, improved threat detections, improved target tracking and infrared information to enable troops to see dimmer targets faster.
The Air Force is saving $1 billion on the GEO-5 and 6 satellites by improving production and management efficiencies, and using a modernized bus that will provide new capabilities, McCormick said. Lockheed and the service completed a system critical design review for a modernized bus design in September 2017, he added. Bythewood said GEO-5 and GEO-6 are currently slated to be delivered to the Air Force in 2020 and 2021, and launch dates are currently scheduled in 2021 and 2022, respectively.
SBIRS GEO-1 was launched in 2012, and GEO-2 was launched in 2013, according to service officials. GEO-3 launched in January 2017.

The Air Force's space-based infrared system geosynchronous earth orbit flight-4 satellite
completed encapsulation on January 9, 2018. (Lockheed Martin)
The Air Force in late 2017 issued a request for information to begin generating ideas for next-generation SBIRS satellites beyond GEO Flight-6, Bythewood said. The service's fiscal year 2018 budget request includes funds for advanced procurement of a seventh and eighth system, but he noted that no concrete decisions have been made yet as to what shape those satellites would take.
The current notional intent is for the Air Force to launch a block of five next-generation SBIRS systems between fiscal years 2025 and 2029, which is "absolutely in line with where [U.S. Strategic Command] and the nation need to be to continue to move forward with our missile warning satellites," he added.
Now that the full baseline constellation will soon be operational, additional satellites past GEO-4 will provide more robust global coverage, Bythewood said. "It provides more coverage and more look angles around the world, and that is good for us," he added.
Air Force officials did not comment on the cost of the GEO Flight-4 launch during the call.
The Jan. 18 launch will be the second of six national security-related launches scheduled for 2018, said Col. Christopher Clark, SMC launch mission director. It follows the Jan. 12 launch of NROL-47, a National Reconnaissance Office-related payload which took off on a ULA Delta IV vehicle from Vandenberg Air Force Base in California.
Topics: Air Force News, Missile Defense, Space Operations