Marine Corps Seeks to Improve Long-Range Fires Capability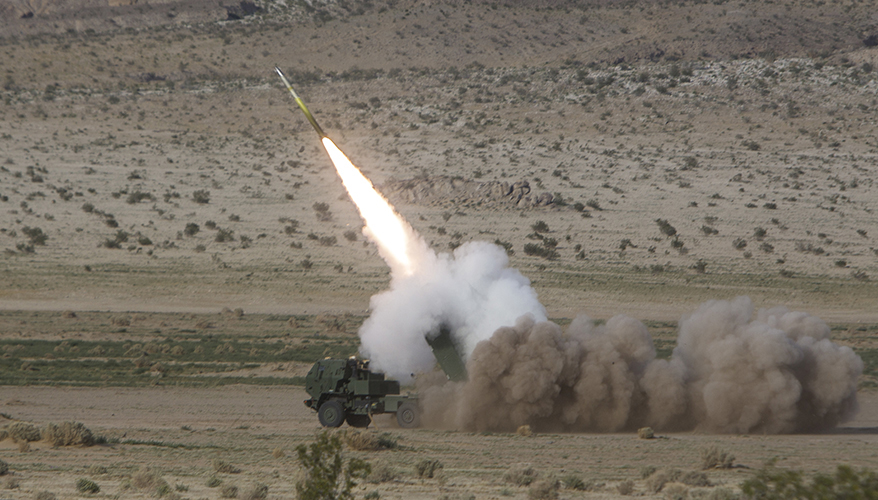 High Mobility Artillery Rocket System
Photo: Defense Dept.
The Marine Corps is looking to increase the range and lethality of its long-range fires systems, according to the service's deputy commandant for plans, policies and operations.

Speaking at the annual Surface Navy Association's National Symposium in Arlington, Virginia, Lt. Gen. Brian Beaudreault said the service also wants to ensure that the beefed up capabilities can hit their targets with precision.
The Marine Corps is currently looking for capability gaps and ways to mitigate them, he said. Although the service is examining everything from tube-launched, optically-tracked and wire-guided artillery to rocket artillery, it's the "rockets that probably hold our greatest interest right now," he noted.
Experimenting with the High Mobility Artillery Rocket System is one example of this initiative, he noted, referring to a weapon first created for the Army that launches rockets from vehicles. In October, the Marine Corps worked with the Navy to test the system on an amphibious transport dock and successfully hit a target 70 kilometers away.

The service is also examining ways to lighten the weight of systems employed by Marine Air-Ground Task Forces while simultaneously increasing their capabilities, Beaudreault added. For instance, the service will be examining lighter weapons that can be installed on different chassis.

However, the Marine Corps is looking at a range of options in this sphere, he said, noting that there is "a number of variations" for minimizing exposure to attacks by adversaries while maintaining troops' ability to hit their targets, such as employing remote firing.

Leveraging armed group-five unmanned aerial systems for fires is also "something we're definitely interested in pursuing," he said, referring to the largest category of aerial drones, which typically have greater range and endurance than smaller variants. Doing so would be a "matter" of examining what additional systems can be added on a UAS to improve its lethality, he noted.

But Beaudreault stressed that although the Marine Corps is working closely with the Army on the effort to increase range and lethality, it does not intend to directly duplicate the other service's work. Rather, the Marine Corps plans to take steps that will help it complete its own specific missions.

"We're going to very much follow what the Army is doing … [but maintain] our interest and how we can help in the sea control fight," he said.
Topics: Advanced Weapons, Missile Defense, Precision Strike