New Frigate to Cost $950 Million Each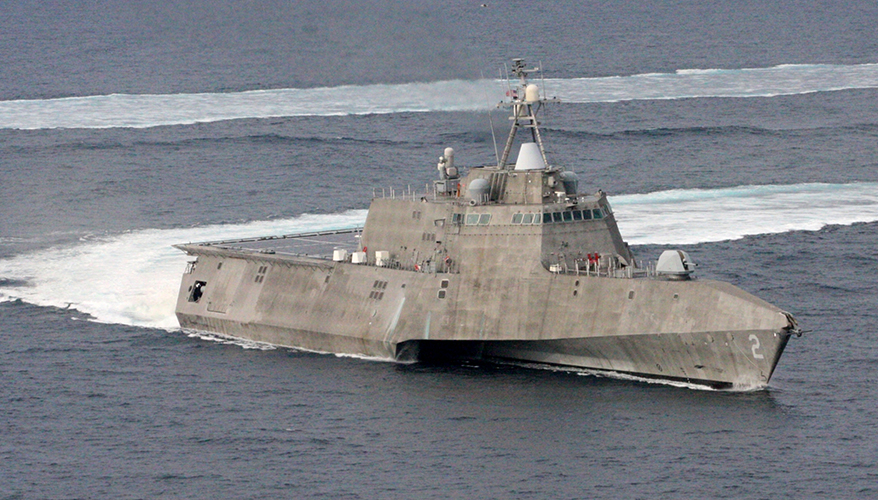 The future guided-missile frigate is expected to be more powerful than the littoral combat ship, shown here.
The Navy's future guided-missile frigate is expected to cost $950 million per system after the first hull, according to the program manager.
Expected to be more powerful than its predecessor the Littoral Combat Ship, which has been criticized for its lack of survivability and capability, the FFG(X) would have the ability to counter submarines, airplanes and other surface ships. The service formally kicked off the effort in July 2017 by releasing a request for information that outlined its need for a multi-mission vessel that leverages existing designs.
Speaking Jan. 9 at the annual Surface Navy Association National Symposium in Arlington, Virginia, Regan Campbell said four to six companies will be awarded by April conceptual design contracts with a 16-month performance period. The Navy issued a request for proposals for the designs in November and received an unreleased number of bidders.
Requirements for the warfighting ship include a speed of 26 knots and cells that can fire either one Standard Missile-2 or quad-packs of the Evolved Sea Sparrow Missile, Campbell noted. The service has an objective requirement of 32 cells, but a threshold of 16.
Plans include down selecting to one company and awarding a detailed design and construction contract in fiscal year 2020, Campbell said. The contract will include four to six hulls. During the full and open competition, the Navy will perform a technical review and provide companies with feedback on designs that may need "buffing up," she said. The Navy plans to purchase the first ship in 2020, the second in 2021, and then two per year afterwards.
The $950 million per hull is the anticipated average threshold cost for the second to 20th ship, Campbell clarified. This price includes the government furnished equipment, meaning equipment that is owned by the government and provided to the contractor. Some of these systems will include a mission control system, a surface-to-surface mission module and C4I suite, according to Campbell's presentation.
Analysts previously cautioned the Navy to ensure balance between cost and capability,
National Defense
reported last year. Adding on a large number of requirements may lead to a large price tag, while an effort to drive down costs could result in insufficient capability, they noted.
Jerry Hendrix, director of the defense strategies and assessments program at the Center for a New American Security, had identified $700 million to $850 million for an anti-surface and anti-submarine system as the "sweet spot." Testifying at a Senate Armed Services Committee subcommittee on seapower hearing, Hendrix pointed out that adding the anti-air capability would mean "edging over" $1 billion per vessel.
Topics: Shipbuilding, Navy News