Coast Guard Eyeing Acceleration of Heavy Icebreaker Procurement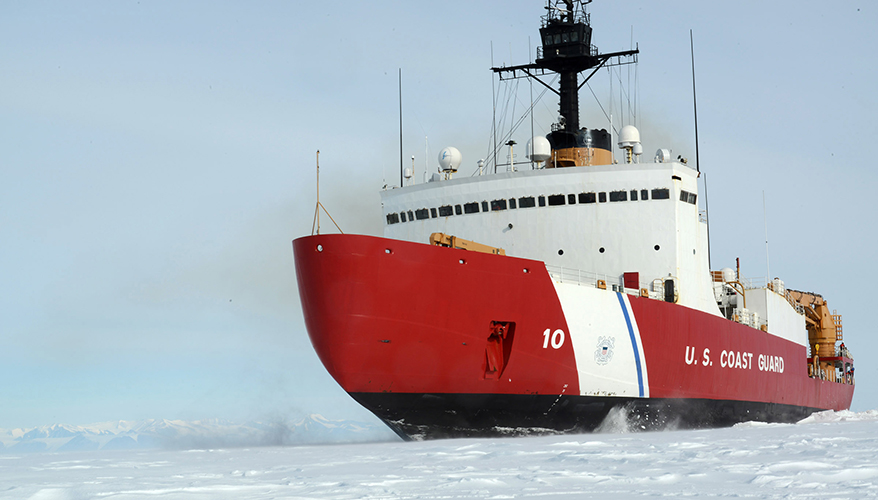 Coast Guard icebreaker Polar Star
Photo: Coast Guard
The Coast Guard is looking for ways to potentially speed up the acquisition of a new heavy icebreaker, said the service's commandant Jan. 10.

The sea service is currently aiming to field a new heavy icebreaker by 2023, said Adm. Paul Zukunft.

"If we could [accelerate the timeline] it would certainly be in our best interest to do so," he told reporters at the Surface Navy Association's annual conference in Arlington, Virginia.
However, any effort along these lines would be dependent on industry's ability to build the vessel faster, he noted. It has been decades since U.S. shipyards have made such a heavy icebreaker, and investments in new machines and tooling will need to be made, he added.

For years the Coast Guard has been pushing for funding to procure a new class of icebreakers as its legacy fleet ages and a warming climate is turning international attention to the Arctic.

Its current fleet of operational icebreakers includes the USCGC Polar Star, a heavy-duty icebreaker, and the USCGC Healy, a medium-duty vessel used primarily for research purposes. The Polar Sea, a heavy-duty icebreaker, is mothballed.

The current plan is to procure six icebreakers — three heavy and three medium variants. The lead ship is slated to be fielded by 2023 and will cost under a billion dollars, Zukunft said.

"We've been able to find offsets to drive the cost down," he noted during a speech at the conference.

The service is planning to procure the lead ship and then do a block-buy type of contract for subsequent vessels, he said.

"We have not built a heavy icebreaker really in 40 years," he said. "There is a front-end expenditure for our U.S. shipyards … but the lead ship, as you see with pretty much any fleet rebuild, will cost more" than the others.

In the service's proposed fiscal year 2018 budget, it requested $19 million in acquisition funding for a new polar icebreaker, according to a recently released Congressional Research Service report.

In 2016 the service released a request for information from industry to collect feedback about its polar icebreaker approach and schedule, the report said. In October 2017, the Navy, working with the Coast Guard via an integrated program office, released a draft request for proposals for the detail design and construction of one heavy icebreaker with options for two additional such ships.

The office hopes to make an award by fiscal year 2019, Zukunft said.

The arrival of the first vessel will coincide with the retirement of the Polar Star, which is currently "living on borrowed time," he said.

"We are really up against parts obsolescence," he said. "We are using the Polar Sea as an organ donor, if you will, to harvest what parts we can get off of her to keep the Star going."

Meanwhile, as the Coast Guard works to procure a new icebreaker fleet, the United States faces threats in the Arctic from nations such as Russia, Zukunft said.

"Russia has already claimed most of the Arctic Ocean," he said. "They are militarizing the Arctic. In 2020, if not sooner, we will see two [Russian] icebreaker corvettes armed with cruise missiles flying the high latitudes."

China — which already has an icebreaker — is also building a new vessel and has been keeping its eye on the United States' extended continental shelf. The shelf — which is about the size of Texas — is rich in resources including oil, national gas and minerals, Zukunft said.

"It's a strategic reserve if you want to look at it in that context, maybe not ripe for exploitation today" but it could be in the future, he noted. "We often find ourselves playing the short game [and] thinking one, two, three years out. But China plays the long game, and so they are playing the long game out there," he added.

The Coast Guard is considering potentially arming its new icebreakers with offensive weapons, he noted. It may be in the United States' best interest to do so should the world change in the next five to fifteen years, he said.

While Zukunft did not specify which weapons are being pondered, they would need to be modular and be effective in extremely cold conditions, he noted.
Topics: Maritime Security, Shipbuilding