Air Force Taking Steps to Speed Up Space Acquisitions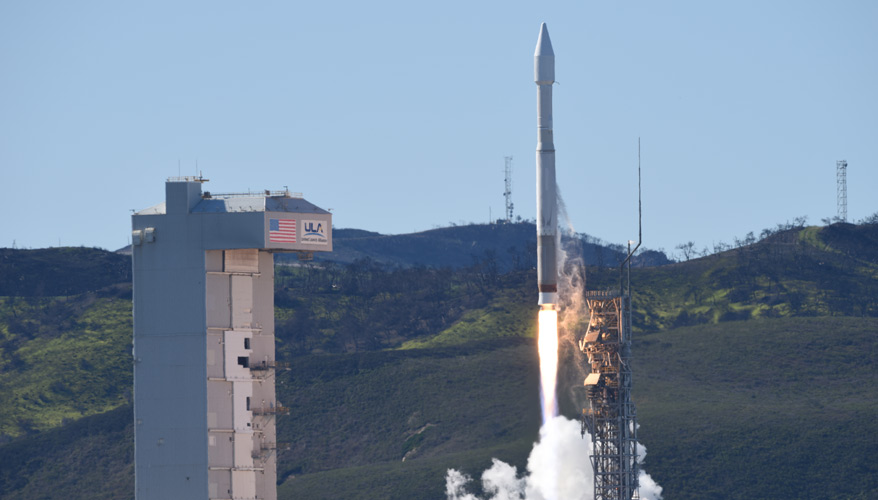 A National Reconnaissance Office payload on a United Launch Alliance Atlas V rocket launching from Vandenberg Air Force Base, California.
Photo: Air Force
As Congress mulls the possibility of creating a new military command for space operations, Air Force officials have expressed their reluctance to hand over control of U.S. satellites and systems to a separate entity.
But lawmakers and Air Force senior leaders are in agreement that the current Space Command must make changes to its acquisition and training processes in order to prepare to do battle in "the ultimate high ground." The Air Force is taking steps to address these concerns, the service's top space leader said Sept. 20.
The House Armed Service Committee released a summary of its fiscal year 2018 legislative proposals in June advocating the creation of a new "Space Corps" that would be under U.S. Strategic Command rather than the Air Force. Senior service officials, including Secretary Heather Wilson and Chief of Staff Gen. David Goldfein, have pushed back on the idea in congressional hearings, arguing that the responsibility should remain within the Air Force.
However, Air Force Space Command Commander Gen. Jay Raymond said that Congress and the service are in agreement on several ways the Air Force could prioritize space development.
"I really applaud the focus on space," he told reporters at the Air Force Association's Air, Space and Cyber Conference in National Harbor, Maryland. Congress has highlighted what the Air Force already knew: "We need to move faster."
The command is "working hard" to speed up its acquisition process, increase the number of space operators and enhance professional development by boosting the amount of curriculum in its training that focuses on space, cyber and multi-domain warfare, he said. "We must be able to move fast and shift our focus to operate in an incredibly contested domain."
The service has requested and received more milestone decision authority for several programs, Raymond said. It is also working to leverage new authorities and opportunities by partnering with organizations like the Air Force Rapid Capabilities Office and the National Reconnaissance Office, he added.
One such partnership is the Enterprise Battle Management Command and Control program being developed with the Air Force Rapid Capabilities Office, he said. The service released a request for information earlier this year as it works on the third increment of the Joint Space Operations Center Mission System.
The goal is to develop an open-architecture system that has broad interfaces and is designed to be coalition friendly. The office has already built a similar command-and-control capability using open standards, he noted.
"They have the ability to go fast, and we have partnered with them to do the exact same thing with our space C2 capabilities," Raymond said. The command plans to conduct experiments with industry partners to explore potential capabilities. The experiments are expected to begin in October. Conversations with industry have begin and "we're very please with how it's going," he said.
The Air Force is also working to ensure it has enough operators trained for the space mission, Raymond said.
"I do think that we're going to need to grow … as the demands of the domain increase," he said.
More airmen are focusing on space at the service's Air University at Maxwell Air Force Base, Alabama, Raymond said. Last year, one space operator went through the School of Advanced Air and Space Studies graduate school for strategists, and the school has five space operators enrolled this year, he noted.
The Air Force also recently established a new deputy chief of staff for space operations, who will provide counsel on space management directly to the service secretary and chief of staff, he said. The Air Force announced in August that Shawn Barnes would lead the new Space Operations Directorate.
Raymond is also assuming a new role under Stratcom, leading the joint force space component command, he said. This new role is part of Stratcom's efforts to align command and control across the joint forces, he added.
Topics: Air Force News, Budget